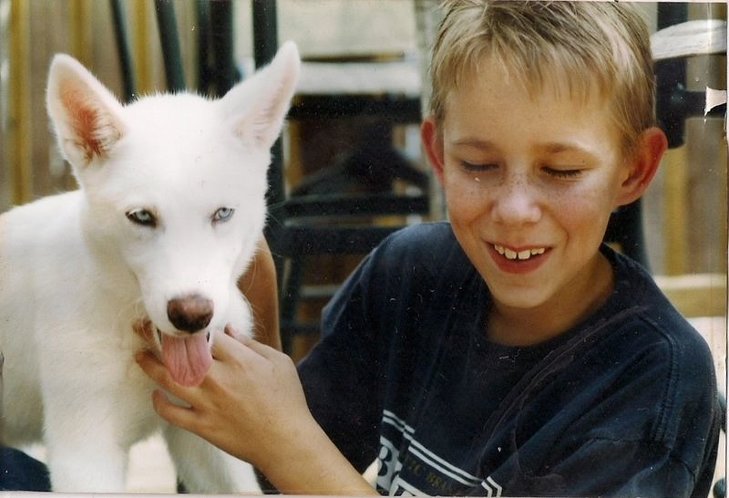 His story doesn't quite begin like your average student.
Oklahoma State University junior Taylon Granger faced a lot of challenges from a young age. At the age of 13, he found himself in and out of shelters. At 16, he got emancipated and began raising himself in Ponca City, Okla., working wherever he could while attending high school. For the past seven years, he has had no contact with any of his family members. With a help from a friend, he was able to get through the rough patch.
"My mom didn't have a really good childhood, she tried the best she could for as long as she could, but eventually it wore her down," Granger said. "Eventually, she just went off a cliff and left me in Ponca City at the age of 16. I always had the mentality that you could stay down and be self-loathing, or could actually make something of your life, and that's what I'm trying to do."
Granger worked 18-hour shifts at a warehouse to get by, but he felt he had the potential to do something more with his life. He decided to attend college at Northern Oklahoma College in Tonkawa, Okla., eventually transferring to OSU's Stillwater campus, but his job wasn't willing to work with his school schedule. This led him to find a job washing dishes with Osage Casinos in Ponca City. He worked his way up to become a food and beverage supervisor, a title he's held for the past year.
"It's a funny story, but there was a girl that used to work [at Osage]," said Granger, who is majoring in management science and information systems in the OSU Spears School of Business. "One day I was sitting in the office talking to them as a dishwasher, and she told me to move out of the way. I said, 'It's going to be real awkward when I'm your boss,' and she told me that it would never happen, so that motivated me to apply for the [food and beverage supervisor] position, and I ended up getting it. I've been a supervisor for almost a year now.
"Osage Casinos goes above and beyond helping me with my schedule. If there's anything I need, if I need to take a test and the date changes, I'll go tell my manager and I'll have the day off instantly."
Granger originally wanted to be an international business major, but when he learned about the Spears School of Business's MSIS program, it was the best of both worlds for him. He was attracted to the quality of the program and felt it was the best "bang for his buck." He credits Spears Business professors for his continued success academically.
"The professors I've had here are the best so far," Granger said. "They can really relate to the students and they go above and beyond helping them. That's another reason I like OSU so much, there's really no way that you can fail here. They give you so many resources that it should really help you get through college. Even if you struggle with everything, they give you the resources to excel in your degree program."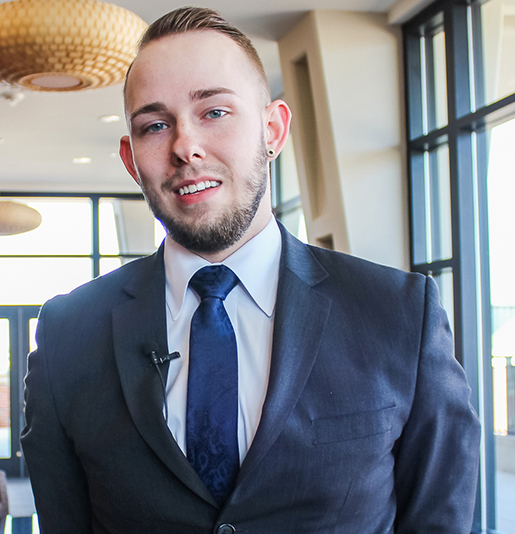 Granger's not-so-secret passion is baking, and like most things, he learned how to bake to impress a girl. While the girlfriend didn't work out, he found himself drawn to the beauty of baking and making intricate designs. He stuck with it and plans to use baking and MSIS together to start a company one day.
"I like to think of baking as the paintings of the food world, they look terrific and you can make them look beautiful," Granger said. "It is an artistic relief, and I'm trying to make it into a business. I call myself the 'Willy Wonka of Ponca,' and I've made everything in between truffles, three-layered cheesecakes, red velvet cakes, and tiramisu and lemon mousse cake, just to name a few. Being able to take single ingredients and put them together to make something completely different and something that people enjoy, it's wonderful to see people smile after eating something you've made."
Through struggle and hard lessons, Granger is proud of the person he has become. He encourages everyone to follow their dreams, even if they think it's too late.
"One of the questions I always ask people is 'What is your dream?' There are people who work [at Osage] who are like, 50 or 60 years old that have been waiting tables their whole lives, and I ask them 'Why have you been doing this your whole life?' They tell me it's too late in their lives to do anything else, but it's not true. You can always go to college or go do that passion that you had as a kid that you never thought you could.
"A lot of people I guess look up to me because they see me as somebody that can actually go through and rise above the challenges. I think everyone is capable of that. It's all about willpower, following your heart and doing what you love."