Leaving Oklahoma for career and family couldn't dim 100-year-old's pride in OSU
Oklahoma State University alumna Betty Thomas had much to celebrate April 25 at her home in Denver, where she has lived for nearly 70 years. At her 100th birthday celebration, she was surrounded by her immediate family and received many more birthday wishes from extended family across the U.S. and around the world. And despite worries about the coronavirus, Thomas relished celebrating with her family.
"I'm fortunate to be able to still live in my own home by myself, and my three children, who all live within a mile of me, are a big help, of course," Thomas said.
Though Thomas has spent most of her life in Colorado now, the Oklahoma native graduated in 1941 from what was then Oklahoma A&M College. And with a brother and sister who graduated from A&M and many other extended family members who attended, including two current students, Thomas is part of a deep family legacy of OSU graduates.
"All of our relatives had gone to OU, but we decided to go to Oklahoma A&M and were very happy there, and all three of us got our degrees there," she said. "But that made us the black sheep of the family."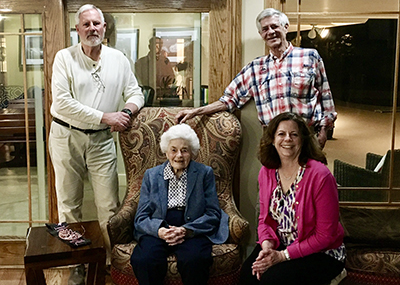 Born Betty Jonas, she grew up in Carney, Oklahoma, where her father owned the local bank. She started at A&M in 1937, a year after her sister, Dorothy Jonas (Lyon). Both girls pledged with Chi Omega sorority. Betty is particularly proud that she has a great-grandnephew and great-grandniece, Justin and Katie Schwarz, who are current OSU students.
"My grandniece at OSU was a freshman this year, and she pledged Chi Omega and is following in the family's footsteps," Thomas said.
Thomas studied business at what was then called the School of Commerce, where she was involved in freshman and sophomore honor societies, the Mortar Board national student honor society her senior year, the Commerce Student Council and a commerce student honor society. In 1938, she was elected band queen and ended up traveling and marching with the A&M band at athletic events and competitions.
Following her graduation in May 1941, Thomas went to work for Carter Oil Co. in Tulsa, which later became Exxon Oil Co., as secretary to the vice president of marketing. Just a few months into her job, on Dec. 7, 1941, Japan attacked Pearl Harbor, dragging the United States into World War II. Soon, most of the country's young men joined the military to fight in the war.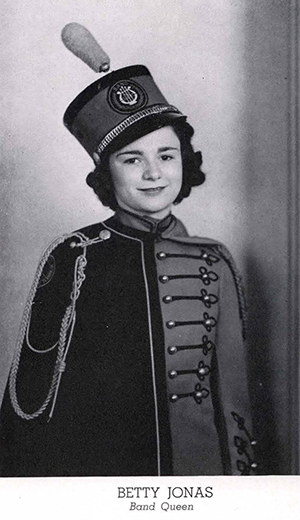 "Practically all the guys I had known at A&M were in ROTC, and when they graduated, they got their commissions as second lieutenants and served in the war," Thomas said. "Almost everyone I knew at A&M went to the war. It was a difficult time."
Thomas's future husband also served in World War II. John Foster Thomas was from Kansas and after graduating from Kansas State University, he also went to work for Carter Oil. He took a leave of absence to join the military and was overseas for four years during the war. He met Betty after returning home and resuming his job with the oil company. The two were married on Oct. 12, 1947, and were transferred to Denver soon after. John died in 1980.
Betty's son Tim said his mother has been the matriarch of their family since her older sister, Dorothy, died several years ago. The 100th birthday celebration was a happy gathering of the family despite the coronavirus. Tim and his siblings, Jill Thomas Moore and Greg Thomas, brought their spouses and family members to celebrate with their mother.
"It was kind of overwhelming everything that my family did," Thomas said. "I was sorry that two of my granddaughters couldn't be here, but my grandson and my other granddaughter were here, so that was good."
Thomas recalled that the last time she was on the Stillwater campus was on the 50th anniversary of her graduation in 1991. And before that, she regularly attended Chi Omega reunions in Tulsa.
"For many years I went back for reunions with my sorority sisters, and I kept in touch with many of them for a long time," Thomas said. "The sorority and OSU are a big part of my life. I had good experiences there."
MEDIA CONTACT: Jeff Joiner | Communications Coordinator | 405.744.2700 | jeff.joiner@okstate.edu