Steak discovery adds value to beef carcass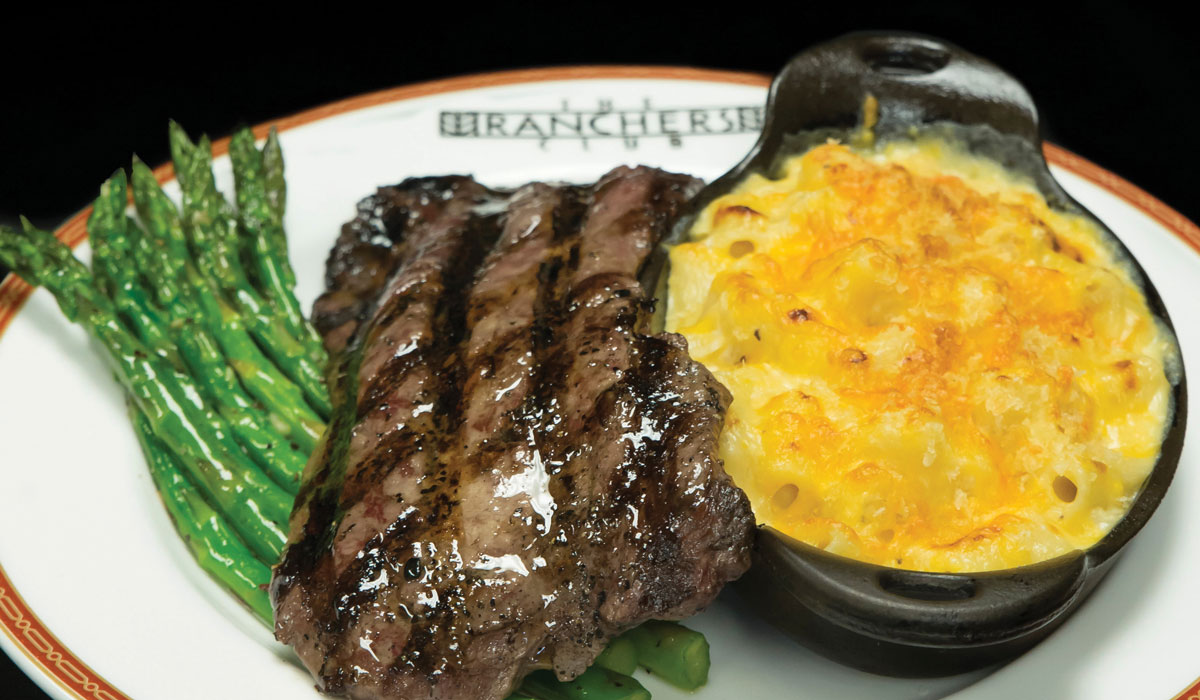 Hidden in the chuck primal of a beef carcass is a steak discovered at DASNR's FAPC. Before the discovery of the Vegas Strip Steak, the chuck primal often was used for ground beef and sold at a reduced price, but the Vegas Strip Steak adds incremental value to this portion of the beef carcass.
"I have a feeling this is the last new steak that will have real implications in the industry," said Jake Nelson, FAPC value-added meat processing specialist. "All other muscles have been investigated for their potential as a commercially viable steak."
Nelson and Tony Mata of Mata & Associates discovered the steak, which is is named because of its similarities to the New York Strip and broad recognition of Las Vegas. The steak is the latest and perhaps last steak to be discovered.
The Vegas Strip Steak name is trademarked and also is pending approval of a U.S. patent application for the process to convert the muscle from the carcass into a useable steak.
Nelson and Mata are no strangers to beef carcass research and development, and with the help of FAPC to promote and launch the Vegas Strip Steak into the foodservice market, the duo secured commercialization opportunities for the cut.
"From coolers, freezers and cutting rooms to the on-site USDA inspectors, the staff and facility at FAPC made this new steak find possible," Nelson said. "It is the mission of the center to discover, develop and deliver technical and business support to spur growth of value-added food and agricultural products."
The newest licensing deal for the Vegas Strip Steak is with regional processor Creekstone Farms Premium Beef in Arkansas City, Kansas. Through this partnership, the steak is available to a wider consumer market, making it the first steak to be both licensed and have a trademarked name.
"When first approached by Jake and Dr. Mata about this exciting new steak they'd discovered, we were a little hesitant and approached it with a 'show me' attitude," said Jim Rogers, executive vice president of sales and marketing at Creekstone Farms Premium Beef. "Well, they did. The Vegas Strip is very tender and has that unmistakable chuck flavor. It's been a big hit with our foodservice customers."
Nelson said the Vegas Strip Steak rivals many popular steaks in tenderness but at a lower cost.
"Sustainable success draws upon the ability to innovate, develop and sell new ideas and products," said Thomas G. Coon, vice president, dean and director of DASNR. "Since 1997, our FAPC team has been a valuable asset to food industry entrepreneurs and businesses by helping them take advantage of innovative ideas and products. Jake Nelson's work on the Vegas Strip Steak reflects FAPC's commitment to develop new products where others have given up."
Licensing arrangement for the Vegas Strip Steak will continue to expand. Currently, the steak can be found at OSU's Rancher's Club restaurant in the Atherton Hotel and MoJo's Rock'n'Bowl Grill in Stillwater and a few other locations across Oklahoma and Texas.
By Mandy Gross