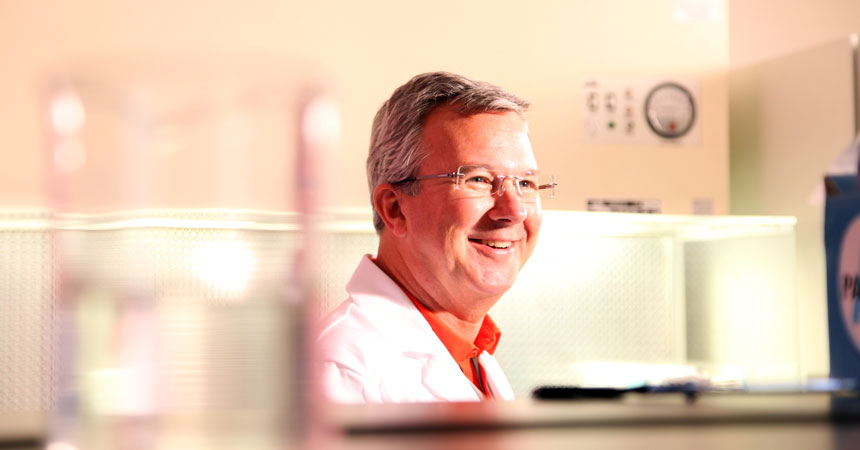 Tyrrell Conway pulls on his lab coat and prepares to deliver a lecture. It would be an ordinary day for the professor and head of the Department of Microbiology and Molecular Genetics at Oklahoma State University except that instead of inter- acting directly with college students, Conway is speaking to a camera lens.
He is lecturing on the metabolism of yeast as part of the College of Arts & Sciences' first Massive Open Online Course (MOOC) titled, "Brewing Microbiology." This is new territory for the scientist and the college but the MOOC generated immediate interest as both a credit and non-credit offering. In fact, by making the class available in both formats, it allowed for an unusual makeup of students.
"What I think is really interesting is when I hear a student is enrolled for credit and they're taking it with their parent, who is enrolled in the open course," Conway says.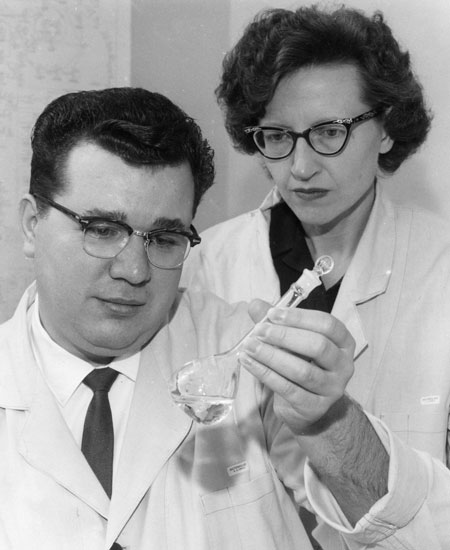 The idea to teach a course on the microbiology of microbrewing sprouted from two seeds: Conway's growing interest in a rapidly growing industry and his department's desire to build student credit hours. Noting there are "thousands of courses" that teach the how of brewing, Conway saw an opportunity to discuss why the process works.
It proved to be an easy sell after meeting with Arts & Sciences Associate Dean for Outreach Bobbi Kay Lewis. She saw an opportunity to turn Conway's idea for an online credit course into a MOOC.
"I thought it sounded like a fascinating course," she says. "It went from conception to development very quickly after the initial discussion."
LOCAL TIES
It does not hurt to have a popular local brewery on board with the production. Iron Monk Brewery Company, founded in 2014 by OSU alumni Dave Monks and Jerod Millirons, not only opened their doors for portions of the video shoot but also worked to promote the class. It just so happens Monks and Millirons share the professor's passion for science.
Monks earned his doctorate in molecular biology and Millirons graduated from OSU with a bachelor's degree in biology before pursuing his MBA. The two met while teaching biology at North Central Oklahoma College in Stillwater and discovered their mutual love of home brewing. Now their product is being broken down to its most basic elements for a worldwide internet audience to witness. Their cooperation proved vital to the project.
"We can't offer this course without those guys," Conway insists.
Part of Iron Monk's corporate ethic is to use grain from Oklahoma, which led Conway to make a connection with J.D. Drennen of 46 Grain Co. in Ames, Okla. He allowed the video crew to record some of the lectures in his rye fields, giving the course a true "on-location" feel.
On-campus collaborations also made Brewing Microbiology a success. Conway is quick to credit A&S Outreach with promoting the class and the Institute for Teaching & Learning Excellence with providing the technical talent and exper- tise to produce a quality online product.
"The university resources have been great," Conway says. "They think of things from the student's perspective."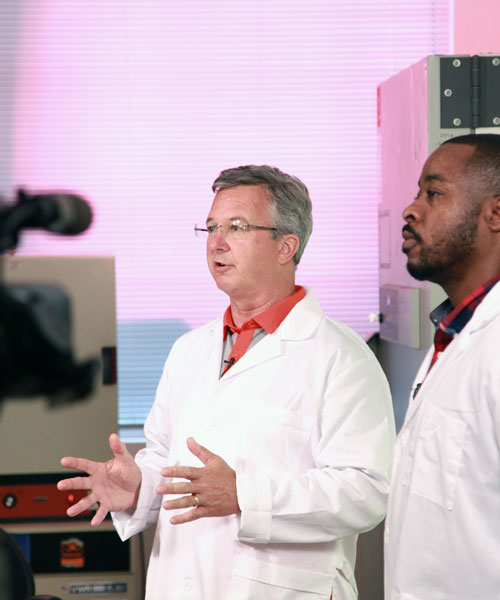 Help also came within the department from first-year postdoctoral associate Jerreme Jackson. He handled much of the lab work, which often commanded two or three days of prep before the lecture could be recorded.
"I can't put into words how much groundwork goes into making a course available online for anyone in the world," Jackson says.
LEARNING
You might think a professor with Conway's years of experience and level of expertise would be content to spit out a lecture and call it day. However, Conway took on the project to be a student himself.
"The MOOC has been a labor of love because I get to study," he says. "I am having the most fun when I'm learning something new."
That love of learning began in earnest his senior year at OSU. The late Dr. Ed Grula offered a spot in his lab, and Conway jumped at the chance. "Big Ed" passed away at age 54 while Conway was still a graduate student, but the beloved professor left a huge impact on the department. So did his wife, Mary.
"She was an amazing, brilliant, strong, sweet woman," Conway says. He recalls her stepping in to try to pick up the pieces in the department just two weeks after Big Ed passed.
Grula's legacy lives on today, thanks to a graduate fellowship he started at OSU. One of his first Ph.D. students, John Whitney, completed the endowment on that fellowship. Whitney retired as vice president of the Eli Lilly and Co. research labs and was honored as the 2016 Arts & Sciences Distinguished Alumni for Microbiology.
Conway stayed in academia. He secured a postdoctoral position at the University of Florida, where he received the U.S. Patent Office's 5 millionth patent (for creating recombinant E. coli that made ethanol) — a notable enough event that CNN found time around its Desert Storm coverage for a report.
The University of Nebraska hired Conway out of Florida and granted him tenure. He moved on to Ohio State University before returning to Oklahoma at the other Big XII institution. That move shocked family members; his brothers, aunts, uncles and father all graduated from Oklahoma State.
LEGACY
Conway just completed his first year as the microbiology head at OSU, where he is building his own legacy.
From instituting a tagline, "Think big about small things," to enlisting his dog, Chunk, in the Pete's Pet Posse program, he has worked to build an identity for the program. Brewing Microbiology is his latest success.
"The high enrollment in both the credit and free MOOC indicates it will be successful reaching and engaging learners on campus and across the globe," Lewis says. "The MOOC is an excellent example of the land-grant legacy emphasizing educational access and outreach."
With the university as a whole trying to manage budget cuts, positive numbers are welcome — especially for one of the smaller departments on campus. Conway feels generating student credit hours through the MOOC serves the microbiology and molecular genetics department as well as Arts & Sciences as a whole.
"I think it's important for us to contribute back to the college," he says.
While the MOOC is bringing an unusual amount of attention to the department, Conway knows it is the quality of faculty, students and staff that makes the biggest difference. Just as he has enjoyed learning about microbrewing, Conway appreciates perspectives other than his own, and that quality helps attract talented people like Jackson.
Believe it or not, the Brewing Microbiology MOOC was not part of the sales pitch to entice Jackson to OSU. When he did find out about the course, though, his reaction was similar to many
others: "I was going to ask Dr. Conway if I could enroll and take it myself."
Instead, Jackson became involved in nearly every step of the project including speaking roles on topics he was particularly qualified to talk about "off the dome." Jackson sees the value of the course is in teaching students to look deeper.
"The whole idea is to encourage students to think outside the box," he says. "We want them to think of what they can do with the different curricula they're taking, and that there is a scientific component to the products we consume on a daily basis."
Photo Courtesy / Brian Petrotta
Story By Brian Petrotta