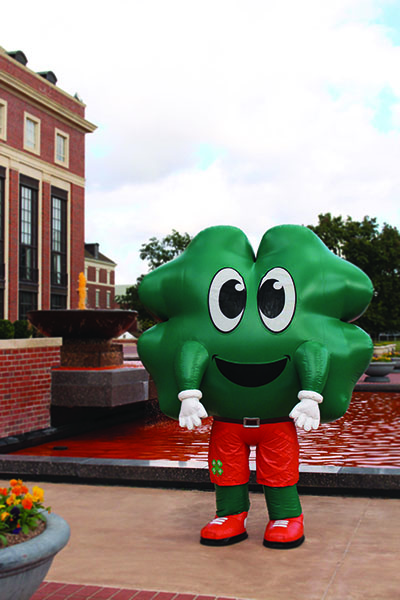 The first collegiate 4-H club established in the United States — the Oklahoma State University Collegiate 4-H Club — will celebrate its 100-year anniversary in 2016.
"It started as a group of students, most of whom were rural youth who had been in 4-H," said Charles Cox, retired state 4-H program leader. "It was called an after-dinner club, and students met to discuss rural issues and interact with early leaders in demonstration work from the Oklahoma Agricultural and Mechanical College. It developed into the first student group on the OAMC campus."
The club, called Delta Sigma Alpha, originally was for agricultural extension scholarship recipients, according to the 1917 Redskin, the university's yearbook.
Most members were agricultural majors who eventually would return home to production agriculture or become demonstration cooperators with the new Cooperative Extension Service, Cox said.
In 1924, the group was reorganized and renamed the Oklahoma OAMC 4-H Club. In 1926, the name became the Collegiate 4-H Club. Today, the club members strive to carry out its motto — "Continuing to share. Sharing to continue."
"The motto emphasizes the importance of citizenship and engagement through education and service," Cox said.
Ricki Schroeder, OSU agribusiness and agricultural leadership double major and 2014-15 OSU Collegiate 4-H Club president, said one of the parts he enjoys most about Collegiate 4-H is the community service. The club tries to do a project to impact the community or state, he said.
The club has volunteered in the community with organizations like Mission of Hope, the Humane Society of Stillwater and Wings of Hope Family Crisis Services.
"Every year, members do the tree decorating for a family through the College of Agricultural Sciences and Natural Resources Student Council," Cox said. "They have helped with food drives, like the Homecoming Harvest Carnival and Hunt for Hunger."
Members volunteer to help 4-H clubs all over Oklahoma through officer training and other service projects. They also assist with the state 4-H Roundup and state 4-H judging contests.
Collegiate 4-H is a noncompetitive environment. Unlike a traditional 4-H club, Cox said, members are motivated to focus on service and socialization.
"We try to look at 4-H as a community organization," Ricki Schroeder said. "We want to continue that. Even though we are in college, we try to not just be on campus but across the Stillwater community and the state."
The club has approximately 20 members and meets every other Wednesday at 5:30 p.m. in the 4-H Youth Development Building, said Tracy Beck, 4-H youth development programs coordinator.
Through the club, students make friends on campus with similar interests, Beck said.
"4-H has allowed me to have connections with not only people at Oklahoma State but also with people across the country," Ricki Schroeder said.
OSU Collegiate 4-H members come from several states. The club has a large percentage of freshmen from a wide variety of majors, Beck said.
"4-H did so much for me and made an incredible impact on my life," said Jerry Kiefer, founder and financial professional/ retirement planning specialist at Cornerstone Planning Group LLC and OSU Collegiate 4-H president in 1990-91. "I saw Collegiate 4-H as an opportunity to give back to the organization I so loved as well as the community."
Many of the Collegiate 4-H members were involved in 4-H together in the past, Cox said. Familiarity of the 4-H program draws people to the club, he added.
"Collegiate 4-H is the first club I joined when I got to campus, and it's been a great three years," said Mandy Schroeder, OSU agricultural leadership major and 2015-16 OSU Collegiate 4-H president.
Sarah Maass, a past Collegiate 4-H president, said the organization gave her a transition period between traditional 4-H and the workforce.
Maass continued her involvement with the 4-H program through her job as a 4-H youth development agent in Kansas.
Kiefer said he stays involved through serving on the Oklahoma 4-H Foundation. The foundation raises more than $100,000 per year in scholarship money for 4-H members.
Beck said members can apply for a $500 Collegiate 4-H scholarship each year, which is supported by an endowed fund in the Oklahoma 4-H Foundation.
"We have some members who were super active in high school and some who weren't quite as active," Beck said. "They all can do things on campus to be involved and make a difference."
Kiefer said he considered Collegiate 4-H a stepping stone in life.
"We would like for Collegiate 4-H to be a home for freshmen who need a place to connect," Beck said.
Past 4-H membership is not required to join Collegiate 4-H, Beck said.
"I couldn't ask for a better organization to lead," Mandy Schroeder said. "It has great members, and I'm honored to lead them into the centennial."
Collegiate 4-H is like a small family, Mandy Schroeder said.
"It's always important to have a heart for service, and you'll be able to use that throughout your life," Ricki Schroeder said. "Collegiate 4-H provides one way to continue a passion for service if you have it, or it provides a way to develop it."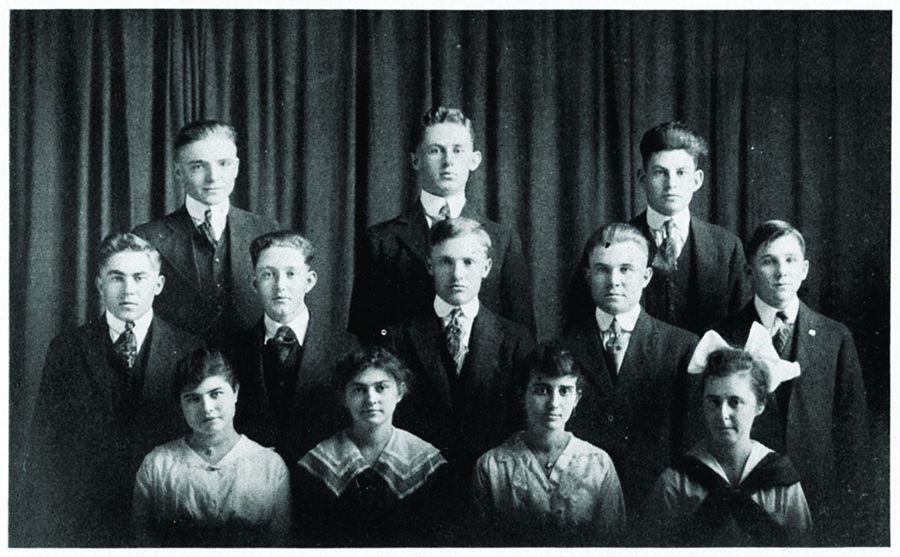 By: Author: Abby Hendrickson