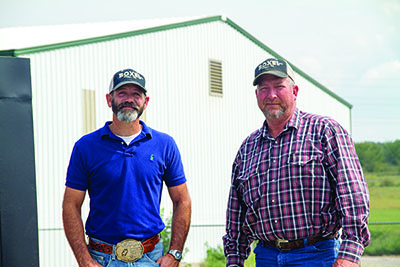 The New Product Development Center at Oklahoma State University has offered engineering services to Oklahoma manufacturers and small businesses since 2002.
"The NPDC has a history of helping Oklahoma manufacturers through affordable engineering services," said Dan Tilley, former NPDC associate director and professor of agricultural economics. "We provide quality engineering services in the price range for small businesses."
Made possible by a joint venture between the OSU Division of Agricultural Sciences and Natural Resources and the OSU College of Engineering, Architecture and Technology, the NPDC assists Oklahoma manufacturers with bringing their concepts to market. In 2015, the NPDC began a new partnership with the network of Oklahoma Small Business Development Centers to serve small businesses with an influence in technology.
"Small business development centers are not limited to manufacturing," said Barbara Bonner, SBDC associate business adviser in Durant, Okla. "We will help any small business in the state."
The centers help businesses start, expand, or survive, especially through financial management and marketing, Bonner said. SBDCs work together with other resources like OSU and the NPDC to meet the specific needs of each business.
"The SBDC model fits the needs of the NPDC and manufacturers," Tilley said. "It gives us a network of people who have business and marketing expertise and can help companies be innovators."
In recent years, the NPDC shifted from working on large engineering projects to focusing on client interactions and student experiences in multiple disciplines, Tilley said. As more agricultural economics and business student employees were added, the NPDC began working more with manufacturers and small businesses beyond product development.
Students employed by the NPDC and SBDC are biosystems and agricultural engineering, agricultural economics, business, agricultural communications and engineering majors.
Engineers and OSU faculty mentor the students to ensure the center follows the best available practices and to help students engage in the projects, Tilley said.
"Students are important to the program because they have creative ideas and capacities," Tilley said. "The program is important to students because they need to experience the real world."
Dillon Rapp, a senior agricultural economics and accounting double major, has worked for the NPDC since January 2013. He attributes his passion for helping people better their lives and their finances to his work assisting clients with their businesses at the center.
"My favorite part about working at the NPDC is being able to work with real-world clients and seeing how much of an impact our office can have on their businesses," Rapp said. "I have been fortunate enough to develop many relationships lasting far beyond my time at OSU."
Students involved at the NPDC and SBDC often become part of the workforce benefiting rural Oklahoma, Tilley said. The center exemplifies all three branches of the land-grant model for extension, research and teaching, he added.
Kay Watson, an extension agent with the Oklahoma Manufacturing Alliance, attested to the extension and engagement roles of the NPDC and the SBDC and their impact on her clients' success.
"SBDC provides engineering and business analysis services that small business owners can afford," Watson said. "I see OSU as my biggest partner in helping manufacturers."