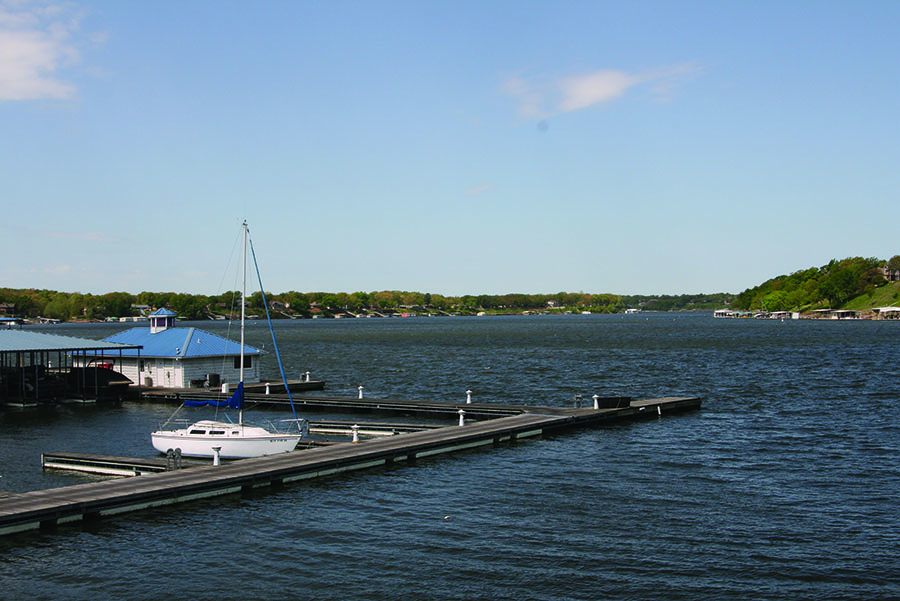 Spending a day on the lake is an Oklahoma tradition in the summertime, but how does this recreation add to the value of a watershed?
Max Melstrom, assistant professor of agricultural economics at Oklahoma State University, and Tracy Boyer, OSU associate professor of agricultural economics, are conducting research to determine the value of lake recreation for the Grand River watershed.
The impact on local economies and overall value of lake recreation often is overlooked because of difficulty in data collection, Melstrom said.
"Trips to the lake are not a market commodity in the usual sense, so value of lake recreation is not as obvious as a barrel of oil," Melstrom said. "Still, once you crunch the numbers, it is clear activities like swimming and boating are worth a lot to people."
Since 1935, the Grand River Dam Authority, which serves as the public power utility for Oklahoma, has facilitated the use of the Grand River watershed in northeastern Oklahoma to produce energy, provide recreation, and conduct other aspects of lake management.
Through a $150,000 grant, GRDA is funding Melstrom and Boyer's research to measure the local economic impacts of recreation at GRDA's northeast Oklahoma lakes, including Grand Lake O' The Cherokees, Lake Hudson, the W.R. Holway Reservoir and Lake Council Grove as well as the Elk River.
A large aspect of the research is the collection of visitor data at the lakes. Oklahoma City University students trained with OSU agricultural economics faculty on data collection before beginning the research project.
"OCU undergraduate students have provided a lot of assistance in this study through their surveying and interviewing efforts," Melstrom said.
In addition to OCU students conducting surveys of visitors to the watershed, OCU faculty also will conduct the local economic impact analysis of spending by lake users, Melstrom said. These students have done the majority of data collection, Boyer said. OCU will receive $30,000 from the grant for its students' data collection efforts.
Melstrom said gathering the details and data needed for a study of this magnitude is difficult.
"Collecting information about visitors is a logistical challenge for studies like this," Melstrom said. "Analysis is the easy part, but we spend hours, days and weeks trying to collect data to answer simple research questions."
Data collection goes beyond learning what visitors spend and goes into aspects of visitor behavior, such as a visitation frequency and the availability of similar lakes near a visitor's home, Melstrom said.
Susan Brand, an OSU agricultural economics master's student, has supervised the OCU students collecting the data for this study. Brand said person-to-person conversation has yielded more information than other types of data collection.
"The most challenging part was getting people's responses," Brand said. "Half of the population seemed to be willing and eager to help us collect data, while others were more reluctant to want to give up some of their time."
Boyer said solely measuring the spending on recreation can be misleading.
"The dollar amount spent on each activity can be deceptive when calculating the true value of a place like Grand Lake," Boyer said.
"For a visitor, the lake is quite literally worth more than just the dollars and cents they paid in gas and food for the trip," Boyer said. "There are indirect impacts visitor spending can have on the community, including additional income to non-hospitality business owners."
Although studies have been conducted on multiple watersheds across the country, little has been done to determine true non-market value of watersheds in Oklahoma, Melstrom said.
"Without considering every aspect of watershed use, a true economic value of a watershed cannot be attained," he said.
Much of the information collected is in relation to costs and benefits related to large events within the watershed's communities. The project includes measuring the economic impact of the BASS Masters Classic fishing tournament in the Grand Lake area, Melstrom said.
"Direct impact accounts for all costs directly linked to the use of the watershed for recreational purposes, but indirect impact accounts for any additional costs it may bring the community, including business owners who must account for the costs recreation can bring," Boyer said.
Boyer and Melstrom said the goal of the study is to inform people about the value of different water uses.
"We are focused on evaluating the non-market value of a watershed and its related activities," Melstrom said. "I hope GRDA will use the information from this study to inform decision makers about recreation at the lake."
By: Author: Oliver Henderson