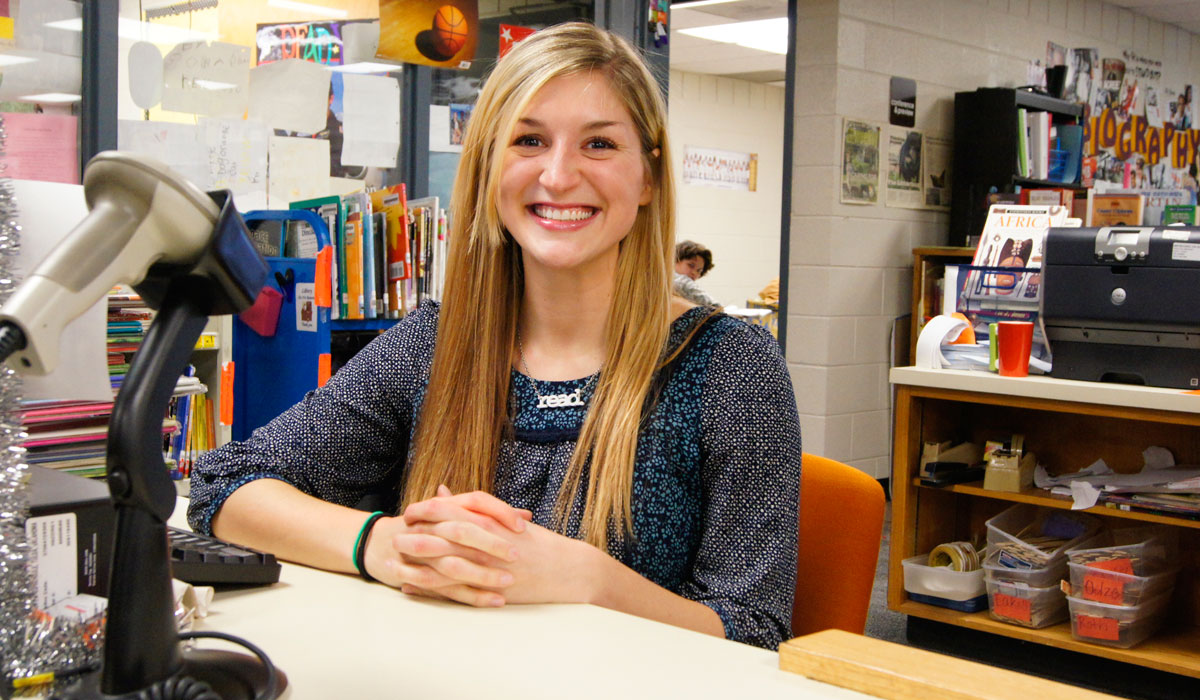 Oklahoma State University College of Education alumna Kirby Thomas' enthusiasm and passionfor reading inspires the 700-plus students she serves at Christa McAuliffe Elementary School in Broken Arrow, Okla. This past spring, the energy and passion she brings to her job as library media specialist were in the national spotlight, thanks to a television talk show host.
"I always knew I wanted to teach and that I wanted to attend OSU. (The university) felt homey, and I knew OSU offered a great education program," says Thomas, who graduated from Union High School. "I loved my time in the College of Education. I love the professional relationships and friendships formed while I was there."
Thomas earned an elementary education degree in 2008. She is in her seventh year at the Union Public Schools site, including the last three as McAuliffe's library media specialist.
Thomas has long been an avid fan of Ellen DeGeneres and her talk show. Along with McAuliffe colleague and friend Amanda Griffin, Thomas was determined to make it onto The Ellen DeGeneres Show. The pair began submitting videos as part of a promotion called Dance Dare, where dancers video themselves busting a movie behind unknowing people. Thomas and Griffin submitted two Dance Dare videos, but those didn't make it on.
They continued to reach out to Ellen with numerous tweets, emails and pictures — to no avail.
"We just kept trying bigger and better things for over two years," Thomas said.
Meanwhile, the McAuliffe staff voted Thomas as the school's teacher of the year for 2014-15. Another colleague, Cory Allen, a 2006 OSU graduate in early childhood education, emailed The Ellen Show to share the news about Thomas' award. She explained just how much Thomas and Griffin loved Ellen, her show and the joy she brings people. She also mentioned the school's summer book program and how Thomas and others work to make sure students have access to books over breaks by taking a van full of books into neighborhoods each week.
Fast-forward to Feb. 20, 2014: Thomas and other staff and students scheduled an evening pizza party and movie night at the school with plans to tape another video to send to Ellen.
"The next thing I know, Ellen is calling my cellphone," Thomas says.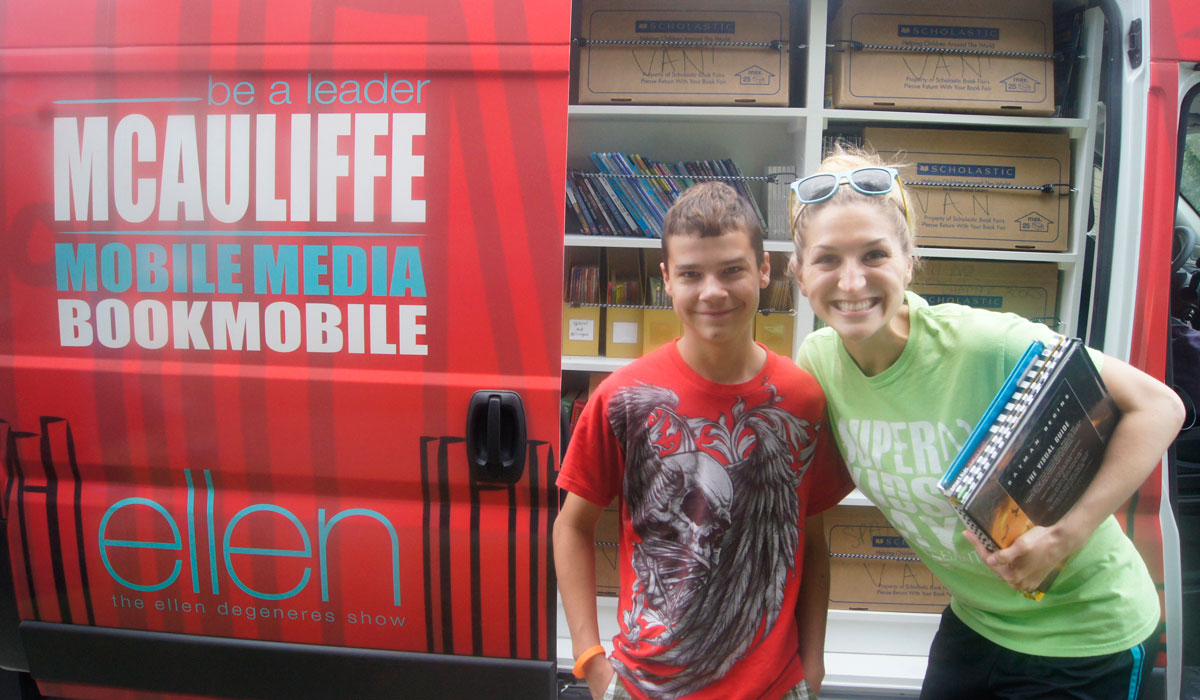 DeGeneres asked Thomas if she had her book (Seriously, I'm Kidding). DeGeneres' producer Jeanie Klisiewicz had been dispatched to Broken Arrow and entered the McAuliffe Elementary gym, full of students, teachers and staff, with a copy in hand.
Thomas was surprised and excited, but says she did her best to form normal thoughts as she communicated with DeGeneres via satellite feed.
"As a teacher, you go through your normal day, anticipating the next thing. This was a bizarre set of moments that (I) couldn't predict," Thomas says. "Looking back, it's hard to believe I didn't faint."
DeGeneres announced that Entitlebooks.com, an e-book subscription service, was giving McAuliffe a check for $25,000 to spend on e-books and materials for the school library. Each student also received a $25 Target gift card.
Klisiewicz then handed Thomas an "Ellen blindfold" and led her outside the school where a brand-new Bookmobile was parked. The custom red van with McAuliffe Elementary painted on it was stocked with books, iPad minis and more.
This summer, Thomas and her colleagues have put the new Bookmobile to good use and experienced a spike in attendance. The van's Tuesday visits are a community event. In addition to books, the van staffers bring ice pops, fun music and hugs, and the children and families look forward to the visits.
"Kids are excited, and they want to talk about books," Thomas says. "Parents and older brothers and sisters are coming out and supporting them. We're seeing an environment of literacy and a sense of community. These are teachers they know."
Thomas' interaction with DeGeneres did not end Feb. 20. On that day, DeGeneres invited Kirby to come to Los Angeles to attend the show.
"I told them not to forget," Thomas says.
The Proposal
Thomas received a phone call a few days before DeGeneres hosted the Oscars on March 2 to schedule a visit to the show. Since Griffin and Allen had been such an integral part of the program in gaining DeGeneres' attention and the donation, arrangements were made for all to come to Los Angeles with Thomas.
"On the day of the show, we were buzzing," Thomas says. "They sent a car to pick us up at the hotel, which we thought was the coolest thing. We were excited just to be sitting in the audience. I remember thinking it was the best day ever."
When the group arrived at the studio, they were escorted to a dressing room. Thomas called her boyfriend, Jason Mackenzie, a 2004 OSU alumnus, in Tulsa to share the moment.
Show producers told Thomas that DeGeneres might come and introduce herself at a commercial break or that she might give them a shout out.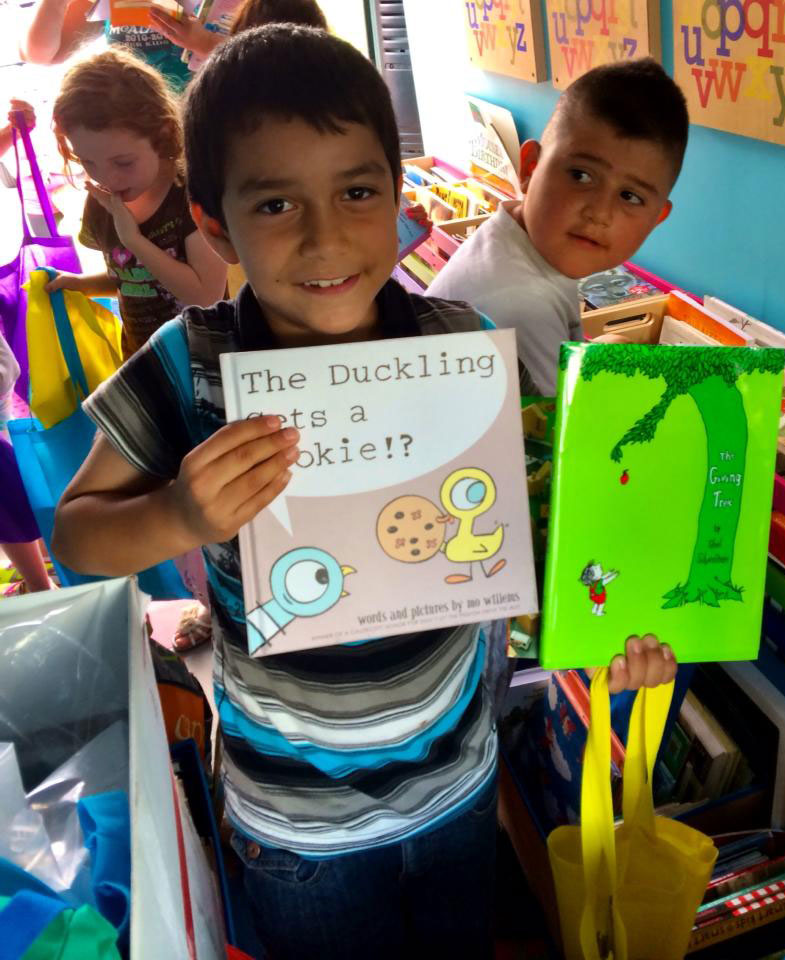 "They said, 'It's Ellen. You never know what she is going to do,'" Thomas recalls. "We really thought that we were only sitting in the audience."
During the show, a clip from the day at McAuliffe played and Ellen called Thomas up on stage.
"I was so nervous. I was thinking, don't say anything dumb," she remembers.
DeGeneres asked for an update on how the school is using the money to improve the library. Thomas shared that they were planning a One School, One Book program where students, parents and staff members will read Charlotte's Web together.
Next, DeGeneres asked if Thomas was single. Thomas replied, with a wink, that she was "working on it." Just as she began sharing what a great guy her boyfriend was, music started and the stage doors opened. Mackenzie came walking out.
Mackenzie asked the shocked Thomas to marry him. She said yes. Mackenzie had reached out to the show producers to let them know he wanted to propose, and they agreed to let him do it on the show. He pulled off the ultimate covert operation.
"When I talked to him on the phone from the dressing room, I thought I could hear him typing on his keyboard at work (in Tulsa)," Thomas said. "He was taking care of my dog for me."
Mackenzie covered his bases. He avoided telling anyone who did not absolutely need to know. He asked Thomas' dad for his permission but led him to believe he was going to propose afterthe school year. Mackenzie called in sick to work that day.
The couple, who received a $10,000 wedding registry from DeGeneres, courtesy of J.C. Penney, married on July 11 in Tulsa.
Thomas made quite an impression on DeGeneres. The show sent Thomas to serve as a correspondent at the American Country Music Awards in April, where she had a chance to interview the likes of Luke Bryant, Shakira, Rascal Flatts and LL Cool J.
While the last six months have been a whirlwind, Thomas, who now goes by Kirby Mackenzie, is anxious to continue her work at McAuliffe Elementary.
"We have such fabulous group around here," she says. "I've been here and plan to never leave!"