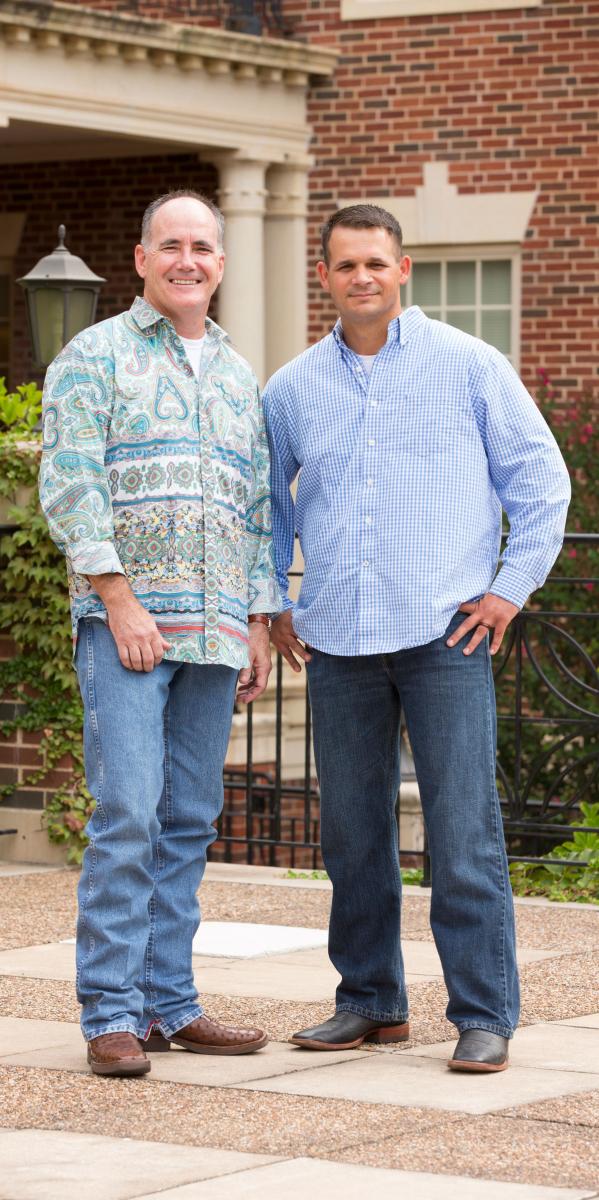 It's not uncommon for people to honor and recognize mentors and leaders who have inspired and influenced them. But the roles between professor Timm Bliss and student Nick Jones are reversed in this story: The teacher is honoring his student.
Timm Bliss, professor in the aviation education program, wants others to understand what Nick Jones stands for, the sacrifices he has made and all that he has accomplished.
Jones' story begins in Perkins, Okla., where airplanes often flew over his house when he was a kid, planting in him a wonder about flying. As he moved toward high school graduation, he wanted to join the U.S. Air Force.
His mother had other plans — she wanted him to go to college. And since Jones was just 17 when he finished school, he had to comply with her wishes. Instead, he signed up for the National Guard, went to basic training and became a combat engineer before enrolling at OSU for the spring 2001 semester.
"I knew (when I started college) that I wanted to be either a pilot or a kindergarten teacher," Jones recalls.
For the first year or so, Jones took prerequisite courses while starting his aviation coursework. In 2002, he mobilized to go to Egypt as part of a multi-national peacekeeping mission, stationed on the Sinai Peninsula for a portion of both 2002 and 2003.
"When I left for deployment, I intended to go into the military full-time afterward," Jones says.
But something changed. "I realized that I can and should get a college degree, and I made the decision to go back to OSU."
While Jones was away from Stillwater, his student status changed when military obligations kept him from being able to come to campus during the required registration period. He searched online and began emailing aviation faculty to explain his situation and seek help.
Bliss responded, taking care of Jones' student status and sending along a class schedule for the upcoming semester.
"I appreciated it. It's nice to see what it looks like when someone is compassionate," Jones says.
Bliss had noticed something different about this quiet student in his class, sensing Jones' leadership ability. He and Mary Kutz, another aviation faculty member, began encouraging Jones to pursue a master's degree when he finished his undergraduate work.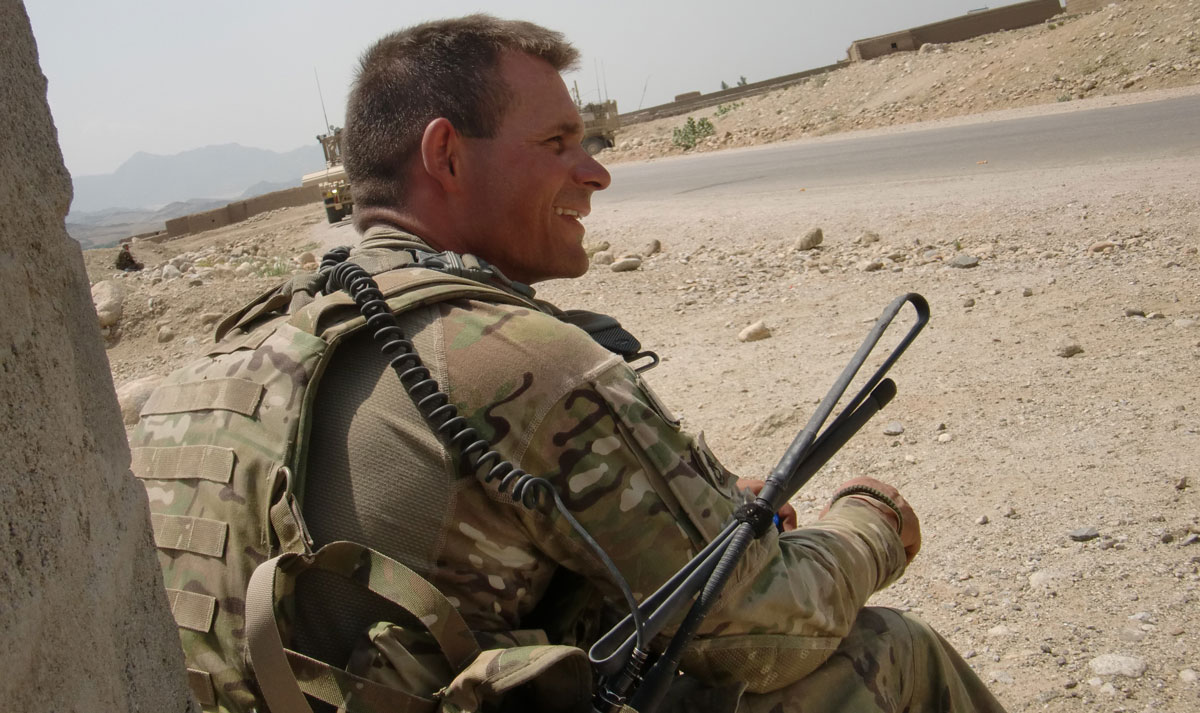 "The more I was in a collegiate environment, the more I could see myself teaching. Dr. Bliss became more of a mentor than a professor," Jones says. "I'm drawn to good people, and there are good people in the aviation program."
Yet Jones still felt strongly about continuing his service in the military as well. In 2005, while he was in his final semester of finishing a general business minor and completing a bachelor's degree, Jones was called to National Guard duty in the aftermath of Hurricane Katrina. His orders indicated he would be out no less than 14 days. Jones led a group of 12 soldiers in what turned out to be a 30-day search, rescue and cleanup mission. When Jones returned to campus, many of his professors wanted him to drop classes because they were concerned he could not catch up. Jones says he cited his stubbornness in persuading them to let him stay. He graduated with a bachelor's in aviation sciences with an option in aviation management in December 2005.
Jones began master's coursework but during 2006-2007, he deployed to Iraq to serve as a squad leader and handle convoy security for the Iraqi government. He took research classes during the deployment and continued his coursework when he returned. He finished a master's in natural and applied sciences with an option in aviation sciences in the spring of 2008.
By this time, Jones says the idea of teaching no longer felt so strange. He began serving as an adjunct instructor for the aviation program with plans to eventually pursue a terminal degree.
"After being away (on a deployment), I found that OSU was a great place to refocus and readjust, a good re-centering point. The aviation program is a small, tight-knit group where I had the opportunity to learn from others," he says.
Jones again deployed to Afghanistan during 2011-2012 as part of the 45th Infantry Brigade. This time, his mission had to be the sole focus, so he took a break from coursework.
Jones was a platoon sergeant doing route clearance. "Basically, we looked for and cleared improvised explosive devices," he says.
During the first few months of deployment, Jones and members of his team were injured when an IED underneath their truck detonated. A few months later, a second IED blast knocked Jones 30 feet into a thorn bush. (He was later diagnosed with a mild traumatic brain injury.)
"We had a rough start," Jones recalls. "We learned and got better. It was a good group of guys that didn't miss any (IEDs) after those first few months."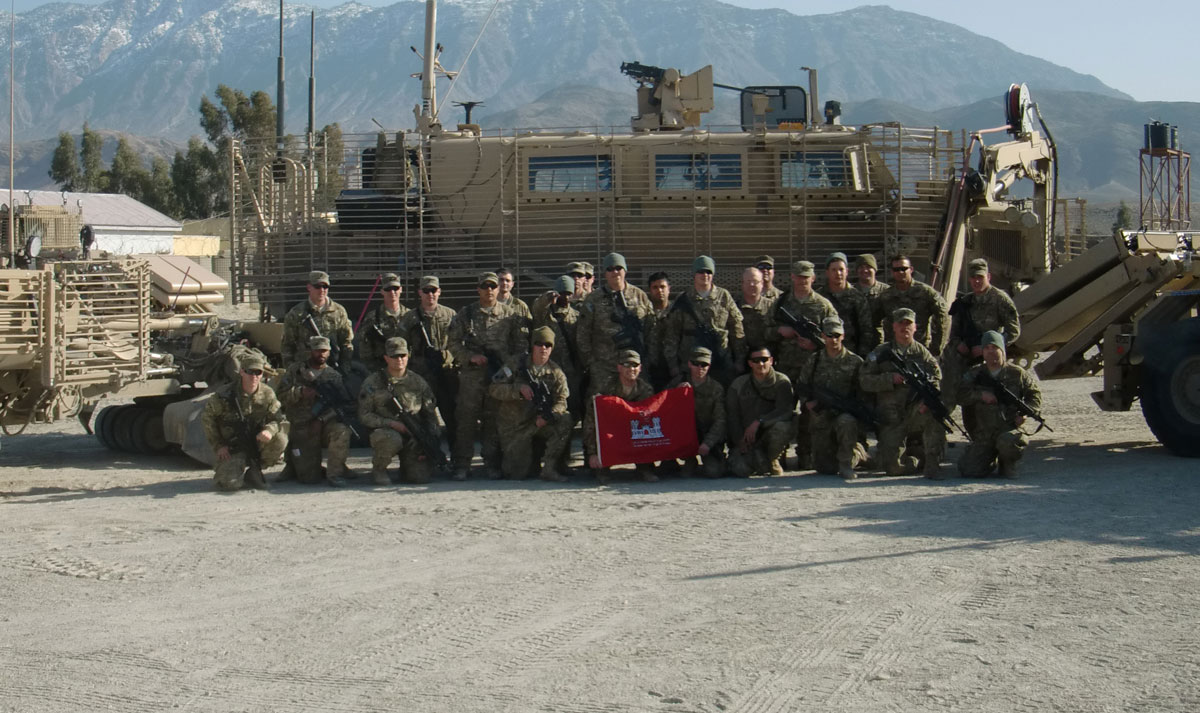 On Jan. 25, 2012, he was working in a valley when shots came from a ridge above.
During the firefight, Jones was able to get himself behind an armored vehicle and call for medical support. He was wearing a protective vest but a bullet hit his armpit and went through his chest, splitting his pectoral muscle, hitting his collarbone and narrowly missing a vital capillary. Jones says he knew he had to keep going, so that's what he did.
"According to guys in Nick's platoon, he took care of them," Bliss says. "(Because of his call,) air support was able to take out of the enemy. Even though Nick was severely wounded, he stayed with (his platoon). He wasn't leaving until they were secure and safe."
For his efforts that day, Jones was awarded a Bronze Star with Valor. Because of his injury, he was also presented with a Purple Heart. Jones also has two additional Bronze Stars from his deployments in Iraq and Afghanistan.
Jones finds it hard to accept the recognition and remains quick to praise the work of other "outstanding" soldiers in his unit.
"I continued the mission the way any other solider would have," he says.
That humble nature is part of what led Bliss to establish the Sgt. 1st Class Nick Jones Scholarship at OSU.
"Nick has given his 20s to serve our country. I think it's important for (students) to understand what is going on outside their world," Bliss says.
The annual scholarship is awarded to an undergraduate student in the aviation program, ideally a full-time student who is active or retired military. If there's no current or retired member of the military, the recipient may be an aviation major in OSU's ROTC program.
Bliss also admires Jones for his commitment to education. He wants others, especially the recipients of the scholarship and the undergraduate students Jones teaches, to understand who Jones is and what he has done.
Bliss also wrote a letter to Jones' mother to explain why he decided to create the scholarship and how much he thought of Jones.
"I've learned more from Nick that he will ever learn from me," Bliss says. "He has taught me so much about everyday life and humility, how to be compassionate and gracious."
For his part, Jones values the opportunity to influence others, including the soldiers he leads and the students he teaches at OSU. He especially enjoys teaching an aviation leadership course, blending military and collegiate applications.
"I don't think I would be the leader I am (without both influences). I wouldn't have had the military successes I have had without my time at OSU. I wouldn't appreciate my time at OSU without the military," Jones says. "I have been able to apply what I've learned about leadership in a small controlled area, and teaching has helped me understand people."
Jones also encourages soldiers to pursue an education and take advantage of the benefits offered by the military.
In addition to his teaching responsibilities and continuing to serve in the National Guard, Jones works for Blackjack Construction in oil field construction. He and his wife, Haley, welcomed baby Audrey to the family this summer. Jones is also a stepfather to 10-year old daughter, Jadyn.
Because of the mild traumatic brain injury he suffered in Afghanistan, Jones has eased back into doctoral coursework. He remains determined to finish the education doctorate.
"I haven't attended either of my college graduations," he says. "I've got to complete the (the degree) so that I can walk (across the stage and accept a diploma) at least once."