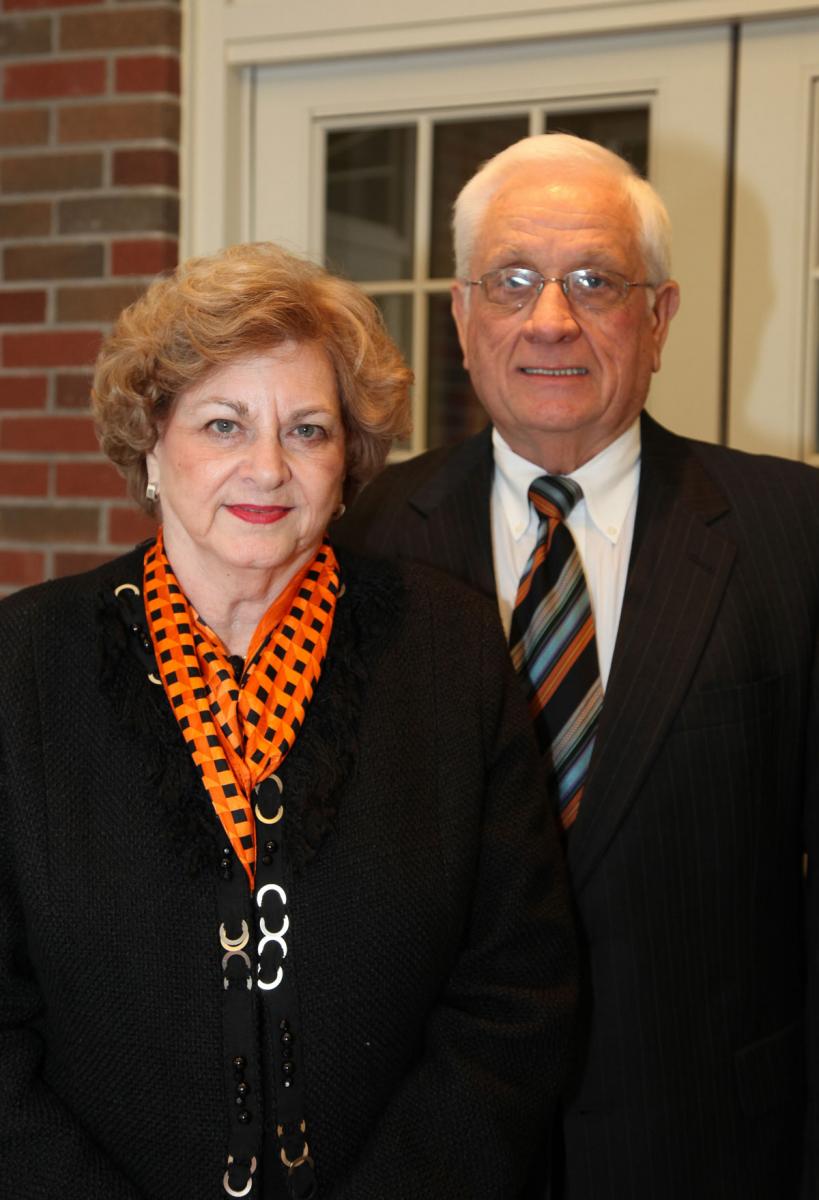 Along life's journey, the importance of a quality education has continually been reinforced for Bill and Billie Dean Buckles.
While growing up in Folsom in Oklahoma's Johnson County, Billie learned how hard work and an education could provide more opportunity early in life. Her father, stricken by an extended illness, died when Billie was 7. The family was, in her words, "almost destitute." Her mother took care of Billie and her two siblings on a welfare income. The children took on such responsibilities as drawing water from a well, taking care of livestock and chickens, and preparing meals.
Two special teachers served as role models for Billie, inspiring her to excel in building a successful 24-year career in banking and finance. She began as a secretary for a bank president and learned the banking business. She furthered her education with a basic banking course at OSU and later graduated from the University of Colorado Graduate School of Banking in 1975. She became an officer in the National Association of Bank Women, earned insurance licenses and became an investment adviser.
"I have witnessed first-hand the value of education in the improvement of a person's self-esteem, confidence and knowledge," Billie says.
Bill Buckles grew up in northwest Oklahoma near Dacoma, raising cattle and working on the family farm. At Oklahoma State University, his first major was engineering, but limited access to math and science courses in high school made his freshman year quite challenging.
"Nothing has intimidated me as much as the academic challenges I experienced during my freshman year at OSU," Bill says. "I learned that I could accomplish a great deal by working hard and persevering through adversity."
Bill decided to become a math and science teacher and graduated with a degree in math in 1964. After teaching for two years in Great Bend, Kan., he returned home to northwest Oklahoma and found his way into the banking business.
He started a 39-year career with Central National Bank. He also continued to grow and learn, graduating from the University of Wisconsin-Madison Graduate School of Banking in 1986. In 2007, he retired as president and CEO of Central National Bank.
"My OSU degree (gave) me the ability to tackle with confidence any problem with which I am confronted," Bill says.
The Buckles are passionate about OSU and education, establishing the Bill and Billie Dean Buckles Professorship for Innovation in Teaching in the College of Education. Their $250,000 gift qualified for the dollar-for-dollar match by Boone Pickens as part of Branding Success: The Campaign for Oklahoma State University.
The professorship will focus on innovations and excellence in STEM (Science, Technology, Engineering and Mathematics) teaching and learning, particularly in low-income areas of Oklahoma.
"One teacher touches hundreds of lives during his or her career. Having highly qualified teachers prepares students to enter a profession in which they will succeed, and possibly excel," Billie says.
Through the leadership and service of a faculty member, the Buckles' gift will inspire and impact countless OSU education students and future educators in an area of importance in Oklahoma and across the country.
"We are truly grateful for the Buckles' generous support. Endowed faculty positions help us attract and retain bright and talented professionals," College of Education Dean Pamela "Sissi" Carroll says. "The College of Education is working to establish itself as a hub for the best ideas in STEM teaching and learning, and this gift will boost our efforts."
Learn more about the STEM education work happening in the OSU College of Education by visiting crstl.okstate.edu.