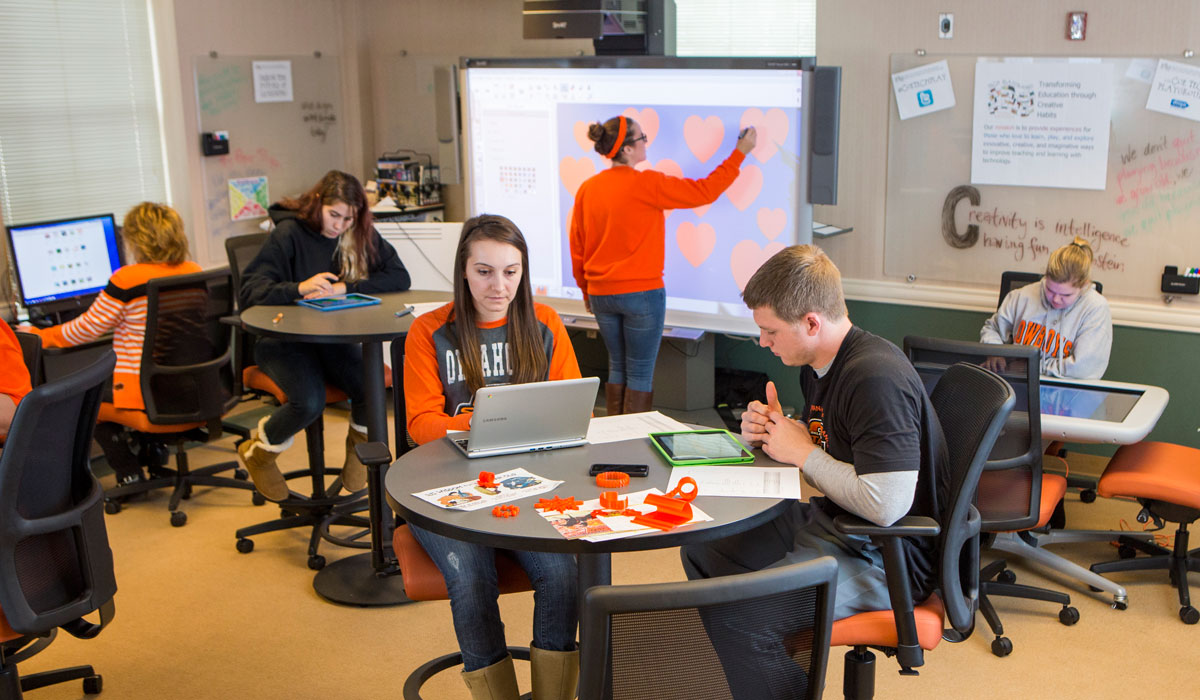 "Great learners are curious, persistent, questioning, not afraid to fail."
Those inspiring words are written on the wall of the College of Education's TECH Playground. Located on third floor of Willard Hall, the space is enticing students and faculty to think about teaching and learning in new ways and sparking connections across disciplines.
TECH stands for Teaching Education through Creative Habits. The playground opened late in 2013. It is home to a 3-D printer, a feature that draws attention from all visitors; and a Smart table, with a 360-degree surface that's designed to engage young students. One new addition to the playground is a cutting-edge Double Robotics telepresence robot, which enables faculty and students to be present, even from a distance. Other new tech tools include GoPro high-definition cameras to capture and review teaching performances, an EEG monitor system for physiological research, and a weather station for use by pre-service science education students.
There is also 3-D television, a Smart Board, an Xbox One with Kinect, a LiveScribe pen and various tablet devices. Visitors are welcome to bring their own devices and experiment with applications.
"Our goal is to have tools that won't be widespread in classrooms for five more years," TECH Playground coordinator Toby Brown says. "It's a revolving door of technology, and every year new tools will be added."
But the playground is not just about the technology; it's about the ideas. New and innovative tools are used to elicit ideas and conversations about teaching and research from College faculty, students, and staff. Often, informal conversations with playground visitors turn into brainstorming sessions for improving teaching and learning.
Education technology professor Susan Stansberry had long dreamed about a place where faculty and students in the College of Education could experiment with the newest and best technology tools and research the best applications to improve teaching and learning.
Thanks to the leadership of College of Education Dean Pamela "Sissi" Carroll and the support of a gift from education alumna Jeanie Muzik Crone, the dream became a reality when the TECH Playground opened last year.
"It's about the ideas and bringing creativity and innovation to teaching in the classroom," says Stansberry, who coordinates the education technology program. "Learners want to be engaged, and technology is a vector."
Writeable glass panels cover the room's walls. Faculty and students are encouraged to share their curiosities, challenges and ideas about innovative teaching and learning.
The starter question is, "What challenges do you see in teaching and learning?" Everyone who comes through the door is encouraged to share creative solutions and collaborate with others in the room, on the playground's blog (edtech.okstate.edu/techplayblog) or through Twitter.
"I am energized whenever I go into the room because the scene is always changing. The walls are covered with visitors' real questions about the learning process, and how technologies might help us explore it more deeply," Carroll says. "The TECH Playground encourages us all to be great learners."
The playground is open daily during the week for visitors to walk in and spend time "playing." Students from eight sections of undergraduate teaching with technology regularly hold class in the space.
"They haven't been afraid to write their ideas on the walls. We love seeing their ideas interacting with faculty ideas," Stansberry says.
A host of potential research projects that cross disciplines can cover the walls.
"It has been encouraging to see how different disciplines are talking. We are excited about the frequency of collaboration and hope it makes everyone better," Stansberry says.
The innovative space is certain to benefit creative teaching, learning and research habits of both students and faculty in the College of Education, and by extension, the thousands of future K-12 and university students they will teach.
"We are excited about a paradigm shift from past ways of teaching and learning to new creative and innovative practices," Stansberry says. "We aren't kidding about transforming."