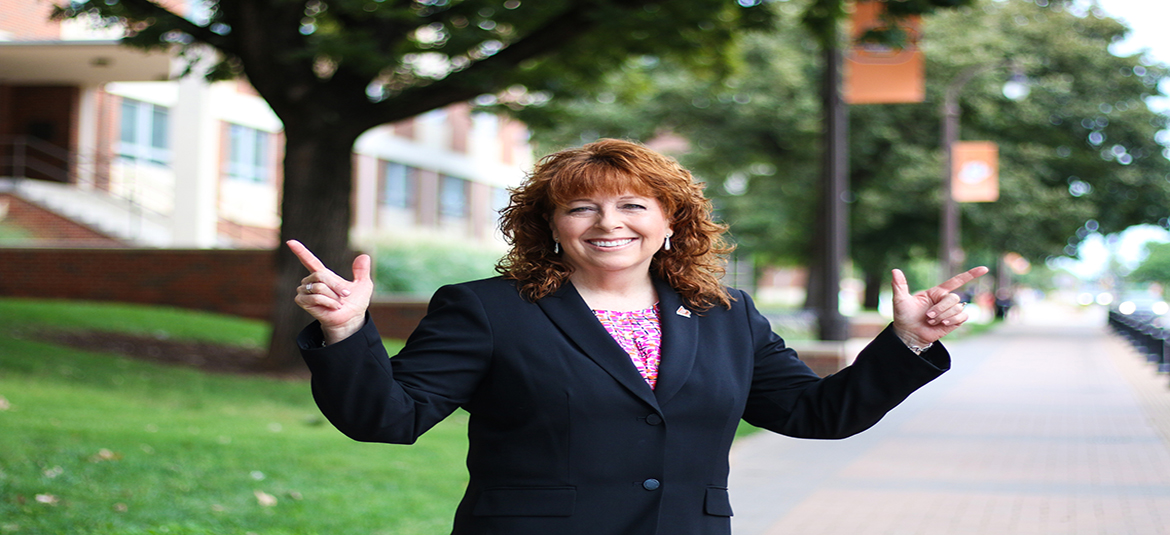 Highest-ranking female administrator in the Division of Agricultural Sciences and Natural Resources serves as mentor
By Sean Hubbard
Cynda Clary does more than just say it's all about the students: She eats, breathes, sleeps and lives for the success of students in Oklahoma State University's College of Agricultural Sciences and Natural Resources.
Clary has been the highest-ranking female administrator in the Division of Agricultural Sciences and Natural Resources since she accepted the position of associate dean in 2012. Her title does not get in the way of helping out wherever she can.
Kristi Sproul, education and marketing specialist for AgCareers.com and former CASNR prospective student coordinator, worked with Clary on several projects, including the National FFA Convention.
"Often faculty members spend part of their day in the trade show booth and don't necessarily engage with prospective students," Sproul explains. "Dr. Clary, however, will work the booth the entire day and really connect with prospective students to encourage them to join the CASNR family."
For the 2015 convention, Sproul proposed pomping the CASNR and FFA logos — ala Homecoming displays — as the interactive booth activity. This turned out to be a lot more work than she expected.
"Dr. Clary sat down on the concrete floor, in her suit, after the trade show had closed for the night, and pomped alongside the college students," Sproul recalls. "She doesn't shy away from the less glamorous jobs, and that says a lot about her character."
Clary earned a bachelor's degree in agricultural business from California Polytechnic State University before earning her master's degree at Purdue University.
At Purdue, Clary was the graduate teaching assistant for the marketing team. With her master's degree, Clary headed back to California to co-teach a summer course at Cal Poly.
Teaching stoked the fire within her to work in higher education, so she went to North Carolina State University, where she completed her Ph.D. in the agricultural economics department.
Clary began her teaching career at New Mexico State University and held many positions over the next 19 years.
Chadelle "Chaddy" Robinson, college assistant professor of agricultural economics at New Mexico State, was a lost sophomore when she met Clary, struggling to find a fit in a college and a passion for a field of interest.
"She taught by example and reminded me often that sometimes you just need to slow down and take care of the people around you, especially the ones you know are struggling," Robinson said.
When Robinson went to graduate school at NMSU, Clary was the chair of her master's committee. With high standards for her thesis and Clary pushing her to present at professional conferences, Robinson was nervous about the statistics in her work.
Clary cleared her calendar, and the pair spent an evening working through Robison's thesis until they heard their stomachs rumble.
"She ran to the local grocery store and grabbed a roasted chicken and loaf of warm baked bread. We sat on the floor of her office, continued to work on the paper and ate dinner," Robinson remembers. "I can still remember the satisfaction of the meal. The chicken was tasty, but the company was fabulous."
Years later, Clary's family chose to relocate to Stillwater so the educator could bring her passion for student success to CASNR. This decision was not as simple as just packing up and moving. In Las Cruces, New Mexico, Clary's husband, Rob Haddock, was a corporate financial controller, a youth basketball coach and a youth baseball league board member — rewarding positions not necessarily easy to replicate elsewhere.
"He gave all that up for me to be able to take on this opportunity," Clary says. "His support is what has made my career possible."
It didn't take long at OSU for Clary to find herself serving as a mentor in a Women in Leadership program through the Institute for Teaching and Learning Excellence.
"Dr. Clary has been both a formal and informal mentor to me, and I have valued her ability to view situations and issues from multiple perspectives," says Kristen Baum, associate professor of integrative biology at OSU. "She's very generous with her time and provides her undivided attention, even when there are important deadlines and more pressing issues."
Her colleagues in CASNR also sing her praises.
"Dr. Clary is a proven leader in higher education and initiates results-driven programs," says Tom Coon, DASNR vice president. ""With record enrollment and unparalleled retention rates, we are able to graduate students who are workforce ready for the agriculture and natural resource industry job markets. She is a catalyst for the successes of our students and is truly motivated in finding new ways to assist them in their academic journeys."
While Clary doesn't get to spend much time in the classroom, she still manages a lot of student interaction.
"We don't just invest in those students who ace every class and seem to always make the right decision, but we invest in that student who is on academic probation and is struggling and has made some wrong decisions, too," she says. "We are honest with them, show them the big picture and help them decide what their priorities are and what decisions they need to make. As a college and a division, we do those things every day, and that makes me extremely proud to be associated with this place."