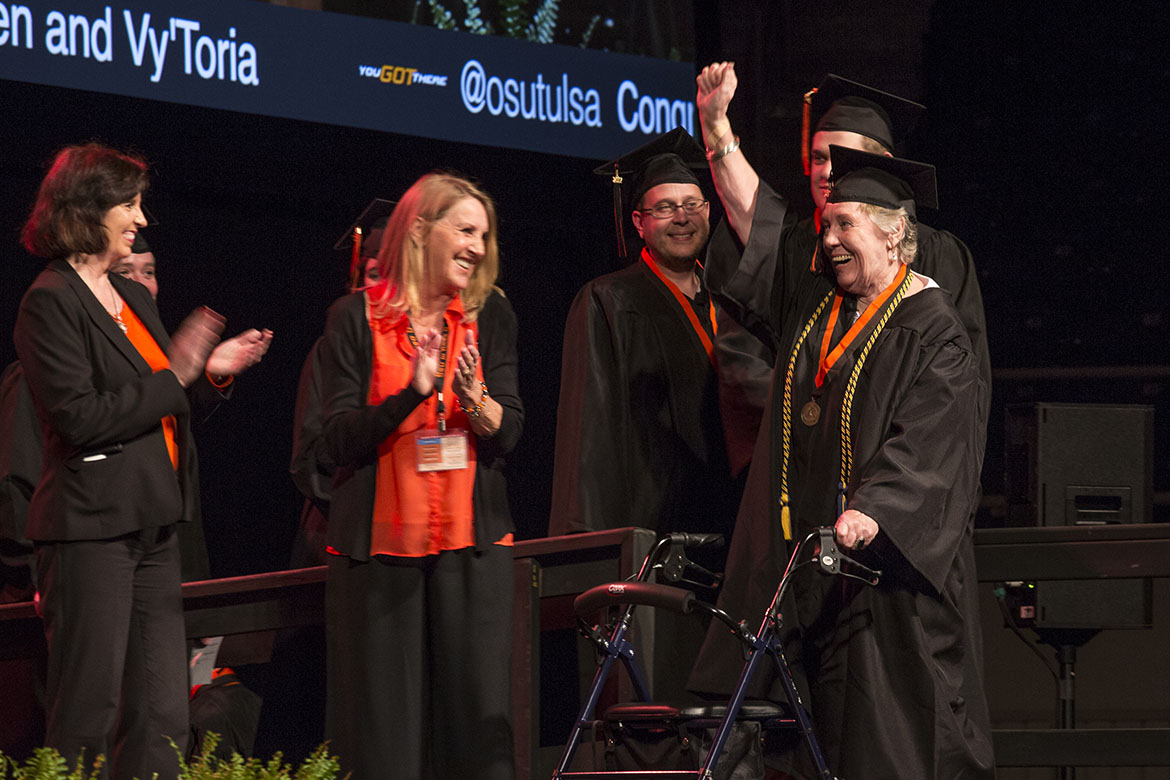 When Tulsa author Ann Patton graduated from high school in 1955, college was not an option for poor kids like her.
By Kim Archer
When Tulsa author Ann Patton graduated from high school in 1955, college was not an option for poor kids like her.
"The University of Tulsa was the only option for students who could not leave Tulsa, and it might as well have been the moon," she says.
By age 22, Patton was married with four kids. Growing up in west Tulsa, Patton was taught that education is the "preparation for complete living." So she never gave up on her dream of earning a college degree.
On May 15, Patton became the oldest known graduate of Oklahoma State University-Tulsa after four decades of earning "a crazy-quilt collection of college hours from several schools that I always dreamed might add up to a degree."
"It was OSU-Tulsa that brought it all together," Patton says. "Academic advisers helped me fill the holes in my courses. When we moved to Orlando for health reasons in 2015, OSU-Tulsa's advisers helped me find the online course that completed the circle. A miracle!"
Patton, by all accounts, has long been considered a success.
A former journalist with the Tulsa World, Patton is a book author, consultant and a member of the team that developed Tulsa's award-winning flood management system. She also is known nationally for her expertise in disaster mitigation and water management.
Patton is author of Unmasked: The Rise and Fall of the 1920s Ku Klux Klan, The Tulsa River, Dan's War on Poverty and Fifty Years Remembered: The First 50 Years of the Tulsa District, U.S. Army Corps of Engineers.
"Why? Why would I care so passionately about graduating just before my 80th birthday?" she says. "Mostly, it is just for me. But also I want my grandchildren to know not to give up on their dreams. More importantly, I want them to know that education has inherent value."
As a journalist, she once interviewed a young man who escaped communism by swimming through shark-infested waters. Patton says she will never forget something the man said – "My teacher is my life."
"People today argue that education has to translate directly to making money," she says. "But the higher goal is to help us live a full and rich life."
She was also inspired to complete her degree by her granddaughter, Patricia Ann Franklin, who traveled from her home in Seattle to watch Patton walk across the stage at OSU-Tulsa.
About 15 years ago, Patricia was a single mother, working full-time and raising a son when she enrolled at OSU-Tulsa and earned a bachelor's degree.
"It is so wonderful that this institution has allowed people like my granddaughter to get the education that can make their lives so much better," Patton says. "They are the real heroes."
For Patton, education has been a lifetime pursuit. Learn more about her at annpatton.net.
"I was a supremely nontraditional student, and I could never have made it without OSU-Tulsa," she says. "This is an amazing institution and a wonderful addition to Tulsa. I am grateful."