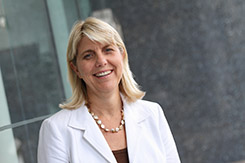 Cowgirl takes overas first woman to lead Baylor University
By Chase Carter
Linda Livingstone's life has been filled with one adventure after another. After earning three degrees at OSU and competing on the women's basketball team, she taught at Baylor University before serving as dean of the business schools at both Pepperdine University in Malibu, California, and George Washington University in Washington, D.C.
Her latest adventure is a homecoming of sorts as she returns to Waco, Texas, to lead Baylor as its first female president. For her, it's just the next exciting chapter in a career built on faith, family and education.
Orange roots
Livingstone grew up on her family's farm in Perkins, Oklahoma, and by the time she was born, her father had already made a name for himself within the Cowboy family.
Doyle Parrack graduated from Oklahoma A&M in 1943 with a degree in education. He played on the Aggies' 1945 national championship team and went on to coach at Oklahoma City University, the University of Oklahoma and finally Oklahoma State under the legendary Henry Iba.
Like her father, Linda played basketball at OSU and was a four-year letter winner from 1978-1982. Her future husband, Brad, also played basketball at OSU, and the two met through the Fellowship of Christian Athletes.
"I had such a great experience at Oklahoma State," says Livingstone, who earned a bachelor's degree in economics and management in 1982. "OSU gave me a love for learning and the college campus setting. It prepared me well for the professional world and kept me grounded."
While working on her master's degree in business administration, Livingstone says Dr. John Mowen, a marketing professor, told her he thought she would do well in an academic career and asked her if she had ever thought about getting a Ph.D.
"That was very specific advice for me from a faculty member," Livingstone says. "He saw something in me that sparked a thought in my mind that maybe there was an opportunity I should think about."
Livingstone earned her MBA in 1983 and returned to OSU a few years later to pursue a doctorate in management and organizational behavior. This time it was her adviser, Debra Nelson, whose advice turned out to be pivotal in shaping her entire career.
"During my first semester, she asked me what schools I had been thinking about once I finished my Ph.D.," Livingstone says. "She actually suggested Baylor because she knew I was a person of faith and Baylor was a Christian university.
"This was before Baylor was in the Big 12. I had never been on [its] campus, and I'm not sure I would have ever thought about it otherwise."
Adventures from coast to coast
As it turned out, Nelson's advice was right.
Livingstone began at Baylor in 1991 as an assistant professor in management. She was named an associate professor in 1997 and, one year later, associate dean of graduate programs at the Hankamer School of Business.
"We loved Baylor when we were here," Livingstone says. "Our daughter was born in Waco, and my time at Baylor as a faculty member and associate dean was formative in developing my passion for academic administration."
After 11 years at Baylor, Livingstone began what would turn into a 12-year stint as dean of the Graziadio School of Business and Management at Pepperdine. She oversaw a $200 million expansion of its graduate campuses as well as its executive, full-time, and fully employed MBA programs.
In 2014, Linda was hired as dean of George Washington University's School of Business, and the Livingstones moved 2,300 miles east to Washington, D.C.
"We viewed going to Pepperdine as a new adventure, and so we viewed taking on the opportunity in D.C. as a new adventure as well," Livingstone says. "Our daughter was going off to college at Rice, and I felt at that point, to be able to run a business school in the nation's capital would provide some unique and interesting opportunities."
Homecoming in Waco
The last decade in Baylor University's history has proven to be one of its most noteworthy — for reasons both good and bad.
A renaissance in athletics in the 2000s earned a national spotlight — first as the Baylor women's basketball team brought home two NCAA titles and then when the Baylor tball team surged to prominence under former head coach Art Briles.
A team that had traditionally been known as a bottom dweller, Baylor tball won outright or a share of the Big 12 Conference title in 2013 and 2014. Aging Floyd Casey Stadium was replaced by a gleaming McLane Stadium on the Brazos River. Alumni and fan support was at an all-time high. But in the fall of 2015, it all began to unravel.
Allegations and reports began to swirl about sexual assaults being committed by members of the Baylor tball team that were going unpunished. A report released by the Baylor regents to The Wall Street Journal ultimately found 17 women alleged sexual assaults or instances of domestic violence by 19 players. In May 2016, Briles and Baylor President Ken Starr were removed from their posts, while the university and the nation came to grips with the reality of sexual assaults on colleges campuses.
After a lengthy search process, Livingstone was named Baylor's 15th president on June 1, 2017. She views the role as both a challenge and an opportunity.
"Because I'd been here before, I knew the heart and soul of the place; I knew the people," Livingstone says. "I knew at its core Baylor was a great academic institution with a great mission as a Christian research university. What better opportunity to come in and help move it past a difficult time to a really wonderful future that is unique in higher education?"
As the new president, Livingstone says she's doing a lot of listening — to students, alumni, parents and others. The investigations surrounding Baylor resulted in 105 recommendations for improvements, and Livingstone says the school has implemented all of them.
"In terms of moving the institution forward, what we're focusing on is continuing to learn from the issues we had with sexual violence in the past and continuing to make improvements," Livingstone says.
Baylor's challenges are far from unique. According to a 2015 report by the Association of American Universities, 11.2 percent of all college students experience rape or sexual assault through physical force, violence, or incapacitation. It has become a systemic problem nationwide that Livingstone says Baylor is committed to changing.
"Given what [Baylor] has experienced and the significant changes we've made, this audit we're doing will be very helpful to other institutions to look at what they're doing and see if there are things they can be doing differently or better," Livingstone says. "We want to continue to learn from other people as we hope they'll continue to learn from us."
Ultimately, Livingstone says working with the students has been the most affirming and positive experience of her homecoming at Baylor.
"They're enthusiastic about life, and they also care deeply about their faith and how that integrates with the things they're doing," Livingstone says.
Faith and the Future
No matter where she has lived, Livingstone says her faith has served as an important tool for guiding her career.
"I made some pretty significant and difficult career choices," Livingstone says. "Knowing I'm trusting in God to provide leadership and guidance in my career with my family as we make some of those career choices gives us confidence that it's going to work out okay."
At Baylor, Livingstone says she has been overwhelmed by the community of people of faith around her who have encouraged and supported her.
"One of the things I've been particularly affirmed by since I've been back at Baylor is just how many people talk about how they're praying for me, for my family and for the Baylor community," Livingstone says. "That's certainly been a very positive part of my early time here."
Moving forward is an important point Livingstone is already emphasizing. In addition to addressing the issues in Baylor's recent past, she is working to guide the school to an even brighter future.
"Our aspirations are to move up in the ranks of top-tier research university while continuing to strengthen our Christian mission as a university," Livingstone says. "Five years from now, I hope we're significantly further along that path, growing our academic reputation while maintaining the integrity of our Christian mission. I certainly hope we've won a few more Big 12 championships in that time frame as well."
Today, Baylor is turning to its first female president to help heal the wounds of its past and strengthen its resolve for the future. It's a job well suited for a Cowgirl who is a firm believer in the power of faith, family and education — all of which she honed at Oklahoma State.
And to the women now at OSU working to bring their dreams to life, she has one piece of advice:
"Go for it. If it's something you're passionate about and care deeply for, go for it."