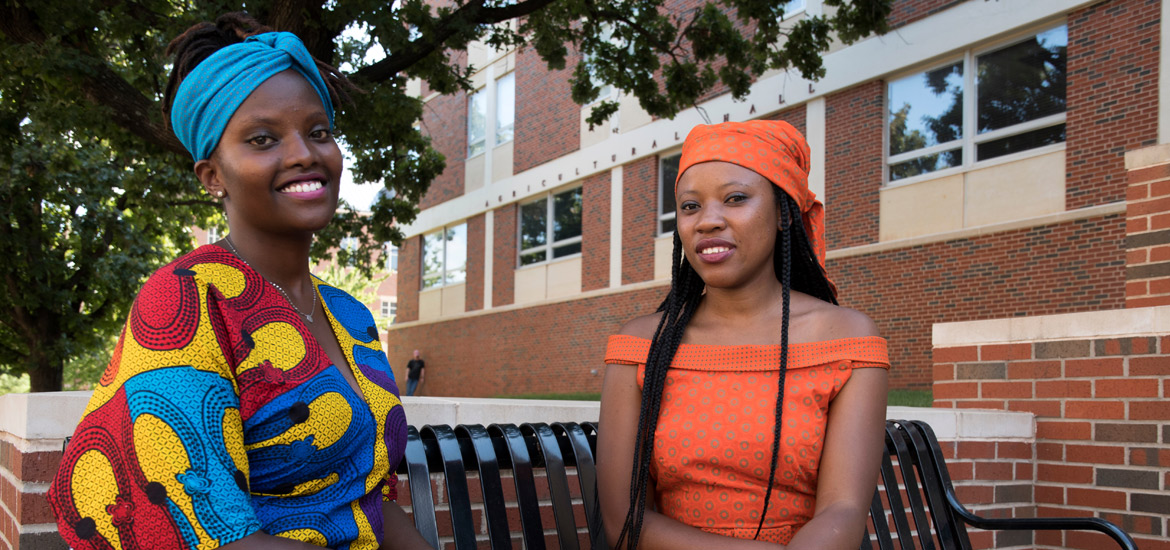 Young African leaders visit Oklahoma State University
By Sean Hubbard
Like many children today, Larissa Uwase grew up in a single-parent household.
The Rwanda native lost her mother when she was 6 years old. Her single father struggled to raise his family and make ends meet at a turbulent time in their nation.
Rwanda was trying to pick itself back up after losing some 800,000 people during the mid-1990s genocide. As a byproduct, the country was left with very limited supplies of nutritious d.
This family struggle was Uwase's inspiration for creating the CARL Group — an agriculture-focused firm dedicated to improving the health of Rwandans and all Africans through innovative d produced from orange-fleshed sweet potatoes.
"I grew up with a big dream of creating a nutritious d industry," Uwase says today. "Alongside three other founders and four staff members, we supply sweet potato vines to women farmers and buy the excess product from them."
"Orange-fleshed sweet potatoes are very nutritious and contain plenty of vitamin A," Uwase says, adding that 35 percent of the children in Rwanda suffer from vitamin A deficiency. "In fact, [the deficiency] can cause blindness, as well as limit growth, weaken immunity and increase mortality."
Still, Uwase faced a challenge in promoting the vegetable: In Rwanda, the crop often gets fed to animals or thrown away because many people are unfamiliar with its health benefits.
CARL Group makes sweet potato crisps, biscuits, bread, donuts and even sweet potato pasta. All are rich in vitamin A and support Uwase's "passion for d processing and feeding people."
The continent of Africa is home to more than 1.2 billion people. Through the Mandela Washington Fellowship for Young African Leaders, 25 of them spent part of their summer on the campus of Oklahoma State University.
The campus project was a partnership between OSU's Departments of Agricultural Education, Communications and Leadership, and the Riata Center for Entrepreneurship in the Spears School of Business. The opportunity was made available through funding from an International Research Exchange grant from the State Department.
As a flagship program of the Young African Leaders Initiative, the Mandela Washington Fellowship is designed to empower young leaders from sub-Saharan Africa through academic coursework, leadership training and networking opportunities.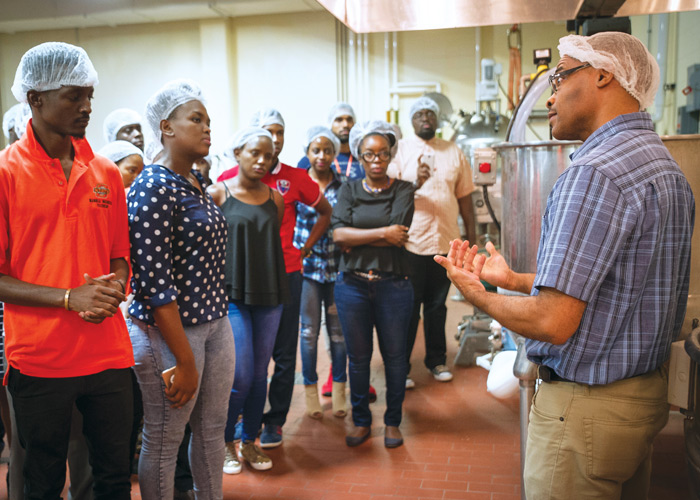 "I chose to participate in the Mandela Washington Fellowship because I needed to experience the American innovation in d processing, learn about leadership with business and entrepreneurship in the best universities in the U.S., like Oklahoma State University," Uwase says.
All of the African Fellows have different stories, passions and motivations. Their interests in agriculture, entrepreneurship and bettering the lives of others ties them together. Malerotholi Maseribane Ntsaba, of Lesotho, a completely landlocked country encircled by South Africa, has more than one interest. From an entrepreneurial and politically oriented family, Ntsaba is the founding director of Egg-Cellent Farm Lesotho.
She also started a foundation called Lintle for Women and the Girl Child, named after her 3-year-old daughter.
Egg-Cellent Farm was established in 2013 to produce broiler chickens, but the business took a turn when Ntsaba learned through her research that Lesotho had a limited supply of eggs. She shifted from broilers to layer hens to combat the shortage of eggs, and her farm of 1,200 birds now supplies eggs to the local community, supermarkets and restaurants.
"My aim is to forge a sustainable and local layer poultry economy for my country, as we currently don't have parent stock farms in production of layer replacement stock," Ntsaba
says. "I wish to empower local layer poultry farmers with reducing the dependency and costs of importing hens from abroad."
After launching the egg business, Ntsaba set her sights on a foundation aimed at empowering, restoring the dignity and protecting the individual rights of women and girls, particularly in rural communities.
After surveying adolescent schoolgirls in rural communities in 2014 about their views on menstruation, Ntsaba wanted to address misconceptions about women's cycles and the problem of limited access to safe, affordable and convenient feminine hygiene products.
"Most girls miss one to three days of school, every month, all around because they don't have adequate ways of dealing with their menstrual periods," she says. "Some girls choose to totally stay out of school during that time due to societal misconceptions about menstruation and hygiene, while others use less hygienic options, such as sheepskin and dirty socks to deal with it."
The foundation organizes fundraising events and annual campaigns to provide washable sanitary pads for girls.
This is what the Mandela Washington Fellowship program is all about — giving entrepreneurs like Uwase and Ntsaba the tools they need to take their work to the next level.
"I can put together what we learned from the people we met at OSU and Oklahoma at large, into three words, which are passion, perseverance and persistence," Uwase says.
"This whole experience at OSU in the Mandela Washington Fellowship changed my life, and this is something that I am taking to Rwanda in order to impact other women who aspire to be leaders."
Ntsaba's goals in the program were to further develop her leadership and business skills, and acquire influential networks to help her in her business and her foundation.
"My expectations with the program were met over and above. I had the best experience at Oklahoma State University," Ntsaba says. "There is no cherry on top for me; the entire experience was a highlight."