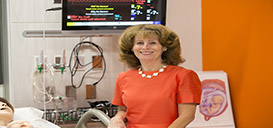 OSU-Oklahoma City president raises campus profile
By Sandy Pantlik
Robert Lakes' initial encounter with OSU-Oklahoma City President Natalie Shirley was at an event during his first semester. "I was respectful, but kept wondering, 'Who is this short lady and why is she asking me all these questions?'"
Lakes, an Army veteran who served in Afghanistan, came to OSU-OKC with a four-month plan to take a few classes and leave. His interaction with Shirley put him on a new trajectory.
The next day, OSU-OKC Vice President of Student Services Brad Williams called Lakes at Shirley's request to find out what he needed to complete his degree. Today, Lakes is an OSU-OKC graduate working full-time and pursuing a bachelor's in finance and supply-chain management.
"At that moment, my world changed," Lakes says. "She was the real deal – a CEO, a president, a board member, a lawyer, an adviser. I saw in her what I aspired to be. She doesn't pull punches, is tough but compassionate I think because of her upbringing. She earned everything she achieved by outworking everyone, and that's what she inspired me to do. She even taught me the importance of reading the Wall Street Journal and the Economist and still saves her copies for me every week."
In 2011, Shirley became the fourth president of OSU-OKC and the first female president in the OSU System. She believes education is a tool.
"Education itself is not necessarily my heart's passion," she says. "I am focused on what it can do for the student, community and state."
Lawyerlike, she presents a strong case.
"Oklahoma's unemployment rate has been low since the 1980s. Yet, we consistently rank in the bottom decile for families and kids living in poverty. That means everyone is working hard, but not getting anywhere," she says. "The reason is clear: Oklahoma is very low in educational attainment. Therefore, we can't fully address the chronic problems of Oklahoma unless we educate more Oklahomans.
"Education is the only tool that can move us forward."
Shirley was drawn to the position because she attended a two-year college. She earned an associate degree from Northern Oklahoma College in Tonkawa before going to OSU for degrees in psychology and political science. She also earned a University of Oklahoma law degree.
"I know many of our students are bucking the socioeconomic status quo because I have done that too," Shirley says. "Our students represent underserved populations in the region. Many work full-time, support families and face struggles to improve their education level. Many are not expected by anyone to complete their education – but we expect it of them and teach them to expect it for themselves."
Shirley is the oldest of four children from a Blackwell, Oklahoma, family of modest means but with amazing parents. The first in her family to go to college, Shirley identifies with her students.
"I wasn't the smartest person in my graduating class, I wasn't the tallest or the prettiest, but I was determined to succeed by working harder than anyone else," she says.
Of all her accomplishments as president, Shirley is most proud that OSU-OKC's graduation rate has more than doubled in the past five years. According to Payscale.com, OSU-OKC graduates make more than those from any other Oklahoma two-year college.
"These are more than numbers; they are life-changers and show the powerful tool that education can be," Shirley says.
Shirley said the first thing she noticed when she came to campus five years ago was, "We were severally orange-anemic." She immediately started a campaign to make America's Brightest Orange® front and center throughout the mile-long campus, carrying the OSU brand, color and Pistol Pete south from Stillwater.
"Offering an OSU degree in OKC is one of our strongest attributes," she says. "It was important to me that our students and employees know and feel they are part of the OSU Cowboy family."
Shirley also ranks raising OSU-OKC's profile in the community as a major feat. Creating partnerships has been her presidency's slogan.
"We have strategically partnered with anyone and everyone to lift our campus and students, especially in recent years with severe state budget cuts," she says.
Under her leadership, in 2016 OSU-OKC opened a new Allied Health Building featuring advanced simulation training and an embedded Variety Care community health center; opened the Engineering Technology Center in 2011; introduced the Paint This Town Orange fundraising event generating hundreds of thousands of dollars for student scholarships; enhanced services to veteran students; and increased efforts to build business and community partnerships that secured millions in corporate, private and grant funding to benefit scholarships and programs.
OSU-OKC recently partnered with Dove Science Academy to offer the chance to earn an associate degree upon high school graduation, and initiated campus lease agreements with Cristo Rey High School and OSU-Center for Health Sciences.
"It is my goal to create an expectation that our students can perform at high levels," she says. "OSU-OKC won the Governor's Cup entrepreneurial competition twice and was the only two-year school in the finals more than once. Our graduates are out there shaping the community as police officers, firefighters, counselors, teachers, nurses, health care professionals, business owners and more. Our transfer students have won a number of scholarships to OSU and other schools."
OSU-OKC graduate and OSU senior Wendy Lau embodies Shirley's goal. While at OSU-OKC, she was the only Oklahoman to receive the 2015 All-USA Coca-Cola Community College Academic Team scholarship. After transferring to OSU, she received a 2017 Women for OSU Scholarship. Lau is scheduled to graduate in May with an industrial engineering and management degree.
"I got acquainted with President Shirley through the (OSU-OKC) Student Government Association," Lau says. "I would see her running around campus in her four-inch heels on a mission all the time. But no matter how busy she was, she always had time for a conversation, to write a letter of recommendation, answer my email and even loaned me the clothes off her back when I needed an orange dress for a school event! She really helped me find the path to go on to OSU."
Shirley, a mother of six, recognizes she sometimes slips into "mom mode" with students.
Alvin Beagles found that out when he was "invited" to Shirley's office during a grade appeal.
"She gave me a pretty good scolding, set me straight and got me back on track," Beagles says. "That conversation really opened my eyes and helped me get the support I needed. I ended up graduating and am now working on my history education degree. I definitely would not have gotten this far without her."
This month, Shirley will retire to pursue other ventures. OSU President Burns Hargis says Shirley was a perfect fit to lead OSU-OKC.
"Her business and government experience increased OSU-OKC's impact and presence in Oklahoma City community," Hargis says. "We appreciate and applaud her service to OSU and wish her all the best."
"I have absolutely loved being here," Shirley says. "For me, this role has always been about our students, and using any means to ensure OSU-OKC provides them with the best opportunities and resources to reach their educational and economic dreams. They inspire me every day.
"It will take all of us to raise the education and employment levels of our fellow Oklahomans, but we are worth the effort that leads to a better future. I intend to help others work toward that goal no matter where I go next."
Editor's note: Natalie Shirley was chosen as one of our "Influential Figures: Women Who Make OSU America's Brightest Orange."