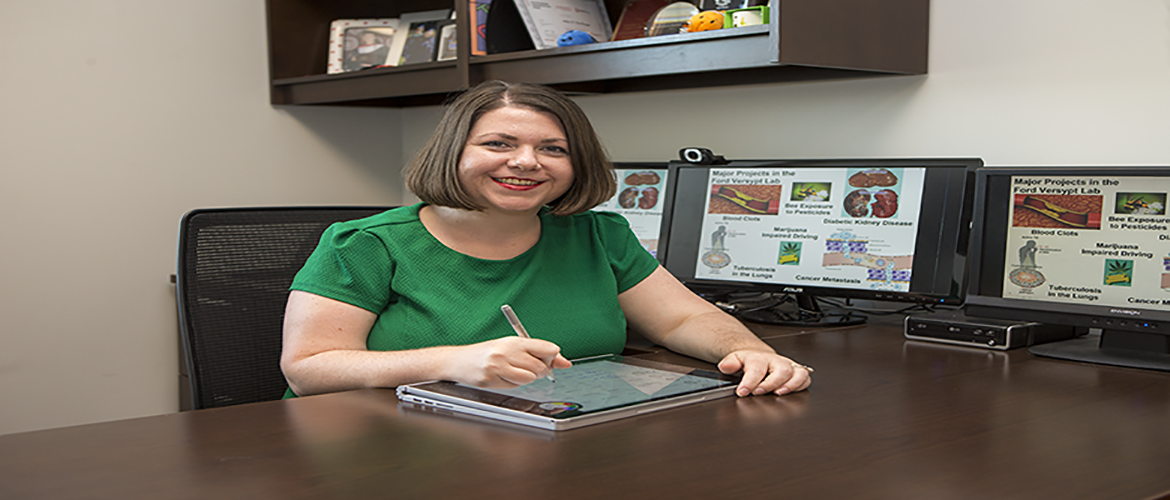 Young female faculty members carry on the tradition of guiding university students
By Jeff Joiner
Along any career path, there are people who make a difference through guidance and encouragement. On a university campus, they are called mentors. Ashlee Ford Versypt, assistant professor of chemical engineering at Oklahoma State University, is one of those people.
Ford Versypt mentors students in the classroom and in her laboratory by teaching the critical skills needed to communicate their research. Reputations in science are built on research achievements, which can come slowly for junior faculty members. But scientists can impact the educations of their students from Day One.
"I am dedicated to excellence in my teaching and educational scholarly activities, because these are integral for the success of our program and my career," Ford Versypt says. "If I provide opportunities for others and generate new ideas that can address challenges, I consider that a success."
That dedication was recognized with the 2017 College of Engineering, Architecture and Technology Excellent Teacher Award.
Ford Versypt came to OSU to work in her first faculty position in the fall of 2014. Along with teaching duties came the arduous job of establishing her lab, which focuses on chemical engineering, computational science and biomedicine.
Originally from Snyder, Oklahoma, Ford Versypt earned a bachelor's degree in chemical engineering from the University of Oklahoma and a master's in chemical engineering and a doctorate in chemical engineering and computational science from the University of Illinois in Urbana-Champaign. She completed her education with a postdoctoral research position at the Massachusetts Institute of Technology.
Ford Versypt chose to start her career at OSU thanks to the university's emphasis on undergraduate research, she says..
"I like that what we do in the classroom is important and that we integrate undergraduates into our research," she says. "Undergraduates here are very bright and very hard-working. They have a great work ethic."
Ford Versypt is passionate about providing her students with good research experiences because she found that same opportunity significant.
"I had a great undergraduate research experience myself," she says. "I took a junior-level laboratory course taught by the person who would become my adviser, Dimitrios Papavassiliou. He recruited me to join his research group, and I felt like, 'Wow! This is amazing that this professor wants me to be in his lab.'"
Ford Versypt actively recruits top students from her classes at OSU. Her first two undergraduate recruits worked for her on a summer CEAT outreach program dealing with pharmaceutical design. The students' efforts resulted in being co-authors on a conference paper and a peer-reviewed journal article. In only three years at OSU, Ford Versypt has already worked with 17 undergraduates.
Of course, student recruiting is not limited to undergraduates. Ford Versypt's graduate students are also making a name for themselves and her research program. Her first doctoral student, Minu Pilvankar, has distinguished herself with her tireless work and ability to find and analyze research relevant to their work.
"She's my go-to person to find biological and physiological papers and being able to interpret those experiments. She's able to find relevant information that we can incorporate into our computer models," Ford Versypt says.
Pilvankar's doctoral thesis is on creating physiological computer models of diabetic kidney disease. Her work is done entirely on computers rather than in a traditional chemistry lab. Recently, she was awarded a prestigious international computational research fellowship — the first for an OSU student. She credits Ford Versypt for her spot in an OSU Ph.D. program.
"I could have applied to other universities, but I didn't because I wanted to work with her," Pilvankar says. "As a mentor, she has helped me in so many ways both in my personal and professional development."
One of Ford Versypt's leadership abilities is showing students what they are capable of accomplishing. And student success means program success.
"For Minu to win this fellowship shows that world-class things are going on at OSU," Ford Versypt says. "It enhances our prestige and puts us on the radar of places where quality research is taking place."
Ford Versypt says leadership by female faculty members has fostered the idea that those with potential can succeed regardless of gender.
"As a woman in science and engineering, I try to serve as a role model to show diversity in background and experiences that contribute to better scientific teams for solving problems of interest to all people," she says.