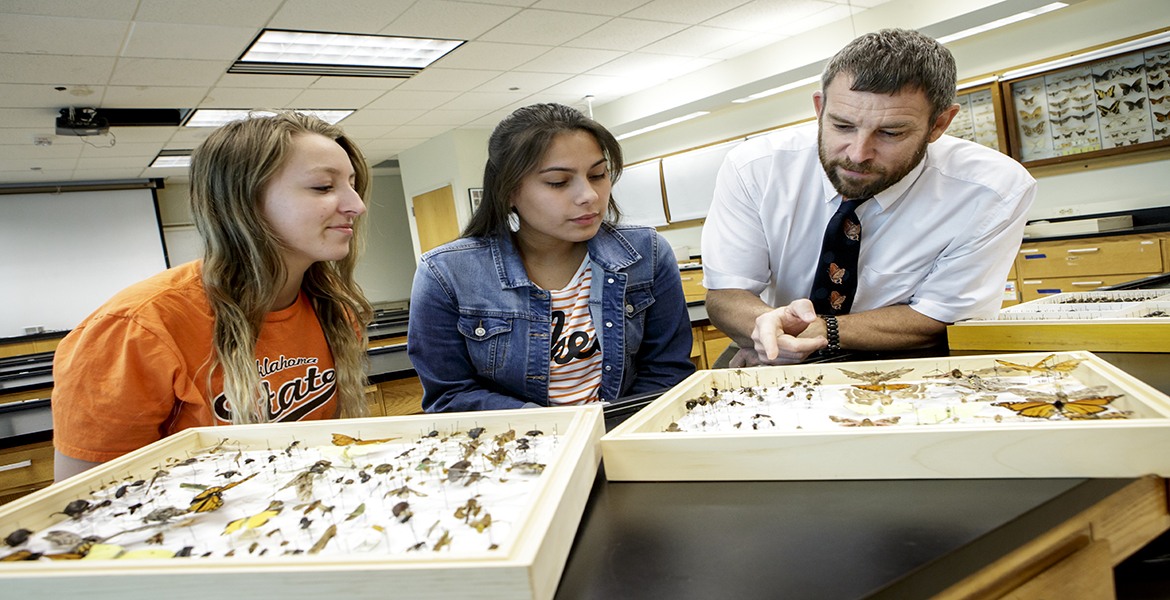 Native American freshmen choose an entomology adventure
By Beth Theis
Oklahoma State University freshman Natalee Taylor always wanted to be a veterinarian.
In fact, she spent two summers interning with a veterinarian who specialized in large, small and some exotic animal medicine, and planned to major in biochemistry and molecular biology en route to vet school.
Even with experience researching ticks from previous classes and an internship, studying entomology never crossed her mind.
Then came the conversation with Wyatt Hoback, an OSU assistant professor of entomology and plant pathology, during a student event on the Stillwater campus.
"I didn't even know entomology was a major here," Taylor says. "I met Dr. Hoback at new student orientation, and we started talking about my research project. After he discovered my experience with tick research, he began to tell me about the entomology department."
The friendly chat not only led Taylor to eventually change her major but also opened the door to a barrier-breaking scholars program designed to integrate the study of insects and Native American heritage.
A Muscogee Creek citizen from Henryetta, Oklahoma, she is one of six inaugural scholars in Native Americans Trained In Various Entomological Sciences, or NATIVES.
The Department of Entomology and Plant Pathology, part of College of Agricultural Sciences and Natural Resources, partnered with the Center for Sovereign Nations at Oklahoma State University in the spring of 2016 to establish the four-year grant program. It is designed to attract highly qualified Native American students into the entomology and plant pathology undergraduate program at OSU.
The partnership and grant program were spearheaded by Hoback, the primary investigator on a research project exploring why Native Americans suffer twice the rate of certain diseases compared to non-natives.
"Entomology is a dying but important industry," says Hoback, who noted the number of scientists trained in entomology has declined substantially since the 1990s, and very few Native American students earn degrees in the field.
In general, the lack of trained entomologists from diverse backgrounds is challenging for the field of entomology because of the potential for miscommunication and misunderstandings rooted in racial, cultural and ethnic differences.
That lack of diversity in the field is a specific challenge for Oklahoma, where 39 sovereign nations manage nearly half of the state's lands.
Other NATIVES scholars include twin sisters Alexis and Taylor Coles, Norman, Oklahoma; Bailee Posey, Corinth, Texas; and Haylee Stevens, Claremore, Oklahoma, who are Choctaw citizens. Katelynn Montgomery is a Cherokee student from Bartlesville, Oklahoma.
Interestingly, like many of their fellow scholars, the Coles did not have entomology on their radars, either. But, turns out, the field is a perfect fit as they chart courses toward lifelong dreams of becoming doctors.
"We want to give back and help our people and protect the lands of the tribe," Alexis Coles says.
NATIVES is more than simply a scholarship program, though.
Getting connected with the program and the Center for Sovereign Nations has helped Posey, who hails from a family of veterinarians and expects to follow the same path by studying entomology with a pre-veterinary option, learn more about her Choctaw heritage.
Meanwhile, for Stevens, NATIVES has provided financial support for her college education as well as a slate of tools that will help her prepare to achieve her post-collegiate goals.
After learning what the entomology program has to offer, Stevens was convinced it fit with her plans for a career in the medical field.
"It seemed like just a great opportunity that I couldn't pass up," she says. "The people with the Center for Sovereign Nations are more of a family away from home. There is always someone to talk to or get help from in the center. They are there for us when we need them, and that means a lot."
Fellow NATIVES scholar Montgomery also appreciates the family atmosphere surrounding program.
"One of the first things I noticed after joining the program was the family I gained," she says. "Not many freshmen get that base from the beginning."
Once selected for the program, she quickly connected with the center and is thriving.
"I love the idea of coming up with a question and then solving it myself," Montgomery says. "I get to teach myself and constantly learn about new ideas. It's like an adventure all the time. It never gets old."
NATIVES scholars will engage in a STEM-based curriculum and research experiences in three core areas of entomology: insect biology and ecology, medical-veterinary entomology and forensic entomology.
In addition, they will visit state-of-the-art research and commercial facilities related to d safety, agrisecurity, and medical and veterinary entomology.
Scholars also will participate in an international research experience in Panama.
The Center for Sovereign Nations at Oklahoma State University was created in 2015 as part of OSU's vision for supporting and serving the 39 federally recognized tribal nations in Oklahoma with a lead investment from the Chickasaw Nation. As one of only 13 entomology programs in the nation, the Department of Entomology and Plant Pathology believes in the value of hands-on education and the importance of a well-rounded student experience. The department's award-winning faculty members are dedicated to developing students and passionate about adding value to their total educational experience.