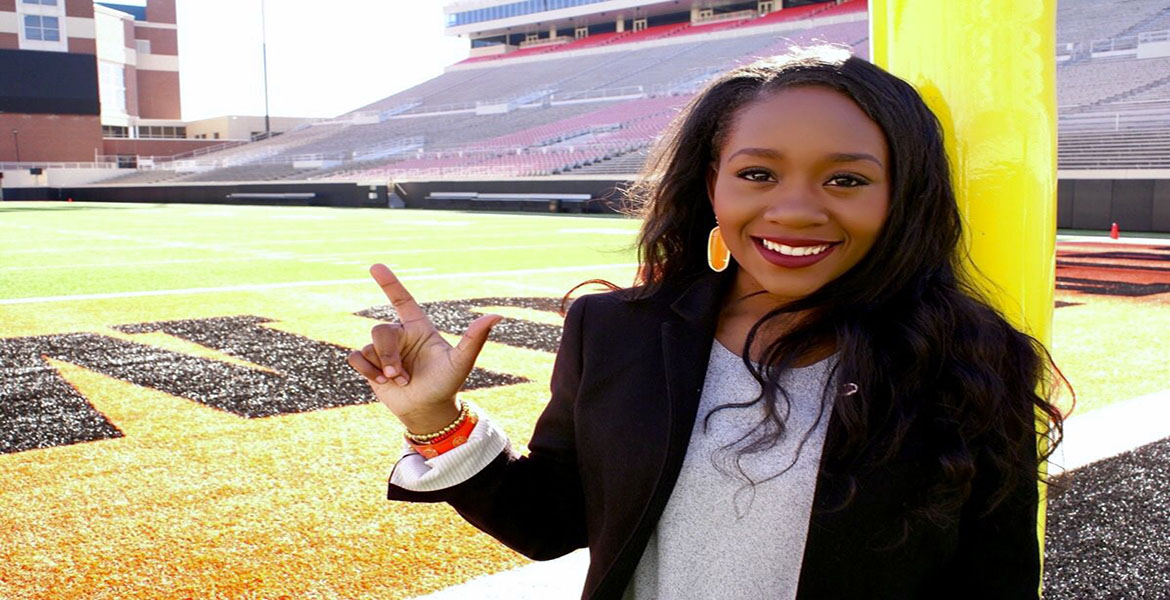 It has taken OSU 44 years to elect two black women to lead the SGA. Our chat reveals how much things on campus have changed during that time.
By Will Carr
When Erica Stephens was elected the Student Government Association president in spring 2017, she knew her election was a special one. After all, Stephens was only the second black woman to hold the seat at Oklahoma State University. Her predecessor, Patrice Latimer, was elected in 1971 – 46 years earlier.
Stephens, a strategic communications/political sciences senior, and Latimer, a 1975 sociology graduate who is an adjunct instructor at OSU, sat down with the OSU Alumni Association in October to discuss their shared experiences.
Q: Tell us how you decided to attend OSU.
Latimer: I grew up in Tulsa, and I really chose to come to OSU because 1971 was just within the first decade of increased educational opportunities because of the passing of the Civil Rights Act. Both of my parents had attended Tennessee State University, an HBCU (Historically Black Colleges and Universities) where they met. It was their belief at the time that the better opportunity was to attend the land-grant school in the state of Oklahoma.
Stephens: I have an Oklahoma's Promise scholarship, so I knew I needed to stay in Oklahoma. Once I got to do a tour here, I was struck by the beauty of OSU. I loved Theta Pond. That was my favorite, and I took so many pictures there. I just felt the community here.
Q: Did you know what you wanted to study when you got here or was that a learning experience?
Stephens: I knew I wanted to study political science. I grew up watching the news and being into politics, but I knew I wanted to do something other than political science as well and have a double major. That is what took me about a year to decide. I did a lot of research on it, and I added strategic communications.
Latimer: It was a learning experience once I got here. I learned once I arrived I was better in the arts than I was in science. I also learned I was more interested in people-related topics than I was in sciences. So, I just started to develop that, and I ended up a sociology/economics major — more of a minor in economics. It became apparent that people and economics just go together.
Q: What were some of your first impressions of the campus once you got here as a student?
Latimer: My first impressions of the campus physically were exactly what Erica's are. It is absolutely a beautiful campus. I have attended both OU and OSU, and without any disparagement intended to OU, you don't get the same warm feeling (there). Also, in terms of the sense of community, there was a similar feeling. However, at that time we must remember OSU was in the midst of some student unrest.
Q: Did any of the unrest at that time lead you to SGA?
Latimer: Yes, we wanted SGA to be more representative of the student body – not just on issues of race, but also on general social issues. You have to remember the Vietnam War was going on at that time, and students were being drafted into the war. There was a lot of student interest in the continuation of the war and on draft policy.
Q: Talk about your campaign and what got you started on the path to running for SGA president.
Latimer: Actually, a group of students inspired me to run for office because they too had an interest in a more diversified student representation. The concern was the campus might not be ready to elect a black female SGA president. I didn't have many photographs that were widely distributed, but I did appear at the residence halls and different places. It was not a well-known thing that I was a black student and female.
Stephens: I also had a group of students come to me and Brayden (Farrell) and say you all should run. I had never really thought about running until the end of my junior year when someone suggested it in the Student Alumni Board brag bag, which we do at the end of every meeting. Someone said "Stephens for Vice President," and I thought they were saying vice president of the (SGA) Senate. It wasn't until end of the fall semester, after Brayden and I got back from the Big 12 Fall Conference in West Virginia, that we decided to run.
Q: Erica, did you know about Patrice's story at the time?
Stephens: I didn't. It wasn't until we announced our candidacy that the O'Colly printed the story.
Latimer: I think there's a lot of similarity in our stories because there were so many social changes happening. And I think if you look at that time period of 40 years, it basically created a pipeline of people who are ready to serve in different roles.
Stephens: When you were saying you didn't use your picture that much ... Obviously (our pictures) were always in the O'Colly. The O'Colly did that article very early on, so what we didn't do is put in our campaign every time we would go speak or even on our Facebook page that I would be the second black woman president in 40 years.
Latimer: Right. And it is just amazing how things have changed, and it is to me a tribute to the community, to have been able in an open way to make a conscious choice for Erica and Braden. That is progress, and I think we do have to just keep working at it. And try to make sure that it doesn't take 40 years to get closer and closer.
Q: How did you handle people seeing you as the voice for minority students? Did the minority groups on campus look at you as their president instead of you being the president of every group on campus?
Latimer: No, they didn't. Part of the reason for that I think was that by the time that I was SGA president, there didn't seem to be engagement in SGA by minority students because SGA itself was deemed to be an organization of the fraternities and sororities.
Q: Have you faced that since you've become president, Erica? Have there been a lot of minority groups coming to you as their direct go-to?
Stephens: I think in the first couple weeks and also through the summer, I might have put that pressure on myself. I think they have reached out to SGA more this year, and obviously I love that. We've had in the last year a lot more things that affect minority students like the blackface issue on campus last year, the Muslim ban and DACA. There has been a lot of space and time for minority students and minority groups to come to SGA and talk about their issues.
Latimer: You have a broader, more diverse student body than was here in 1971 through 1975. I grew up in a segregated community, and that's one of the harms of being so separated. Because you don't get to know the various differences that people may have that are no threat to you.
Stephens: We really wanted everyone to be more aware that there are these different groups on campus outside of the specific community that they are involved in. Awareness is a way to open up the lines of communication and create a more inclusive student body as a whole. That's why Brayden and I came up with "Unite the Campus." We also spelled it Un1te to emphasize that, no matter our differences, we are "1" cowboy family.
Latimer: It's really a wonderful opportunity for student groups to recognize how similar they are as opposed to dissimilar. I'm very excited about (your) administration and the opportunities you have. If can be of help, let me know.
Stephens: Yes, we definitely will. I'm so excited you are on campus this year.