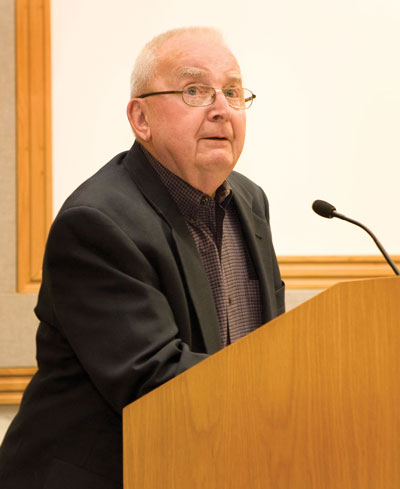 Roger Panciera, DVM, MS, Ph.D., DACVP, has been inducted as the 2016 Beef Award Recipient into the Cattle Production Veterinarian Hall of Fame by the American Association of Bovine Practitioners.
Professor Emeritus at Oklahoma State University Center for Veterinary Health Sciences, Panciera earned his DVM degree from OSU in 1953. After earning a master's degree and a doctorate from Cornell University, he returned to OSU, where he has influenced generations of students, residents, practitioners and pathologists. He has provided both scientifi contributions and education to veterinarians and producers on beef cattle production and disease control.
"Dr. Panciera has a well-documented list of academic accomplishments related to decades of productivity in research, teaching and diagnostic pathology,"says Jerry Ritchey, DVM, Ph.D., DACVP, head of the veterinary center's Department of Veterinary Pathobiology. "However, what is truly remarkable and immeasurable is his impact on generations of practicing veterinarians and the inspiration he has provided to hundreds of veterinary pathologists currently working all over the world."
The hallmark of Panciera's teaching philosophy was developing thought processes rather than relying on memorization. He is legendary on the necropsy fl or, working with students and trainees, and squeezing every possible learning opportunity from each necropsy case. There are two important testimonies to Panciera's distinction as an educator. First, he has been recognized over the years by students and faculty colleagues as a recipient of numerous teaching awards. Second, he has inspired many others to become educators as well.
Panciera is a founding member of the Academy of Veterinary Consultants (AVC), a member of the Oklahoma Higher Education Hall of Fame, a distinguished member of the American College of Veterinary Pathologists, and a Distinguished Alumnus of Oklahoma State University. He is a member of the Oklahoma Veterinary Medical Association Hall of Fame and the first recipient of the OSU College of Veterinary Medicine Distinguished Alumnus Award.
The Cattle Production Veterinary Hall of Fame is sponsored by Merck Animal Health, the American Association of Bovine Practitioners, the Academy of Veterinary Consultants, Bovine Veterinary magazine, and Osborn Barr.
"What is truly remarkable … is Dr. Roger Panciera's impact on generations of practicing veterinarians and the inspiration he has provided to hundreds of veterinary pathologists." — Dr. Jerry Ritchey
Gary Lawson / University Marketing