Paul Cunningham of Lawton, Okla., is the 2016 recipient of the Dean Clarence H. McElroy Award.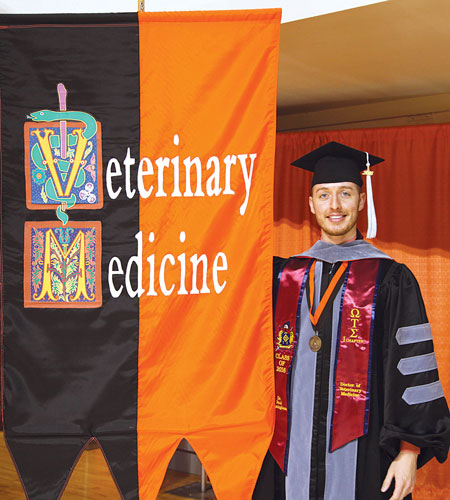 "I was in complete shock when they announced my name as the award winner," he says."I can think of a ton of other people in my class who are completely deserving. It was even better because I was there with my parents. My mom was beside herself. All I could think to do was to stand up and hug her and then go receive the award. It was just really humbling."
The Dean Clarence H. McElroy Award was established in 1954 to honor the fi dean of OSU's College of Veterinary Medicine. It is the highest award an Oklahoma State University senior veterinary student can earn. Recipients are selected by classmates and the fourth-year faculty.
Cunningham knew early on he wanted to become a veterinarian.
"I was probably 6 or 7 years old the first time I went to the zoo," Cunningham says. "When I was around elephants and giraffes and feeding the sharks and things like that at the Oklahoma City Zoo, I realized that my love for animals was real and strong."
He chose to earn his DVM degree at Oklahoma State.
"I had my heart set on getting out of Oklahoma. I really wanted to go far away and see some place new. But I came here and toured at Oklahoma State and fell in love with the campus. It was new enough for me."
Cunningham's favorite memory of veterinary school is going to the Student Chapter of the American Veterinary Medical Association Symposium in Denver.
"Going with all my classmates to see schools from around the nation, to learn and listen to speakers from all over the world who talk about their interest whether that be bovine medicine, acupuncture, toxicology — it was just an amazing weekend and I got to do it in a place that I had never seen."
"I think the best advice I can offer is to believe in yourself," he would advise others."I think that's one of the things we, as vet students, struggle with the most. The feeling of imposter syndrome is something they talk about in fi year during our orientation, and it's very real. But if you want this bad enough, you just need to let all that doubt leave your mind. You are entirely capable as long as you're willing to work hard."
And Cunningham did work hard. The McElroy Award is given based on academic performance, leadership and clinical proficiency. He was an ambassador all four years of veterinary college. He also earned a Butch and Luella Ruth Curtis Educational Fund Award. The oldest of four children, he is the fi to graduate from college. Cunningham is the son of Penny Lowry of Lawton and Paul Cunningham of Minco, Okla.
Following graduation, Cunningham will be going to an internship at Michigan State University College of Veterinary Medicine.
"It will be a small animal rotating internship," adds Cunningham. "There may be a residency to follow that. I have not quite decided yet but I do have an interest in critical care and internal medicine. So I'm hoping this year at a different place in a new setting will kind of weed out what I want to do with the rest of my life."
Derinda Blakeney, APR
To see a video of Cunningham, visit okla.st/2gds92Z.
"Believe in yourself. … You are entirely capable as long as you're willing to work hard." — Paul Cunningham
photo / Derinda Blakeney