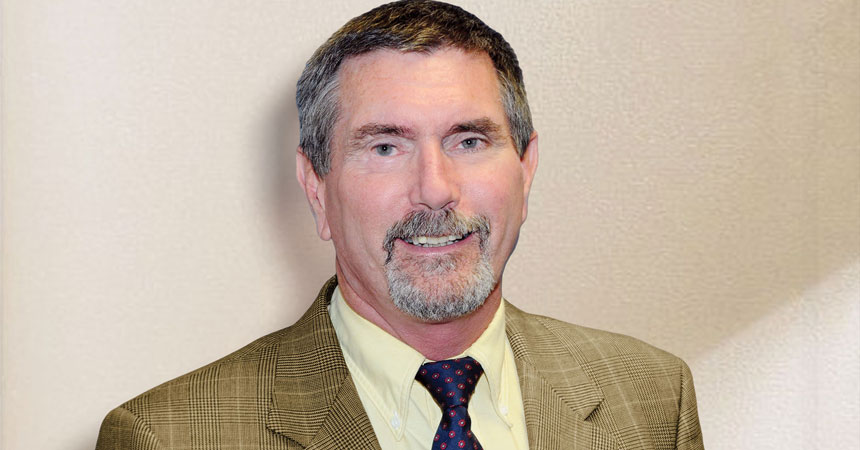 Dr. Rod Hall didn't set out to become the state veterinarian. He was happy in his mixed animal practice, where he enjoyed the large animal work most of all. So how did the man who leads the entire agriculture livestock industry in Oklahoma come to be not only the state veterinarian but Oklahoma's 2016 Veterinarian of the Year, so named by the Oklahoma Veterinary Medical Association?
The answer is easy — hard work and a commitment to doing the best possible job for his clients. Those clients went from individuals when he was in private practice to producers and veterinarians across Oklahoma as state veterinarian.
"I initially took a job here at the Department of Agriculture as a staff veterinarian," Hall says. "I was over the cattle programs and a Brucellosis epidemiologist. I just worked for my boss, and she was great. She gave me a lot of leeway, and I pretty much did my job and was very happy doing that. Then she took another job with the United States Department of Agriculture and left us without a state veterinarian."
Dr. Michael Herrin, the assistant state veterinarian at the time, and Hall discussed the open position.
"We both applied with the idea that probably one or the other of us would be chosen," Hall says."We just thought it would be better for one of us to take it where we already knew the process and thought it would be a smoother transition. So ultimately that's how I ended up here; it certainly wasn't on my bucket list or anything."
Since taking the position in 2011, Hall has discovered much to enjoy about being state veterinarian.
"I love that I get to talk to a lot of veterinarians," he says. "We've worked really hard at trying to develop a good relationship with the practitioners, and I think we've made progress. And then I enjoy interacting with the different producer groups like Oklahoma Cattlemen's Association, Oklahoma Pork Council. I enjoyed my clients when I was in practice, and I feel like now I still have a similar job. I have clients, but my job now is basically to protect the livestock industry in Oklahoma.
"Sometimes we have to quarantine herds and maybe even depopulate a herd of animals to get rid of a disease. It's hard, but it's also very interesting doing the epidemiology and trying to figure out where that disease came from and did it go somewhere? Do we have it contained? Whenever I talk to veterinarians, and especially younger veterinarians, I encourage them to call with problems or questions. We would rather help you work through something than have you do something wrong."
Hall calls communication key, and today's technology makes it easier to disseminate information.
"Our mission is to protect the herd and flock of Oklahoma, and we do that in so many different ways. Today, we have a staff with about 15 field people. We consider the practitioners our partners in working with producers and educating the public on why it's important to get your horses tested for EIA every year. Why it's important to get a certificate of veterinary inspection when you're traveling to another state. If they have questions or don't agree with something that we say, well, let us know. We want to help them in any way that we can."
And that line of thinking and keeping animal owners and veterinarians statewide informed has earned Hall the respect of his peers.
"It's just a tremendous honor to be given that award (Oklahoma Veterinarian of the Year) by the people who I consider to be my colleagues and friends," he says. "I thank the OVMA for the award. I am proud of this profession. I've always thought that being a veterinarian was a really neat way to make a living."
Hall earned his DVM degree in 1977. He married that summer, and the couple went to Alva, Okla., where he worked for Dr. Ben McKinley (OSU '72) at Ridgeview Veterinary Clinic for one year. Even though he loved Alva, the clinic and the people, he decided that wasn't where he wanted to spend the rest of his life. The couple moved to Tishomingo, Okla., where he ran a mixed animal practice for 29 years.
For those thinking of working in a mixed animal practice, Hall has some words of encouragement.
"Don't be afraid to go to a small town and go into a mixed animal practice. It's hard work. You're going to have to take after-hour calls. But I think you have such an opportunity to really make a positive impact on people's lives. When a veterinarian moves into a small town, people look to you as someone that they respect. There are lots of great civic organizations that you will be invited to be a part of. We really need mixed animal practitioners."
Whether he's taking a veterinarian's call to discuss a potential disease problem or discussing cases that need testing performed or epidemiological investigations completed, Dr. Rod Hall is part of all Oklahomans' lives as he and his team work to keep the food supply safe and animals and their owners healthy.
To watch the video of Dr. Rod Hall talking about his career, visit okla.st/2hnOL5J.
"Don't be afraid to go to a small town and go into a mixed animal practice. It's hard work. But I think you have such an opportunity to really make a positive impact on people's lives. When a veterinarian moves into a small town, people look to you as someone that they respect. We really need mixed animal practitioners." — Dr. Rod Hall
photo / courtesy
Other Honorees
At the Oklahoma Veterinary Medical Association's 101st Annual Convention and Expo, the following OSU alumni were also honored:
Dr. Bob Shoup ('82), Companion Animal Practitioner of the Year
Dr. Kimberly Huckaby ('06), Young Practitioner of the Year
Dr. Dan Merkey ('68), Distinguished Service Award