Charlie slims down to work with Pete's Pet Posse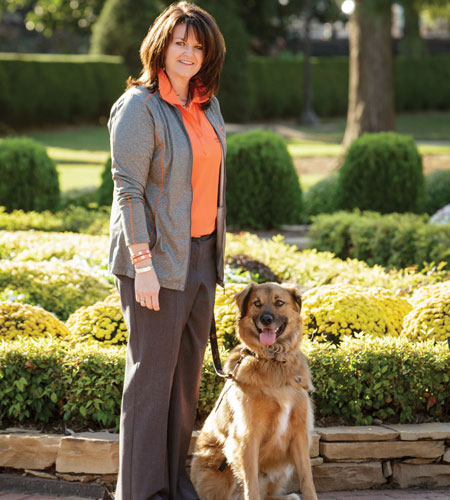 Charlie, Charles or Sir Charles, as he is commonly referred to, is walking with his head a little higher these days. Charlie is a member of Oklahoma State University's Pete's Pet Posse, an on-campus pet therapy dog program. The 3 1/2-year-old mixed-breed dog belongs to Kendria Cost of Westport, Okla., who rescued him in April 2013. While he was a bit underweight at his rescue, that didn't last too long.
"He had gained a little weight," Cost says of Charlie's physique about a year aft his adoption. "I changed his food several times. He was exercising. We were walking every day, increasing our route, doing a lot of different things to try to help him lose weight, and it just was not coming off.
"Probably the defining moment for me was when I brought him to Stillwater to stay with his trainer," Cost remembers."She had not seen him in a while. I got out of the car with him and she said, 'Oh, my gosh, he is so fat. I'm so embarrassed. I'm not even taking him to campus.' And so, honestly, I cried all the way home, not even knowing what I could do, how I could change his diet, how I could change his lifestyle to make him healthy and happy."
"I suggested to Kendria that we approach Charlie's diet from an Eastern perspective, evaluating his individual needs based on his personality, his environment, his stressors, his body type and his exercise program," says Dr. Lara Sypniewski, Charlie's veterinarian at OSU's Veterinary Medical Hospital. "This allowed us to choose the best proteins and carbohydrates to meet his nutritional requirements, while honoring those of his overall body type."
As an example, Charlie always "runs hot." He consistently pants, seeks cool places to lie and avoids warm environments. To accommodate this need, Sypniewski recommended using cooling foods — items that would normally be eaten during the summer.
"I don't think you would go to the beach and eat a mutton sandwich for lunch," says Sypniewski. "But having a nice turkey sandwich wouldn't be out of the question during the summer months. Thinking seasonally helped us to make the food choices we did to help Charlie cool down. Mom finds new recipes all the time. She makes pupsicles with Greek yogurt and mango. She uses the balanced dehydrated diet as well as home-cooked food. We really just switched him over a week's period of time. Charles loved the food, which was good. I mean he is a food hound, so he had no problem eating. He was happy.
"And after a couple of weeks, the difference in him was phenomenal," continues Sypniewski. "Not only was his hair coat starting to change, it was a lot soft hair coat, he had a little bit more glimmer in his eyes. He had more energy. And then all of a sudden, the weight just started to melt off."
Within six months, Charlie had lost nearly 20 pounds.
"We did it very slowly, very gradually," adds Cost."Wellness is obviously a big focus. We did not want it to come off too quickly."
And Sypniewski says Charlie's discomfort in his hips and elbows all went away as soon as he lost weight.
"And so that's a big take home to most of my pet owners is that obesity causes arthritis," adds Sypniewski. "It actually increases the risk of earlier death. So we really try to keep them as thin as possible. Before and aft pictures are profound. I give his Mom a lot of credit. She really worked hard and he just looks phenomenal. A great ambassador for wellness."
Cost reports that Charlie loves being a Pete's Pet Posse therapy dog.
"He thinks everyone needs to give him a big ol' pat and a belly rub," she says. "He spends a lot of energy doing that, actually. He just loves people. He loves the attention that he gets. He loves making a difference. He's very intuitive. He understands somebody who needs maybe a little bit of extra attention and he seeks those people out, which is really interesting to watch and it makes me really proud of him."
Pete's Pet Posse dogs are trained to interact with people and provide affection and comfort in a variety of situations. The OSU Pet Therapy Program has been designed and developed to enhance the wellness of its campus population and contribute to the success of being America's Healthiest Campus®.
Watch a video about Charlie at okla.st/2dUtuPi.
Gary Lawson / University Marketing
Left: Charlie and owner Kendria Cost
"We approach Charlie's diet from an Eastern perspective." — Dr. Lara Sypniewski