Tulsa cat undergoes first-of-its-kind surgery at OSU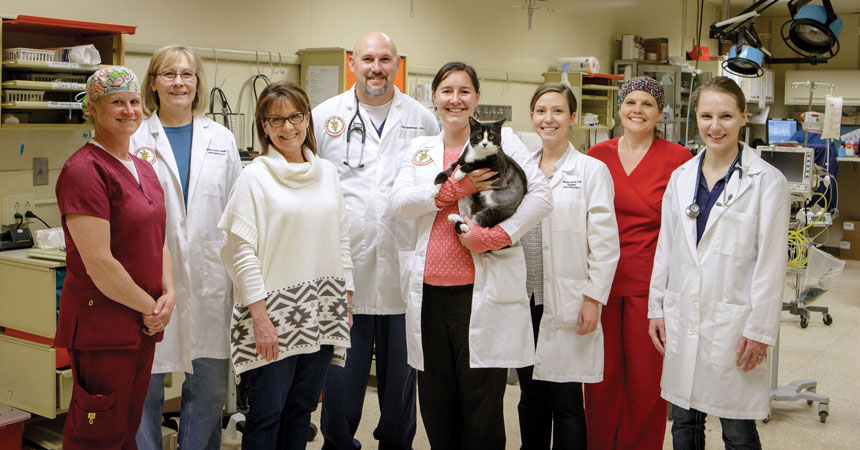 Linda Wheeler came to tears the first time she saw Romano. The 6-month-old kitten, a stray who popped up in the yard of the Tulsa woman's sister, bore a striking resemblance to a cat Wheeler had recently lost.
The only difference was Romano's perfect heart on his nose. Was it a sign? After all, it turned out that his heart had a hole in it, which was leading to congestive heart failure. But Oklahoma State University's Veterinary Medical Hospital came to his rescue with a first-of-its-type-in-Oklahoma procedure.
Dr. Ryan Baumwart, veterinary cardiologist, and Dr. Danielle Dugat, small animal surgeon, of OSU's Veterinary Medical Hospital, collaborated on the surgical procedure. The hole in the feline's heart was causing blood to shunt, overworking the left side of the heart.
"The procedure hadn't been done in Oklahoma," Wheeler says. "From just watching Dr. Baumwart in coming here four different times, I can tell he's very competent. He did his research on the procedure, and I very much trust him."
Fourth-year veterinary student Amy Tomcheck, of Milwaukee, examined the cat and reviewed his medical history with Wheeler the day before the surgery. Dugat talked his owner through what would take place during surgery.
"We've got our game plan all lined out," Dugat told Wheeler. "We're going to go into the chest on the left side and do an intercostal thoracotomy. That's the easiest access. We're going to use a retractor to separate his ribs, and the pulmonary artery will be sitting right there."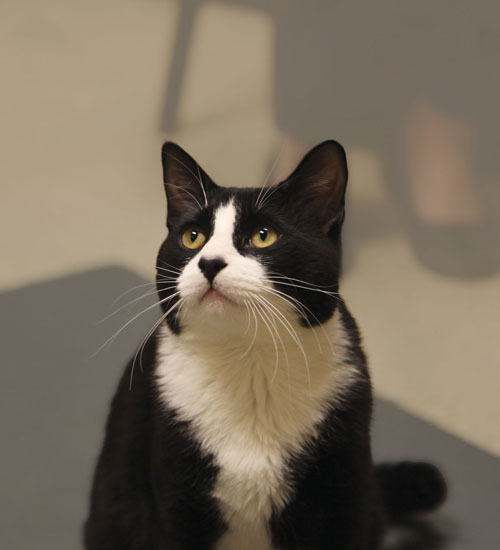 After a lengthy discussion, Dugat asked, "So are you ready?"
"I'm ready. I trust you more than you know," confirmed Wheeler.
The next day in surgery, Baumwart monitored Romano's pressures while Dugat inserted a catheter into his pulmonary artery and placed a band around it. The trick was to tighten the band enough but not too much. Two days later, Romano was well enough to go home.
"It turned into a little bit of a guessing game," Baumwart says. "We had to give Romano some drugs to keep the pressures up to avoid kidney damage and at the same time try to adjust the pressures as Dr. Dugat placed the band around the artery."
"You're going to get to live a little longer," Wheeler told Romano. "So just a handful of these have really been done across the U.S. I knew you could do it."
"Everything went the way it was supposed to because we all had our plan and everybody stuck to the plan," Dugat says.
"That incision looks wonderful. You guys did great," Wheeler says. "Thank you so much. Thank you so much."
The procedure performed on Romano will allow him to live a longer, healthier life. The only alternative would be to have (very rare) open-heart surgery to correct the hole in his heart.
"To see such joy in an owner's eyes when the procedure you perform is successful makes this a fulfilling profession," says Dugat. "I could not have had the confidence I needed in performing this procedure for the first time if it was not for an owner who was willing to hand over the life of her baby into my hands. More so, developing a plan before surgery and understanding every individual's important role to the success of the surgery made the execution seamless."
Derinda Blakeney, APR
To view a video of Romano, visit okla.st/1qxmmL6.
"To see such joy in an owner's eyes when the procedure you perform is successful makes this a fulfilling profession." — Dr. Danielle Dugat
Above: Linda Wheeler (third from left), Dr. Ryan Baumwart (fourth from left), Dr. Danielle Dugat (holding Romano) and a team of specialists at OSU's Veterinary Medical Hospital are all smiles as they surround Romano as he recovers after heart surgery.
Gary Lawson / University Marketing