OSU veterinarians are fixing Baby Donut's unusually angled legs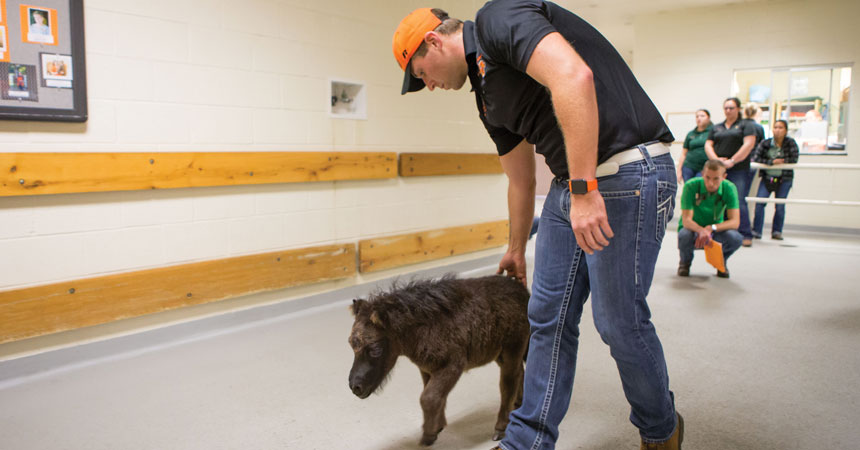 At 10 weeks old, Baby Donut isn't very big. When you consider he's the offspring of two miniature horses, you know he's not even as big as one might expect from the word "foal." And when he arrives to see the equine veterinarians at Oklahoma State University's Veterinary Medical Hospital, a crowd quickly gathers to catch a glimpse of the tiny patient.
Zach and April Daniel of Enid, Okla., acquired Baby Donut's parents for their children, Bailey and Wade, in the fall of 2015. The mare named Sprinkles gave birth In September, and shortly after the foal was born, Zach Daniel knew something was wrong. (His sire's name is Cinnamon, hence the Donut name.)
"About two weeks aft he was born, we could tell his knees were going in," Daniel says. "We called around and the other vets basically said that they won't do any- thing because they specialize in other areas. I called over here to see what they could do, and they said bring him in."
Dr. Mike Schoonover, equine surgeon at OSU's Veterinary Medical Hospital, and Dr. Patrick Foth, equine medicine and surgery intern, examined Baby Donut. Schoonover ordered radiographs of the foal's legs.
"Radiographs show that all four of the foal's legs have severe abnormalities," Schoonover says. "He has severe bilateral carpal and tarsal valgus. In other words, he's knock-kneed. All of his legs angle outward at about 25 degrees. He also suffers from tendon laxity in all four limbs, with the worst case being in his front limbs."
Schoonover trimmed the foal's hooves and placed special shoes with 3- to 4-centimeter extensions from the inside and heel on the front hooves.
"Surgery is often indicated with this degree of angulation but because Baby Donut is so young, we are going to be somewhat conservative and see if the angulation will begin to correct on its own with confinement and physical therapy. What we hope to do with the shoes is prevent hyperextension of the coffin joints which will allow Baby Donut's flexor tendons to strengthen," Schoonover continues. "By trimming the hooves and applying the extensions, Baby Donut's feet are more stable, preventing the hyperextension and allowing the flexor tendons to contract."
Daniel took Baby Donut home with instructions to keep the foal confined to a stall to restrict his exercise. Every three to four days, Daniel took the shoes off for a couple of hours before taping them back on. Two weeks later, he brought Baby Donut back to the hospital for a recheck.
The delighted foal gladly ran and walked around the hospital's outdoor paddock while veterinarians checked his progress.
Schoonover trimmed each of the foal's hooves again and reapplied the shoes to his front hooves.
"We'll see how he does with that. I definitely feel Baby Donut has improved both in the angulation of his limbs and the degree of tendon laxity since we first saw him," Schoonover says. "We'll probably take new radiographs on his next recheck. Those will show the progress we've made and help us determine what our next steps will be."
This is the fi time Daniel has used the services at OSU's Veterinary Medical Hospital.
"I'm very pleased with the hospital," Daniel says."I have some friends who have brought animals over, and they were very pleased and had nothing but good to say."
OSU's Veterinary Medical Hospital is home to several equine internal medicine and surgery specialists who see nearly 1,900 equine cases a year.
Derinda Blakeney, APR
Ian Frye, Class of 2017, listens to Baby Donut's heart.
"I'm very pleased with the hospital. i have some friends who have brought animals over, and they were very pleased and had nothing but good to say." — Zack Daniel
Left: Dr. Patrick Foth nudges Baby Donut as veterinary students study the foal's limbs.
Below: Foth holds Baby Donut while Dr. Mike Schoonover trims his hooves.
Phil Shockley / University Marketing