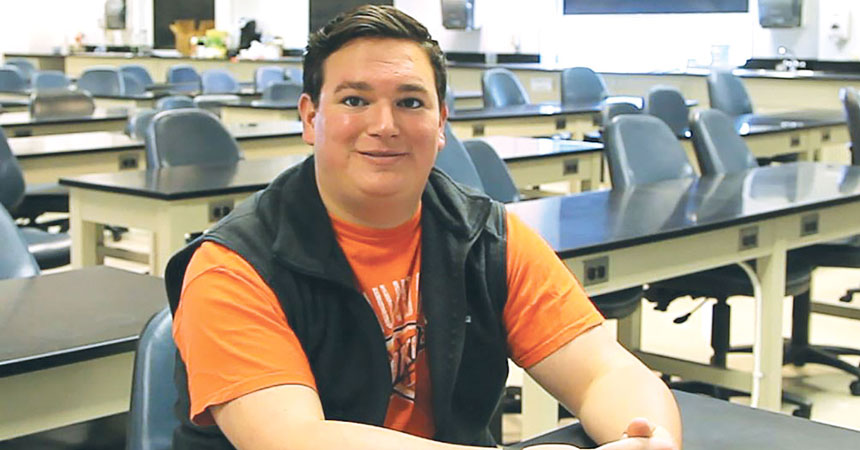 Jeff Olivarez of Edmond, Okla., is about to put Oklahoma State University's Center for Veterinary Health Sciences in the national spotlight. Olivarez was recently selected as president-elect of the Student American Veterinary Medical Association. He will spend the next year preparing for his run as president of SAVMA, the national organization of veterinary students.
While Olivarez has completed his second year of veterinary college at OSU, he didn't always want a degree in veterinary medicine.
"Going through college, I went to undergrad for human medicine," Olivarez says. "But I was never really passionate about it so my senior year of my undergrad, I decided that vet school was actually what I wanted to do.
"I chose Oklahoma State because, to be honest, it was the most affordable option," he says. "I love the school. It's the best in my opinion.
"Vet school is going great so far. It's been one of the hardest things that I have ever done but it's going well. I've never considered myself a great student but it's amazing to me, seeing once I'm actually learning something I care about, how much my attitude toward academics has changed and my scores overall."
And like many who attend Oklahoma's only veterinary college, Olivarez likes the overall atmosphere.
"I love the people the most. The faculty is great here, all the staff. And then the clinicians are always willing to help, always willing to teach. I've built a small little family here. I'm from Edmond, which isn't that far away but in vet school just from all the work it's hard to get away. So I've kind of created my own little family here with friends. And they are my real support system and I really appreciate them for that."
Olivarez says wanting to give back led him to run for SAVMA president.
"I've always wanted to serve the students, and I thought the best opportunity for that would be to be SAVMA president."
When he found out he had won, a moment of panic set in."They announced my name, and I think my heart stopped."
Olivarez will spend his year as president-elect learning everything the president does.
"I travel with the president to all the AVMA board of directors meetings, any event that he's at, I'm also at and just asking questions and learning what I really need to do. The president is supposed to be the voice of the students.
"I love that I get the opportunity to serve the students and really find out what they need to be done and what they want out of their vet school experience and trying to help them with that. I like that everywhere I go I get to represent Oklahoma. People are asking me where are you from, and I get to say Oklahoma State University.
"I'm really excited for this opportunity. I think it will change my life forever. And I want to do the best that I can. So I want the students to know that I'm available for them. And if they need anything, nothing is too small. They can reach out to us, the SAVMA exec board."
To watch a video on Olivarez, visit okla.st/2gz7fj7.