Three earn master's of public health degrees alongside DVMs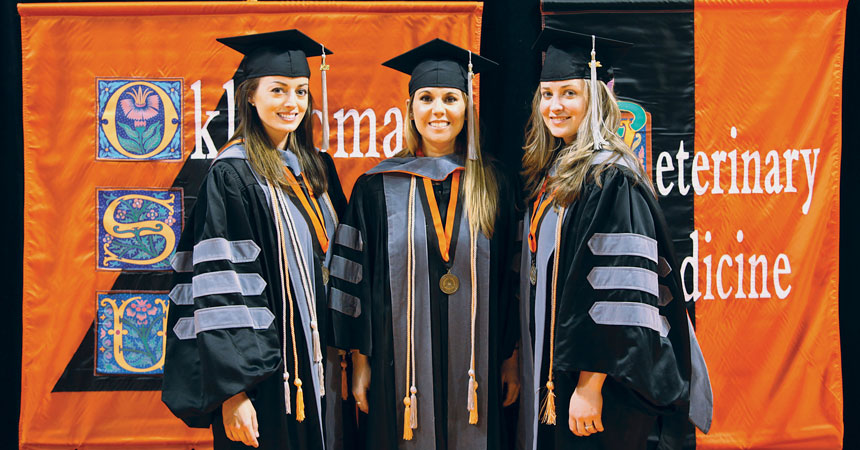 Many pet owners know their local veterinarian has an impact on animal health. However, few of these people realize the signifi ant impact veterinarians have on global health and safety — including the health of people, the environment and even food safety.
Three recent Oklahoma State University Center for Veterinary Health Sciences graduates — Kaitlin Agel of Yukon, Okla., Cyrena Neill of Hudson, Colo., and Mandy Hall of The Woodlands, Texas — decided to obtain a Master's of Public Health degree while enrolled in the DVM program.
"The biggest challenges have been time management and being the 'guinea pigs' of the program," Hall says. "It's a brand-new program, so we are all figuring out the kinks together."
Agel adds,"I think it would have been easier to start during our second year. In your third year, you have surgery schedules to work around and hope that DVM tests don't fall the same time as the test schedules in the master's classes. And remembering how to write papers is also challenging. It's been a long time since I had a 10-page research paper due."
The three came to the world of veterinary medicine in different ways. Neill says she wanted to become a veterinarian for as long as she can remember.
"While earning my bachelor's degree in communications, I worked part-time as a receptionist at a veterinary clinic," Hall says. "The veterinarians and veterinary technicians at the clinic were amazing. Their compassion and passion for their work inspired me to pursue veterinary medicine."
Agel was a teacher when she decided to pursue a DVM degree.
"I taught high school for four years aft earning my bachelor's degree in zoology," Agel recalls. "While in college, I worked at the WildCare Foundation in Noble, Oklahoma, and enjoyed the medicine. I liked treating, bandaging, suturing, performing surgeries — the parts of working there that were very medically driven. So when I wasn't teaching during the summer, I would work at small animal clinics to gain experience and learn more about the veterinary medicine profession."
So what made these students decide to take on the dual DVM/MPH degree?
"In the summer of 2014, I was completing a lab animal fellowship at MIT," Agel says."When I mentioned the MPH program to my mentor, she immediately said she wished that she had that opportunity. So it made me think about it. The only extra cost is your time, as it adds classes to an already full schedule."
"I suppose I had never considered the global impact that veterinarians have," Hall says. "As part of the vet med curriculum, we are required to take an epidemiology class along with one or two food safety lectures. I was thoroughly intrigued. I am very passionate about One Health and think it should be all health care providers' mission to live by it. When I found out OSU offered a joint MPH/DVM program, I felt that it not only would help me to better incorporate the One Health mission, but also expand my knowledge base on things like food safety that are very important to me."
One Health is the integrative effort of multiple disciplines working together to attain optimal health for people, animals and the environment.
"For me, it was about opening more doors and more job opportunities," Neill says. "And the One Health concept interests me also. I hope to work where I can make a difference and help others understand why One Health is so important."
"Getting the MPH degree is opening an entirely different door for me," Agel says. "Public health is very appealing to me, and from what I've seen career-wise, it is smart to get a master's degree. So, why not get this master's degree that could lead to a job with the Food Safety and Inspection Service or any other USDA program?"
Hall completed an externship with the USDA Animal and Plant Health Inspection Service in the summer of 2015 and with the Centers for Disease Control in the spring of 2016.
"I would like to use my MPH to help me gain entry into public service, and I want to be in an environment where the people are just as passionate as I am," Hall says.
Agel, Hall and Neill are the fi veterinary students to enroll in the DVM/MPH dual degree designation. All three graduated in May. Neill is focusing on a position in a mixed animal clinic, and Agel and Hall are working in small animal clinics in Texas.
Derinda Blakeney, APR
It's a huge time commitment, but no extra cost in the dual-degree program.
"In the summer of 2014, I was completing a Lab Animal Fellowship at MIT. when i mentioned the mph program to my mentor, she immediately said she wished that she had that opportunity. so it made me think about it. the only extra cost is your time as it adds classes to an already full schedule." — Kaitlin Agel
Mandy Hall (from left), Kaitlin Agel and Cyrena Neill celebrate their graduation with both a DVM and a Master's of Public Health from the Center for Veterinary Health Sciences.
photo / Derinda Blakeney