Oklahoma State University student Maeghan Murie of Cleveland, Okla., has been selected as a Udall scholar, making her the recipient of one of the nation's most prestigious undergraduate awards.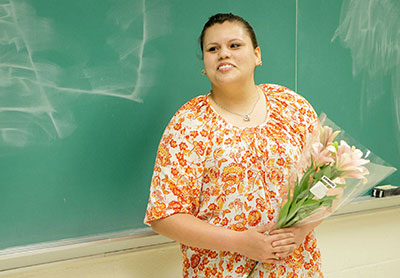 Murie, a junior majoring in chemistry, biochemistry and molecular biology, joins the ranks of 14 former winners from OSU who received the scholarship, which awards up to $5,000 annually to defray the cost of undergraduate education while honoring the legacies of Morris and Steward Udall.
Murie was one of only 50 students selected this year from among 464 applicants nationwide for the scholarship, which is awarded to sophomores and juniors who excel in and plan to pursue careers that impact American Indian self-governance, health care, or the stewardship of public lands and natural resources.
Tim O'Neil, program coordinator of OSU Scholar Development and Undergraduate Research, congratulated Murie for her success in earning the award.
"It is a very difficult task for any undergraduate and she did a fantastic job," O'Neil said.
Murie's research mentor, Dr. Richard Bunce, is among the professors she credits for getting her involved.
"I've seen her research capabilities grow," said Bunce. "Maeghan's driven and wants to present her research and always does a great job of it. She has been an excellent student."
Murie's great-grandmother had Alzheimer's disease, and her experience with that neurological illness as well as her familiarity with the limitations at Indian clinics motivated her to apply for the research scholarship.
"I want to help address the issues that I believe are restricting the health care system among these clinics," said Murie, adding, "my plans fit well with the intent of the Udall."
Eventually, Murie wants to perform biomedical research to develop treatments for different diseases of the nervous system.
"I am just very thankful for this opportunity," she said. "It is very humbling because I know that there are a lot of great students and scholars out there who apply."
Marshall Gover, president of the Pawnee Nation, applauded Murie's achievement: "If you're willing to go out and apply yourself and pay the price, you can achieve anything you want, and Maeghan is a good example of that."
Story by Katie Rosebrook
Video by Mitch Layne