OSU Research Week: Celebrating the best and the brightest researchers
Wednesday, February 14, 2018
Oklahoma State University is recognizing the hundreds of scientists, engineers and scholars who advance its land-grant mission as a comprehensive research university by emphasizing their work during Research Week 2018, Feb.19-23, dedicated to "Celebrating OSU researchers who change the world."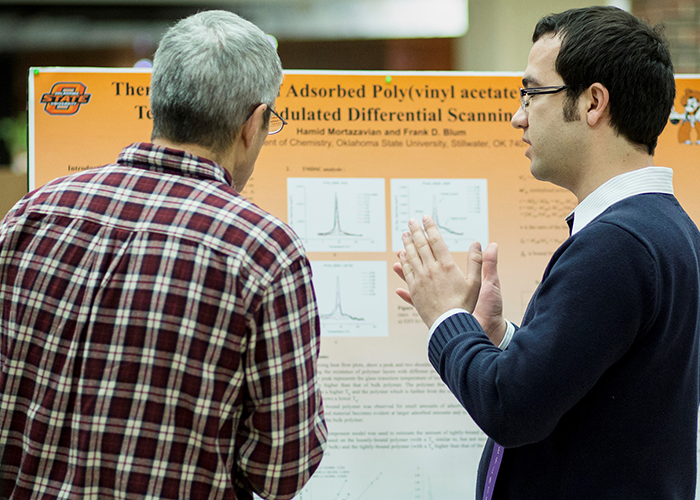 The focus of Research Week is to showcase faculty and their scientific, scholarly and artistic explorations, according to Dr. Kenneth Sewell, OSU vice president for research.
"Truly, every week is 'research week' at OSU because research is such an integral part of OSU's mission," Sewell said. "Most of our faculty are involved in research literally every day. We're really trying to make them feel like superstars...because they are."
Research Week also heightens awareness in the community of what is going on at the university, explains Sewell. One of his favorite things about research week at OSU is seeing people reach a better understanding about the importance of research at the university and beyond.
The annual celebration also highlights the collaboration of different disciplines across campus.
"Collaboration isn't the goal, it's a means to an end," Sewell said. "Some of the bigger problems can only be solved by people working across the disciplines."
OSU also has a number of research strengths, such as health, plant science, and unmanned aerial systems. One broad interdisciplinary strength involves food, energy and water, and understanding how those fields are linked to each other.
"The first research at OSU was wheat research, and it's still ongoing to this day," Sewell said. "The very soil used in the first research plot is still growing wheat today."
He also said there is no way to truly calculate the impact of OSU's research throughout Oklahoma. However, since OSU is a land-grant university and has a presence in all 77 counties, the knowledge that is developed by OSU researchers has a direct conduit to people across the state.
"We strive to help people benefit from all scientific knowledge in practical ways," Sewell said.
For information and a schedule, visit https://researchweek.okstate.edu. Event information is also available on the OSU Research app, which can be downloaded from the App Store or Google Play.
Story by Shayla Terrel