'Cowboys like me': OSU Opportunity Orange Scholar joins the Alpha Omicron Pi family
Monday, August 28, 2023
Media Contact: Sydney Trainor | Communications Specialist | 405-744-9782 | sydney.trainor@okstate.edu
Gretchen Garrett always dreamed of following in the footsteps of her parents and her older sister to become a student at Oklahoma State University.
"Gretchen has always said, 'I'm going to college. This is what I'm going to do. I'm going to be a college student, just like my mom, just like my big sister, just like my friends. I'm going go to college,'" said Emily Garrett, Gretchen's older sister.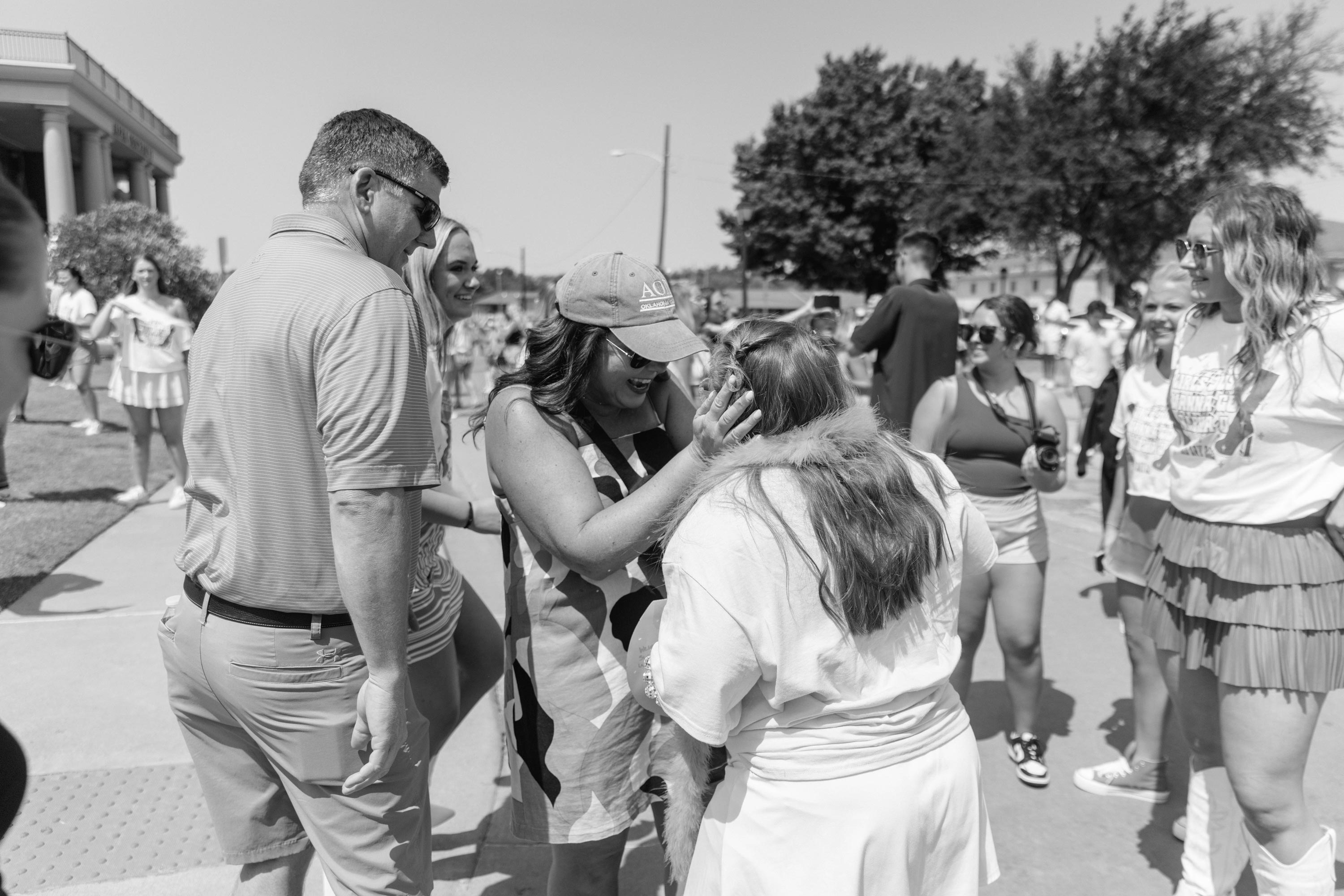 Gretchen was born with Down syndrome. In high school she was a cheerleader, FFA member and extremely involved in her community. After high school, though, she didn't know what her next step would be. But then, OSU's Opportunity Orange Scholars program launched in 2022, giving the Garretts an option for Gretchen to pursue the college experience.
OOS is a program designed for young adults with intellectual disability. These students pursue a two-year, non-degree academic certificate in career and community studies while fully immersed in the OSU experience through living and learning on campus.
"As soon as Emily joined the sorority, that was what Gretchen was going to do before we even knew Opportunity Orange was an option," said Sara Garrett, Gretchen's mother. "She said, 'I'm going to be an AOII. That's what I want to do.' And so, we would have to creatively find a way to tell her 'I don't know if that's going to happen.' but then we got this amazing opportunity to join this program, and we're so excited."
The first thing Gretchen said after being admitted to OOS was that she was going to attend sorority recruitment. Emily Garrett began working with the Panhellenic Council, the coordinating body for all sorority recruiting events, to explore what the recruitment process would look like for Gretchen.
"I was the president of the AOII chapter and then I was on the Executive Council for Panhellenic, with that perspective, I thought, 'She could totally do this, and she could love it. But this isn't something that's been done before at OSU. This community is ready, able and willing to accept her, but they've never necessarily done it before. So how are they going to do it? And what are we going to do to make sure that she can have this experience?' When she got accepted into Opportunity Orange, we started having these conversations about what recruitment could look like for her." Emily Garrett said.
Together with Panhellenic, Emily Garrett and OOS program Director Dr. Emily Tucker helped create a plan that allowed Gretchen to experience welcome week like any other student. It didn't matter if she got into a house or not, it was all about giving her the recruitment experience.
While participating in recruitment she also attended OOS required welcome week activities. Gretchen was able to attend every welcome week party, visit all 13 sorority houses and meet so many girls, which made her decision to choose a house extremely hard.
Sara stayed in Stillwater during recruitment week and helped Gretchen get ready for each day. In the evenings, they reviewed note cards on each house to help Gretchen make her decision.
"It was so surreal," Sara said. "I was with her all week helping her go through the process. It's a lot for anyone to handle, but when you've got a developmental disability, things can sometimes be just a little more challenging."
Gretchen took recruitment week seriously and felt that no matter where she ended up, she would be surrounded by women who would take care of her.
"It was kind of hard to pick a house, I love all these really sweet girls I met. I loved the houses, but I just really wanted to be an AOII," Gretchen said.
When Bid Day came, Gretchen ran home to AOII surrounded by her friends and family.
"It was just so joyous. I don't know how like else to describe it, except everyone was always so excited," said Mallory Pool, AOII president. "It was such a crazy environment because no matter where you were looking, or at least in my case, no matter where I was looking, I was seeing a person that was so genuinely happy to see Gretchen there and constantly people were hugging her, and she just was so overjoyed."
Bid Day was Gretchen's favorite part of the week and offered many unforgettable moments.
"Running to the house to see the person carry my sign with my name on it and giving her a hug was one of the biggest memories," Gretchen said.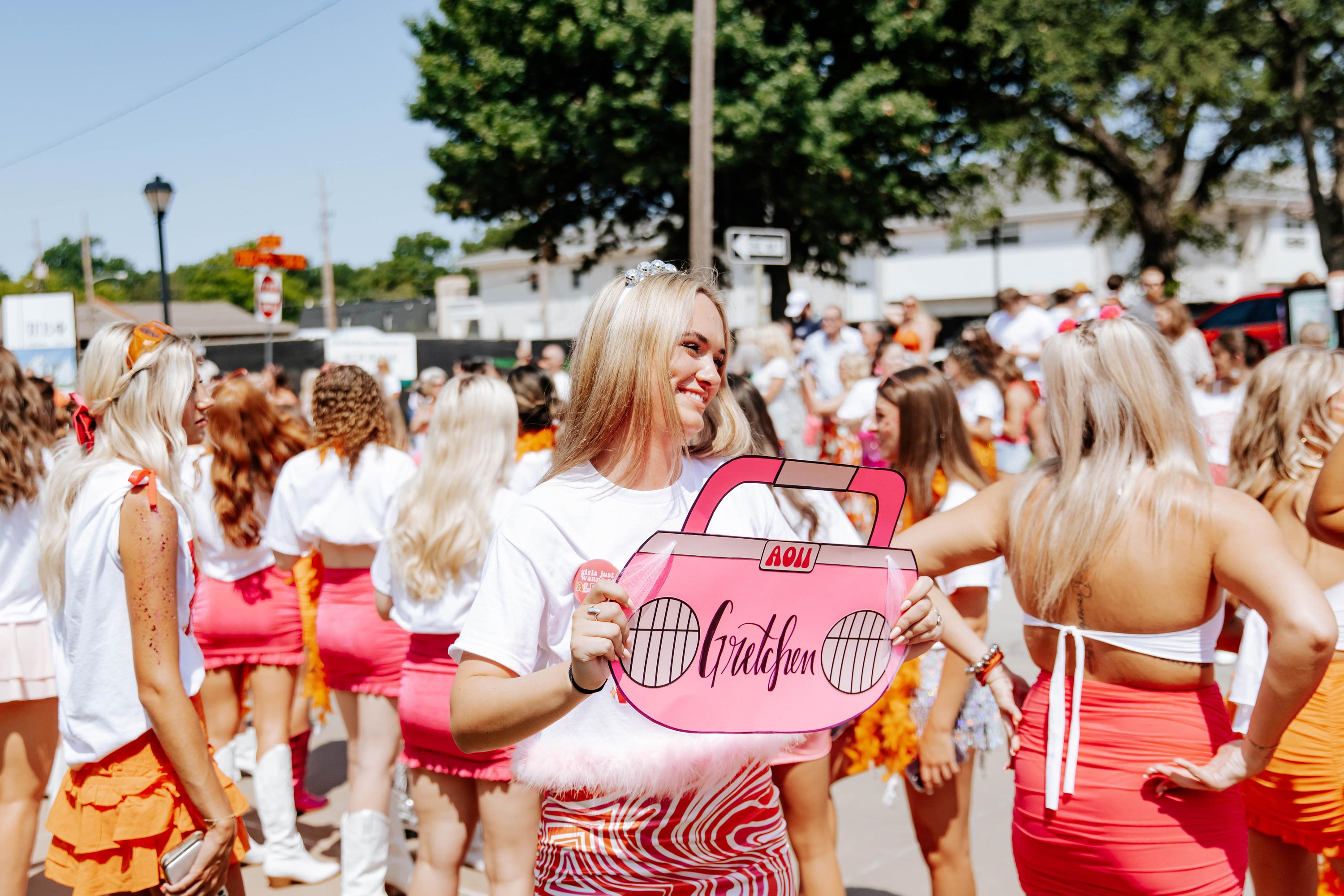 As an official member of AOII, Gretchen is most looking forward to Homecoming, where the sororities and fraternities build house decorations to celebrate.
"I'm really excited for Homecoming and helping pomp and getting to see [OSU President Kayse] Shrum," Gretchen said.
Her family is excited to watch Gretchen continue to grow and explore as a new member of the Cowboy family and AOII.
"She's having a normal college experience," Emily Garrett said "She gets to go to date parties with her friends, she does her study hours, and she's meeting these people just like I did."
Gretchen loves watching the TikToks sorority sisters create and is excited to make some of her own while listening to her favorite Taylor Swift songs. She's finished her first week of classes and is all settled into her dorm room with a neon "cowboy like me" sign hanging above her bed. Every day in class, she looks forward to going to the house to study and hang out with her friends.
"People keep asking us how we feel as parents, I think the biggest thing is we feel proud. Proud of OSU. Proud of the Greek community and mostly just proud of her," Sara said.