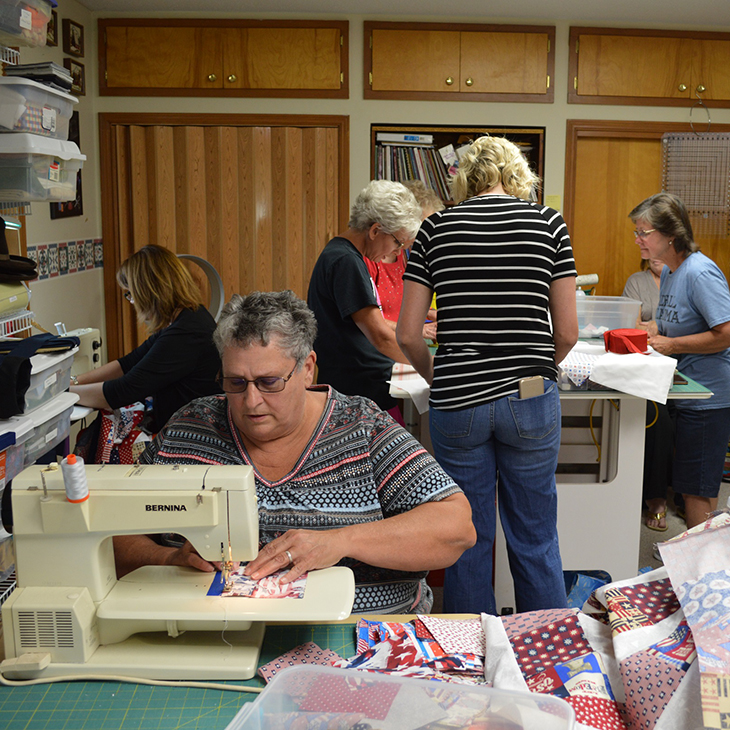 Oklahoma Home and Community Education celebrates service to communities statewide
Tuesday, April 30, 2019
With nearly 3,500 members statewide, the Oklahoma Home and Community Education, Inc., organization continues to make a positive impact on residents and helps them live their best lives through education and service.
Whether it is community beautification, tutoring students, supporting veterans, providing educational scholarships or supporting local 4-H'ers and other groups, Oklahoma Home and Community Education has a hand in many different things going on in communities across the state and their contributions are significant. Established in 1935, the group will celebrate its service to Oklahoma families and communities during Oklahoma Home and Community Education Week, slated May 5-11.
Service to community is a big part of the Oklahoma Home and Community Education group, and with the organization being 3,500 members strong, their impact is felt in large and small communities alike. According to its website, Oklahoma Home and Community Education's ultimate mission is to "educate its members to be well-informed and able to handle changes in their homes and communities."
Through its close relationship with the Oklahoma Cooperative Extension Service, which is headquartered at Oklahoma State University, group members translate that vision into reality by learning, then sharing, research-based information on a wide variety of topics.
"Oklahoma Home and Community Education is an amazing organization that impacts the lives of Oklahomans across the state and others across the globe," said Jorge Atiles, associate dean in OSU's College of Human Sciences, and who also serves as the state adviser to the organization. "Their partnership with OSU Cooperative Extension has been very successful as they use research-based education to help improve lives of all Oklahomans."
Leslye Owen, current president of the group, said Oklahoma Home and Community Education covers a broad spectrum of concern in Oklahoma's communities, including health, family, finance, community and more.
"With our valuable partnership with OSU Cooperative Extension, we have access to research-based information in these areas," Owen said. "This definitely sets us apart from other organizations. Also, we play a vital role in communities because, especially in the smaller towns, there may not be very many resources available. Oklahoma Home and Community Education is able to open up more resources and educational opportunities that can help many of our state's families."
Owen also pointed out the importance of adapting to change and continuing to provide valuable information as populations in rural areas may be declining and city populations grow.
"We can't stay focused on the things we used to focus on. We have to expand our resources to meet changing needs," she said. "For example, we need to learn new ways to grow a garden for those who may live in the city with just a balcony for outdoor space. We must stay relevant for our audience."
Oklahoma Home and Community Education members definitely are making a difference in their communities. Just a few impressive numbers include donating $152,000 worth of books, clothing and other goods; planting over $10,000 worth of plants, trees and shrubs; contributing 31,856 volunteers hours with an economic value of more than three-quarters of a million dollars, through activities such as nursing home visits, reading and tutoring; and have contributed an impressive $67,500 in educational scholarships to 4-H members and other students across the state.
And, it does not stop there. As strong supporters of military personnel and their families in Oklahoma, group members have spent more than 300 volunteer hours and over $9,500 compiling care packages for service men and women. Some clubs across the state share their sewing talents and create Quilts of Valor that are given to local veterans. In addition, the group also has contributed $9,000 in support of 4-H program and activities, as well as donated $20,000 to Oklahoma communities for various projects.
In addition, county based Oklahoma Home and Community Education groups work with family and consumer sciences Extension educators in each of Oklahoma's 77 counties, as well as district and state Cooperative Extension specialists, to identify local issues, develop educational programming and launch service projects to help families and communities address their concerns.
Dolores Cotton has been an active member for 21 years and is the current Payne County president.
"I joined to learn more about things like canning, baking and other things related to what I can do for my family," Cotton said. "My club, Pine Vale, makes tooth fairy pillows for kindergarten children in the county and we also make lap quilts to donate to the cancer center. We also have made walker caddies and clothing protectors for an assisted living facility and we sponsor a family in need during Thanksgiving and Christmas. I enjoy the things we do to help our community."
Although Oklahoma Home and Community Education primarily focuses its good works on Oklahoma, it's affiliated nationally with the Country Women's Council of USA and internationally with The Associated Country Women of the World.
"I've been a member for 18 years and it has changed my life. I've learned things I likely wouldn't know if not a member," Owen said. "If you're looking for a place to meet people with similar interests and have a desire to help others, Oklahoma Home and Community Education might just be what you're looking for. Contact your local county OSU Cooperative Extension office and ask to get connected with a group in your area. You won't be sorry."
For more information about the organization, visit Oklahoma Home and Community Education.okstate.edu.
MEDIA CONTACT: Trisha Gedon | Agricultural Communications Services | 405-744-3625 | trisha.gedon@okstate.edu