OSU presenting Argonautika
Monday, November 4, 2019
The ancient Greek myth of Jason and the Argonauts is still famous thousands of years after its creation because of its timeless themes. The OSU Department of Theatre is putting those on display with a presentation of Argonautika: The Voyage of Jason and the Argonauts from Thursday through Sunday.
Director David Kersnar, new head of the department, is a founding member of Chicago's Lookingglass Theatre Company, which staged the first production of Argonautika in 2006.
"In this production, we follow a hero's journey with monsters, harpies, giants and dragons," Kersnar said. "We have a narrative mode where it goes from one adventure to the next. It's part of our job to apply a dramatic mode to this narrative, and that's where we get epic theatre. There's physicality. Sometimes the story is told visually, and sometimes it's through spoken dialogue. There is an ensemble nature, with the actors playing dozens of characters. It's a marathon race — two hours of episode after episode."
Courtney Noisette, who plays Medea, calls this production physically challenging.
"I don't think I have ever been pushed to this level — even just in warmups, building my body up and building my stamina," she said.
Jenny Lamb, movement and intimacy director, also spoke about the play's physical demands.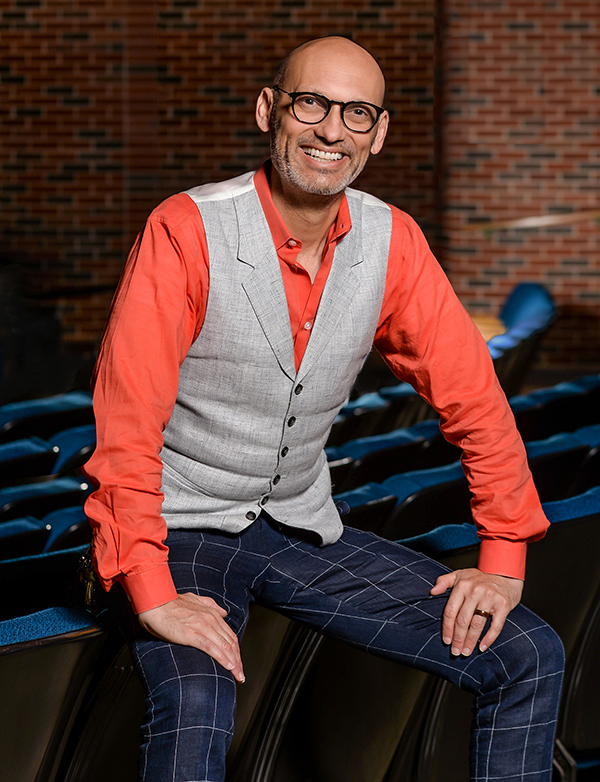 "There's a little bit of dance and a lot of athleticism," Lamb said. "Everyone has a gung-ho attitude of wanting to make this world come alive, every place that we go."
Argonautika tells the story of Jason, the rightful king of Iolkos. Jason's uncle, Pelias, has usurped the throne and tasks Jason with retrieving the fabled Golden Fleece to prove he is worthy of ruling. Jason and the Argonauts, a crew of renowned heroes, sail beyond the edge of the known world as they complete the dangerous adventure. Jason meets and marries his queen, the sorceress Medea, who helps him succeed before an ultimately tragic conclusion.
"We really examine the relationship between Jason and Medea, who the play follows at least as much as it follows him," Kersnar said. "They have an unorthodox relationship as two people from vastly different cultures. It's a match, both meaning soulmates, but also meaning that it lights a fire that burns out."
Argonautika is also about the relationship between Jason and Pelias, who gives his nephew a task he thinks is impossible and likely deadly.
"Jason and the Argonauts is all about the adventure and the idea that ambition trumps everything," Kersnar said. "This play asks us to think about those we sacrifice to get that brass ring, to triumph, to win and to conquer. What does it mean to achieve your collective dreams without thinking about who or what you sacrifice along the way?"
Hayden Yoder, who plays Jason, said the play is "really beautiful but also tragic at the same time. Jason may sacrifice a lot of things he shouldn't along the way just to fulfill his command."
Lamb added, "It's such a great investigation of the struggle of the human condition, fighting against our own internal struggles and forces outside of our control."
Kersnar said this is a good opportunity for multiple generations to see a play together.
"If you are steeped in these stories, you get to see them in a new way," Kersnar said. "If this is your first time dipping your toe into Greek myth, you will enjoy it because it communicates on a simple yet profound level."
He also calls Argonautika a kickoff of a new style for the Department of Theatre.
"We are firmly a department of practitioners as well as academics," Kersnar said. "You will see these kind of visceral, physical productions that are really pushing our performers to make them fire on all pistons."
The performances are at the Vivia Nail Locke Theatre inside the Seretean Center for the Performing Arts. The shows will be at 7:30 p.m. on Thursday through Saturday, and 2:30 p.m. on Sunday. General admission tickets are $12, or $8 for seniors (age 65 and up) and $7 for students.
MEDIA CONTACT: Jacob Longan | 405-744-7497 | jacob.longan@okstate.edu