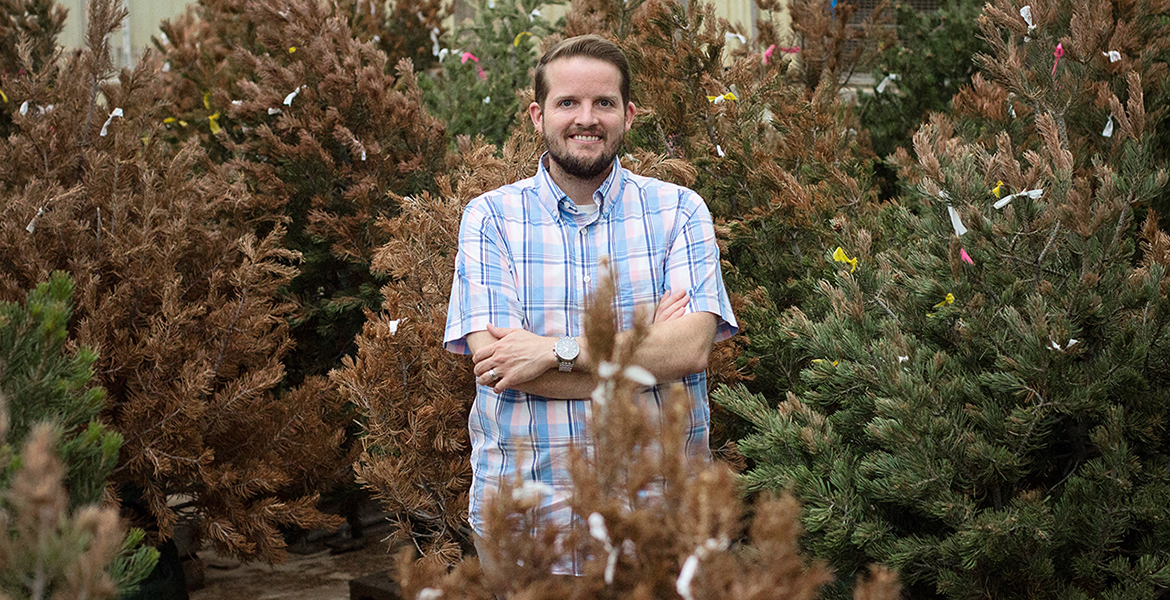 Ph.D. student researching moment when droughts kill trees
Tuesday, August 13, 2019
"We set out to measure how much drought it takes to actually kill a tree," said William Hammond, a Ph.D. candidate in the Department of Plant Biology, Ecology and Evolution. "As recently as 2011, a drought killed 6 percent of all trees in Texas — over 300 million trees."
Hammond has spent the past few years in the College of Arts and Sciences researching the moment when trees stop living and start dying under extreme drought. He is conducting the study under Dr. Henry Adams, a professor in the department.
The researcher and his collaborators conducted a study where they imposed a drought upon loblolly pine trees in a greenhouse at Oklahoma State University and observed them through different levels of drought-stress. The team realized the trees starts dying long before foliage turns brown. In a lot of cases, they were still green or yellow.
"Even when we relived the drought, but they were committed to drought, to death, they went on to die," Hammond said. "I measured the physiology of the trees so we can know what's going on in terms of physiological responses, much the same way you'd determine the lethal concentration of a drug in humans. It's a very similar analysis."
The finding explains why scientists sometimes overestimate or underestimate the impact of drought on trees. Hammond's study directly determined how much failure in a tree's plumbing is lethal.
"Hydraulic failure, the breakdown in the tree's ability to supply water to the leaves, occurred in every previous study on this, but we didn't just how much failure was lethal," Adams said. "Bill found that on average, it was closer to 80 percent blockage, higher than many had expected, with some trees surviving 90 percent loss of their ability to move water."
Hammond added, "Different trees have different resistance to drought. We're starting to see similarities in other species. I hope to reduce uncertainty in future climate models. We have to know their limits."
Hammond recently received a grant from the Binational Science Foundation to conduct experiments on two native species in Israel.
"I will use X-ray computed tomography, like an MRI for tress, with an advanced light source to look through the trees without cutting them," Hammond said.
He is interested in applying his studies on a global scale. He plans to start by investigating species representing diverse drought responses, then integrate similarities and differences to help the scientists and the public understand the fate of global forests.
"In a drying, warming world, I want to know what kills a tree, so we can understand what we're looking at in the next 100 years," Hammond said.
Hammond and his colleagues recently published a paper in New Phytologist, a peer-reviewed scientific journal, called "Dead or Dying? Quantifying the Point of No Return from Hydraulic Failure in Drought-Induced Tree Mortality" to share the findings of their research. The study stresses the importance of understanding the interaction of trees in their environment.
He compares his research to solving a murder. In that comparison, "The first 48 hours is the most important," Hammond said. "For trees, when the foliage turns brown, the murder of the tree happened two months ago. You'd have a hard time figuring out the environment that led to it. I want to get there in the first 48, so to speak. What are the conditions that led to death, and what did it?"
Hammond wants to present his study to plant ecophysiologists, and work to reduce uncertainty in the current climate models, specifically how the trees contribute to the terrestrial carbon cycle.
"One of the greatest challenges we face as we start to learn more what a lethal dose of drought is, we need to figure out ways to determine the time between the onset of stress and death in different species," Hammond said. "I hope to take some of my understanding of mechanism and physiology of death and be able to connect that to models, to be able to predict and refine that model so they can better capture the fate of the forests."
To follow Hammond's research, follow his academic Twitter account @wmhammond and hashtag #WhatKillsTrees.
MEDIA CONTACT: Jacob Longan | 405-744-7497 | jacob.longan@okstate.edu