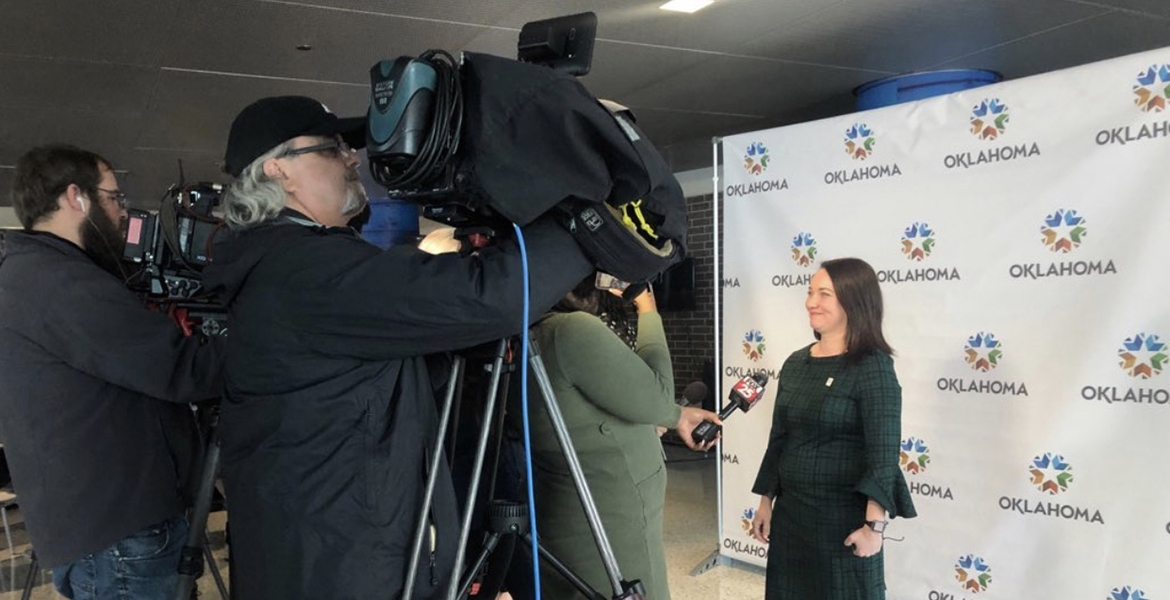 Alum develops a clear and consistent brand for Oklahoma
Monday, November 16, 2020
Amy (Schmitz) Blackburn knew she was going to attend Oklahoma State University. It was in her blood.
"I'm actually the fourth generation of women in my family to attend Oklahoma State," said Blackburn. "I kind of knew that I was going to go to Oklahoma State from a very, very young age. I grew up coming to visit Stillwater for football games and basketball games and homecoming and all that good stuff. Oklahoma State has really just been in my blood since I was born, and I'm very excited to carry on the tradition. And, hopefully, my daughter wants to become that fifth generation as well."
The 2004 journalism and broadcasting graduate said her time at OSU prepared her for a rewarding advertising career and opened doors for her to build lasting friendships.
"OSU gave me a sense of independence. It introduced me to a circle of friends that I remain close to," said Blackburn. "To this day it helps me improve my social skills. I was kind of an introvert and coming to Oklahoma State helped pull me out of my shell a little bit. It exposed me to different career paths. It's an incredibly diverse campus and continues to be more diverse each year. I was thrilled to be able to learn about different walks of life, and I was able to make friendships that remain close today."
After graduating, Blackburn was hired by Ackerman McQueen in Oklahoma City and began her career in the advertising industry. From there she went to Crispin Porter Bogusky and then Jordan Advertising and Saxum Strategic Communications before joining the State of Oklahoma as the director of branding and citizen experience.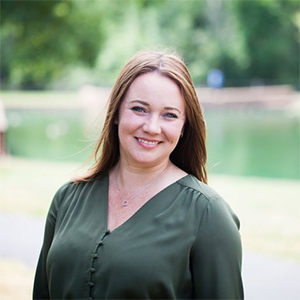 Her position with the State of Oklahoma resulted from joining a volunteer group of professionals developed by Lieutenant Governor Matt Pinnell. The group's initiative, which began in 2019, was to develop a consistent brand for the State of Oklahoma for all state websites, a new state logo, slogan and license plates.
"I participated in the OklaX project with Lieutenant Governor Pinnell as a volunteer, and then I was presented with the opportunity to become the director of state branding," said Blackburn. "We launched the brand a week after I came on."
The group of roughly 150 volunteers were able to produce a verbal and visual identity representing the diversity and determination of Oklahoma. The new brand was launched in February 2020.
"With the support of the legislature and state leadership, we've been incredibly grateful for how state agencies have embraced the brand," Blackburn said. "We look forward to seeing the return on that investment in the form of economic development and tourism."
Branding is how a person or company represents itself and is vital to one's identity. Before the taskforce, Oklahoma didn't have a clear, consistent brand.
"We have the Osage Shield on the flag, we have the state seal," Blackburn said. "All of our state agencies have different logos and different ways of branding themselves. What we were looking to do was to bring some consistency and cohesiveness to the state and create a recognizable mark that will ultimately let the public know that Oklahoma is a wonderful place to live, work and play."
Blackburn has been able to take her education from OSU and turn it into many successes, including various ad agencies and Ad Club awards, and being named to The Journal Record's 40 under 40. She chose to pursue journalism for its concentration in writing and mix of creativity and practicality.
"When I was assessing my strengths in high school, I always loved to write," Blackburn said. "I was looking for a degree program that would allow for some level of creativity but also practicality. And journalism was the best fit. Actually, working within my degree choice has been incredibly fulfilling. I know that for a lot of people their career path does not always follow their educational path, but mine has. I am until this day still using tactics and strategies that I learned within the journalism school at Oklahoma State."
To Blackburn, Cowboy pride means being resilient in the face of tragedy, having pride for your state, being brave and having grit and determination. These characteristics shine through in her work for the State of Oklahoma.
MEDIA CONTACT: Kendra Carlson | College of Arts and Sciences | 405-744-8214 | kendra.carlson@okstate.edu