Susie Henning ('95 B.A. psychology) came to Oklahoma State University for the experience it offered, and the experience she received carried over into a rewarding nonprofit career.
"I wanted a fuller college experience," said Henning, who is from Tulsa. "I remember the day my mom and I went to Stillwater and visited. It was so different back then. I think I enrolled that same day. I just left the town thinking it was truly a college town. Everyone was so friendly and helpful and it just felt like home."
Henning, who married her husband, Jeffrey ('95 B.S., '97 M.S. mechanical engineering), before finishing college, has many OSU memories, including Psychology professor Dr. Charles Abramson and his experiments with bees and earthworms, the quiet, peaceful nooks in Edmon Low Library and feeling of home you get walking across campus.
"I mean, there was a lot of fun," said Henning. "Lots of fun, but one thing I will definitely always remember and I tell people is that I saw Barry Sanders play in every home game the season he won the Heisman Trophy. My husband and I are huge OSU sports fans, we're going to be those little retired people wearing matching clothes. Then we were also in Gallagher-Iba Arena when the 1995 basketball team came back at 3 a.m. from winning the Elite 8 to go to the Final Four."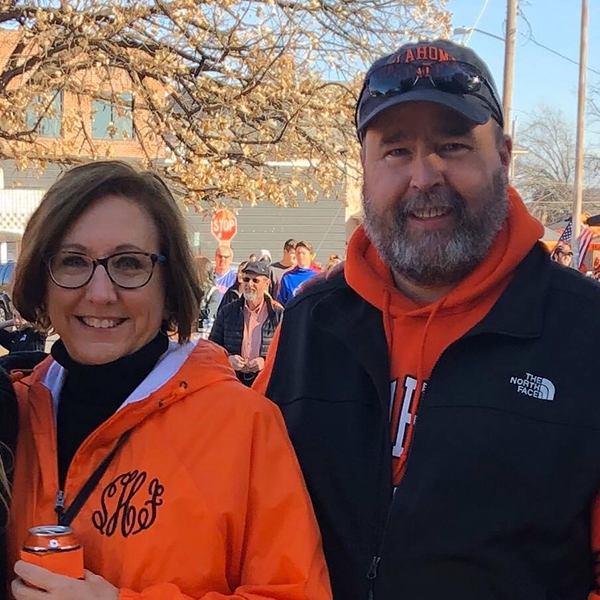 After graduating, the Hennings moved to Texas so Jeffrey could take a position with Lockheed Martin. At about the same time they found out they were pregnant with their first child.
After having children, Henning was a stay-at-home mom for 12 years. During that time, she got involved with the women's ministry at her church, volunteered at her children's school and was a member of the PTA. Volunteering for the school's fundraiser led to her current position with Trinity Christian Academy.
"I helped with the yearly gala auction event and that's really what got me started in volunteering at the school," Henning said. "I stayed on the auction committee for quite a while, and I ended up running the auction."
Henning joined TCA as an administrative assistant in December 2007. She became the construction ministry coordinator in 2009 and is currently the director of development and public relations. Her responsibilities include donor relations, acquiring new donors, public relations, community outreach, events, fundraising and marketing.
"I handle all of the special events we have, like Grandparent Day, the yearly auction and Preview Days for prospective families."
Henning credits OSU for many of her successes at TCA.
"I realized that everything I'd learned at OSU and everything that I've been involved with at OSU really shaped my path into volunteering and then into development and fundraising and planning events," Henning said.
"I remember all these classes now," Henning said. "I think majoring in psychology really gave me a well-rounded understanding of not just individuals but how groups of people work together and how they interact and how to motivate people. I remember one of my favorite classes was the psychology of motivation and just really learning how people think and how people work together."
Working as senior office assistant in the Office of the Provost while earning her degree was also influential to her career.
"And then working in the provost office with Denise Weaver, executive assistant to the provost," Henning said. "Denise is so amazing about mentoring and the importance of giving back to your community and getting involved in the community. I feel like I'm almost following in her footsteps down here."
Henning and her husband are very supportive of OSU. Their daughter came to OSU for a while and their son is currently a junior.
"I encourage people all the time to go back and to stay involved," Henning said. "We stay involved as much as we can. It just makes me sad when people graduate and never have anything to do with their alma mater again. We just always encouraged our friends that went to school there. 'Hey, you need to join the Alumni Association. You need to get involved.' You know there's so many good things going on, on campus, and we don't get to do all those things as often as we'd like but we will always be connected."
MEDIA CONTACT: Kendra Carlson | College of Arts and Sciences | 405-744-8214 | kendra.carlson@okstate.edu