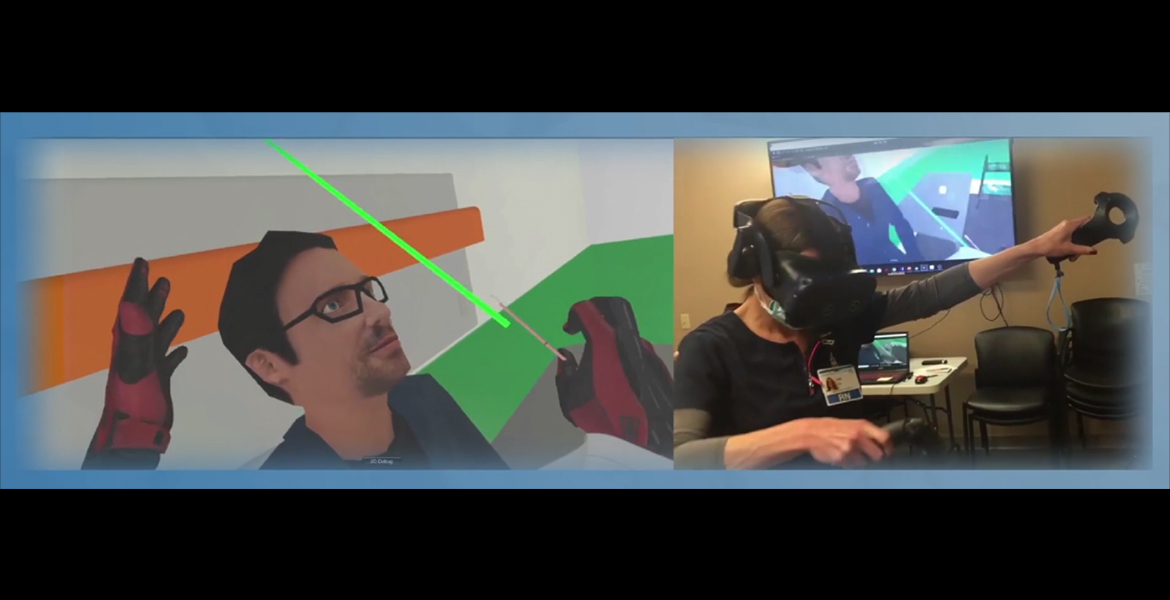 Cecil recognized for excellence in mentoring
Thursday, December 17, 2020
Dr. Joe Cecil recently received a Presidential Award for Excellence in Science, Mathematics and Engineering Mentoring from the National Science Foundation. Dr. Cecil was recognized for his unique approach to mentoring and encouraging minority and under-represented to pursue STEM educations and careers through Virtual Reality based Virtual Learning Environments (VLEs) as part of a grassroots program called Soaring Eagle Program which he started 22 years ago.
"The Soaring Eagle Program recognizes the significant under-representation of K-12 minority students including women, autistic students and those with physical disabilities in STEM. Our program targets these students by offering informal learning workshops evenings and weekends where students explore STEM concepts through Virtual Reality based environments," he said.
The award recognizes the twin mentoring thrusts of Dr. Cecil – one at the K-12 level and the other at the University level. He is passionate about the adoption of using cyber based approaches and technology to enrich and enhance the mentoring experience.
"Mentoring is not just about teaching and educating, but it is about caring. If I didn't have great mentors, and my collaborators didn't have great mentors, this wouldn't have happened. I was inspired and encouraged to excel by my mentors, who provided such an array of mentoring experiences who believed in me," he said.
The team behind the Soaring Eagle program and other mentoring activities consists of more than just Dr. Cecil. Without the help of each individual, these mentoring activities (which has resulted in a large number of under-represented students pursuing STEM program and careers) would not be so successful. There is no denying that Dr. Cecil has had a successful career and deserves this honor, but he wants to also specifically acknowledge his collaborators who have been working tirelessly with Dr. Cecil and thank them for their contributions.
"Soaring Eagle is a success as it's a team effort bringing together engineers, scientists, psychologists, school teachers, graduate students and grass-roots organizations to help K-12 students learn STEM."
At the university level, he has worked with collaborators and created specially designed Virtual Learning Environments to help minority and other students understand engineering and computer science concepts ranging from genetic algorithms to work cell design.
Dr. Mary Sweet-Darter, an educational psychologist in nearby Edmond, has been a vital partner in exploring Applied Behavioral Analysis (ABA)-based approaches to help autistic and other students. Her ability to ask the right questions has opened countless avenues for study that might not have been possible without a multidisciplinary team. Other key contributors who have served as mentors to minority and other students include Dr. Miguel Pirela-Cruz (Dignity Regional Medical Center), Dr. P. Ramanathan (University of Wisconsin Madison), Dr. Rajesh Krishnamurthy (Department of Biosystems and Agricultural Engineering), Dr. Blayne Mayfield (Department of Computer Science) and many others.
"We have had a great group of collaborators. That is why we have done well. This is not about an 'I' or even an 'us' in the lab. It is the lab and beyond the lab as to how we went about doing this," Dr. Cecil said.
People all across the OSU campus have had their hands in this project and deserve recognition for their contributions. Dr. Alan Tree, the former associate research dean for the College of Engineering, Architecture, and Technology, played a key role in convincing Dr. Cecil to come to OSU in 2009. He also supported a major investment in Virtual Reality (VR) infrastructure, which provided a strong technological foundation to pursue innovative research, mentoring and teaching. He also had faith in Dr. Cecil's capabilities to collaborate with others and help OSU develop a global reputation in emerging areas such as Information Centric Engineering and Virtual Prototyping.
When talking about the support of OSU, Dr. Cecil said, "I think the main aspects that comes to my mind is almost everyone wants to help you and they are always eager and excited to explore new avenues with you."
A few years ago, when Dr. Cecil wanted to move to CAS, both Department of Computer Science head Dr. KM George and then-CAS Dean Bret Danilowicz were very welcoming. Provost Dr. Gary Sandefur was also very supportive of this move to CAS.
Having worked with Dr. Mayfield before, he established a state-of-the-art Center for Cyber-Physical Systems, which he and Dr. Mayfield co-direct, with encouragement from forwarding-thinking NSF program managers. The move from CEAT to CAS has had a such a positive impact on interdisciplinary programs while providing access to more cyber savvy undergraduate and graduate students.
Moving to a different College (CAS) within the same university comes with the usual challenges. However, the support of the department head (Dr. George), other department faculty and the Dean made it easier and worth the effort. One of the major new thrusts that Cecil has started developing was in the emerging area of Cyber-Physical Systems (CPS) and Human Centered Computing (HCC). Having an interdisciplinary focus enabled Cecil to be awarded grants from the US Department of State, NASA, OCAST and more recently from the HCC group at NSF. It also provided an opportunity to collaborate with Drs. Shelia Kennison (Psychology), Chris Crick and Satya Aakur. People from just about every college at OSU have worked with Dr. Cecil, creating a collaborative and multidisciplinary way of conducting research. Drs. Craig Watters (Spears School of Business), Damon Chandler (who moved to Japan from CEAT), Jamie Jacob (CEAT) have been key collaborators on exciting projects ranging from cyber-entrepreneurship to NASA's Deep Space Mission. When innovative pedagogy was introduced in new courses, ITLE staff Gina Morris, Simon Ringsmuth and Kristi Dickey helped provide much-needed feedback and constructive thoughts on adoption of experiential learning methods as well as effective ways to assess innovative teaching approaches.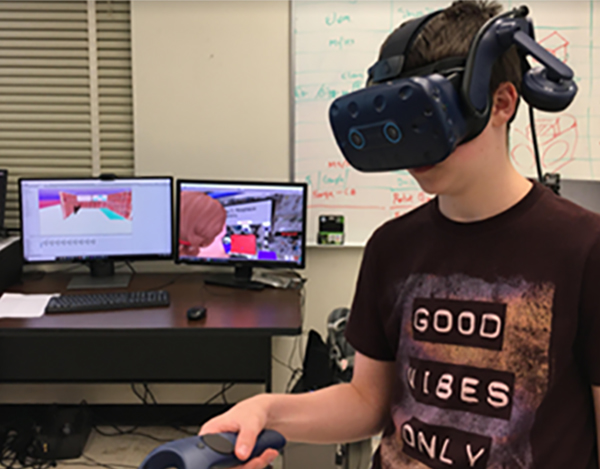 The leadership team at CAS has also been there to support Dr. Cecil along the way, starting with Dr. Danilowicz and former associate dean of research Dr. Larry Mullins. The current Dean, Dr. Krutz and associate dean of research, Dr. Kristen Baum, have continued that support and been encouraging of the various integrated research, education and outreach activities. Dr. Baum has always been ready to listen to the team's concerns when they encountered challenges and always tried to find the needed assistance. Such a supportive presence has given the team the much needed morale boost on many occasions. Brenda Morales and Lisa Dobson, who work with OSU's under-represented student groups, have always been proactive in helping students become aware of research opportunities in Dr. Cecil's lab, which was a key step towards graduate school.
Graduate College Dean Dr. Sheryl Tucker and Associate Dean Jean van Delinder have always been glad to provide suggestions and advice to Dr. Cecil as his program grew. Dr. Tucker could relate, having previously won the PAESMEM award in 2005. Dr. van Delinder coordinated an ADVANCE mentoring program, in which Dr. Cecil participated when he had just moved to OSU. Her helpful nature and mentoring philosophy left a deep impression on him. In the grants office, Jennifer Heusel has been exemplary in grant budget formulation and accounting activities along with her colleagues Tory Lightfoot and Melissa Mikesell. Wanting to help students is the first step. But without the help of the proposal submission team at the CAS office, it would not be possible to be awarded grants.
"I want to make sure that these individuals are recognized," Dr. Cecil said. "I also want to underscore the awesome group of both undergraduate and graduate students who understood our program's goals and were equally passionate about exploring new methods and approaches. Having talented computer science students become a core part of our group has been foundational to our success. I can't mention all of them, but I want to mention the dedication and leadership of my current doctoral student and mentee Avi Gupta, who moved with me from industrial engineering to computer science. He has matured into an outstanding researcher and teacher.
"A previous doctoral student, Sadiq Albuhamood, was instrumental in a prestigious US Ignite project, which involves leading researchers from two other groups. Sam Kauffman, one of my undergraduate students has been recognized for his outstanding research involving a covid-19 training simulator, which he will present next year at the Capitol in Oklahoma City to our state representatives."
A group of collaborators from NASA have provided cutting-edge project opportunities in class project contexts. Introducing Virtual Reality/Augmented Reality-based Moon Mission simulation was received enthusiastically by students, whose class performance improved dramatically when they interacted with NASA engineers as part of semester-long projects. Without NASA's support and interest, OSU students would not be exposed to groundbreaking principles and cyber technology that allows them to create simulators to train astronauts and design habitats for deep space missions.
Dr. Jamey Jacob (mechanical engineering) and Steven O'Hara (Architecture) provided innovative interdisciplinary educational contexts for NASA's Deep Space Habitat competitions as part of courses which had students from engineering, computer science, architecture and other departments. Dr. Cecil wants to thank Asher Lieberman, David Reynolds, David Read, Larry Dungan, Dr. Lauren Underwood, Dr. Jeremy Frank, and Dr. Cecil Shy from various NASA Centers for helping advise and mentor both undergraduate and graduate students. Through Research Experiences for Undergraduate (REU) projects funded by NSF and others, physically disabled, autistic and under-represented minority students were able to work on innovative digital mockup and simulation-based design projects for a variety of industrial domains, from space systems to smart health. This led to them publishing papers in leading journals and conferences, which encouraged them to pursue graduate studies.
Other industry collaborators such as Dr. P. Benjamin (Knowledge Based Systems, Inc.) and Israel Galvan (GHG Corporation) have also been encouraging of OSU students and hosted visits from OSU students­ to present their research findings to their employees­ and encouraged them to pursue research careers.
"This award is more a validation of my belief that collaborations can impact students and others substantially," Dr. Cecil said. "We can do great things, for children and students, if you find great collaborators."
The Soaring Eagle program is a K-12 STEM outreach program in its 22nd year, where students are exposed to STEM through interactive Virtual Reality-based learning environments (VLEs).
For a program like Soaring Eagle to make a difference in the lives of underrepresented students, school districts needed to get on board. Former Stillwater Public Schools superintendent Dr. Ann Caine was one of the most vocal supporters of this informal learning program. Dr. Marc Moore, the current SPS superintendent, has continued that support. Ryan Blake, the former principal of Stillwater's Sangre Ridge Elementary, has also been a huge supporter of Dr. Cecil's work, especially work involving autistic children and STEM learning. While most principals are busy with their day to day activities and appeared not too interested, Blake was an exception. He was excited about helping autistic and other children learn science and math through an alternate learning approach. We are now exploring new collaborations with schools in Tulsa and Broken Arrow.
"VLEs don't seek to replace teachers but focus on helping teachers help a diverse group of students. There are different types of learners from visual to kinesthetic/tactile, from local to global learners. VLEs supports these various types of learning approaches," Dr. Cecil said.
He is also very grateful for the funding he has received from various agencies like the National Science Foundation, NASA, OCAST, Sandia Labs and others.
Krutz had this to say about Dr. Cecil and his work: "The College of Arts and Sciences could not be prouder of Dr. Cecil and his work both in terms of his overall achievements and his mentoring of students. Thank you to all of the individuals who have helped make a difference in the lives of K-12 students through the Soaring Eagle Project and took on mentees of their own."
Dr. Cecil's work with autistic students is ongoing. Parents of students interested in joining his research initiatives can email him at j.cecil@okstate.edu.
MEDIA CONTACT: Samantha Homann| College of Arts and Sciences | 405.744.7015 | samantha.homann@okstate.edu