Thousands of people were forced to evacuate their homes in September as wildfires tore across the West Coast. Among them were Department of Plant Biology, Ecology and Evolution emeritus professor Dr. Michael Palmer and his wife, former OSU professor Dr. Suzanne McAlister.
After Palmer's retirement earlier this year, they moved to McAlister's childhood home in Blue River, Oregon, situated on acres of forest land.
"It was a wonderful place to grow up," McAlister said. "My sister and I hiked in the woods with our dog, rode our ponies on the forest roads … and picked wild blackberries by the beaver dams in the fall. My parents, great aunt and grandfather told us family stories and taught us to love reading, and to garden, gather wild mushrooms and observe nature."
Sadly, the multi-generational property and vast majority of Palmer and McAlister's possessions were destroyed by the Holiday Farm wildfire. A few days after their evacuation, the couple gave an interview on National Public Radio, recounting their harrowing escape.
"We had just gone to bed, but suddenly our phones blared the level 3 warning, which is immediate; leave now; do not gather your belongings," Palmer said. "We thought, 'Could this be in error?' And I started looking around, and the fire had already jumped on our property."
The couple made it to Eugene, about 50 miles west of Blue River, after also helping an elderly neighbor escape.
"I knew her cell phone wasn't working, so she wouldn't have gotten the alert," McAlister told NPR. "We drove out of our driveway, and then I stopped and unlocked her gate, unlocked her house and woke her up. ... As we were walking out, the trees were torching up ... a hundred-and-some feet tall."
In an email to OSU's College of Arts and Sciences, Palmer wrote that experiencing the fires was frightening, "but perhaps my academic background in fire ecology gave me a bit of professional detachment at the time. Or perhaps it was adrenaline." He added, "The emotional impact hit later, and still comes to the surface on occasion."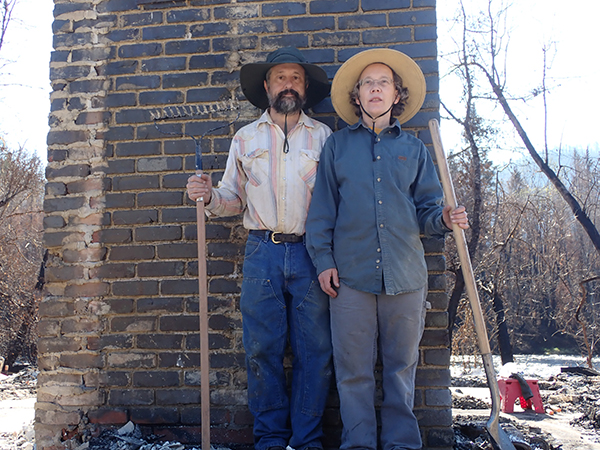 About three weeks after evacuating, McAlister said they were able to return to the property for the first time, maneuvering "around the remaining road hazards and past stumps and houses still smoking and occasionally flaming up."
"We have now been back several times a week to pick out remnants of our burned possessions from the ashes," she continued. "A few items miraculously survived — a glass Christmas tree ornament, a few porcelain tea cups and a couple of baking dishes — but most, while perhaps recognizable, are broken beyond repair."
In the wake of their devastating loss, Palmer and McAlister find themselves looking to the future.
"We definitely plan to rebuild," Palmer said. "Ideally, we would want to have an eco-friendly house, if we can find the right people to help with the design. Not only do we need living quarters, but I hope to build a modest laboratory, custom designed for research needs."
While at OSU, Palmer focused his research on plant ecology and taught courses in general and community ecology, biography, biodiversity and more. Although it will take some time for plant and animal life to return to Blue River, Palmer hopes to "observe the early stages of regrowth."
"If I am lucky enough, [I'll] live long enough to see which plant species will gain the ascendency," said Palmer, who earned a Ph.D. from Duke University, as did McAlister. "It is remotely possible that this old-growth Douglas fir forest will be replaced by an oak savannah, which would be an interesting phenomenon in my past field of expertise in vegetation science."
Dr. Andrew Doust, head of OSU's Department of Plant Biology, Ecology and Evolution, worked with Palmer for years and was unsurprised by the emeritus professor's resiliency and dedication to scholarship.
"It is very characteristic of Mike that he feels the pain of loss as well as recognizing the opportunity to learn," Doust said. "I am sure he'll continue to contribute to our knowledge of ecology and biodiversity, no matter the circumstances."
Although optimistic, Palmer is also acutely aware of the reality of regrowth.
"It takes a long time for diversity to return after extreme wildfire," he said. "Some of the insects I saw the week prior to the fire are very likely to have been new to science. They won't return within a lifetime, likely — though they may exist elsewhere."
As a scientist with decades of experience, Palmer offered insights into what contributed to the severity of the Oregon wildfires.
"This particular weather event was unprecedented, but a larger part of the equation that has not been part of the media coverage is our longer-term pattern of increasing summer drought," Palmer said. "This caused the Douglas firs and other conifers to die standing, or to be alive but with many dry branches. This meant that small embers flying from the main fire could land in the tops of trees miles away, causing the entire tree to torch in seconds. I witnessed several such examples during the escape."
"A common half-truth [is that] these fires are 'natural,'" Palmer continued. "Yes, there is a natural fire regime in most vegetation types, and I have studied this through a lot of my academic career. But the extent, nature and severity of the 2020 wildfires is a clear signature of climate change."
As Palmer, McAlister and their fellow Oregonians begin to recover, Palmer offered a hopeful vision of what's to come.
"Insects eventually will come back. Plants will eventually come back. ... In a few years, the fireweed will be in full bloom," Palmer told NPR. "The trees, of course, will take much longer. We don't know if there [are] any surviving. But the river will be there. The wetlands will be there. And hopefully the beavers will come back. So yes, we'll rebuild."
MEDIA CONTACT: Elizabeth Gosney | College of Arts and Sciences | 405-744-7497 | egosney@okstate.edu