OSU pride still runs deep for 50-year alum Ronn Cupp
Tuesday, October 20, 2020
It's been 50 years since Ronn Cupp earned his bachelor's degree from OSU, but his memories of those four years in Stillwater are as vivid as ever. The 1970 journalism and broadcasting graduate said his education and experiences at Oklahoma State prepared him for his career, brought him lifelong friends and led him to meeting his wife, Beth.
"In college you learn to be more independent. You have to get up. You have to go to class. You have to make sure to study at some point. And sometimes you meet the love of your life," Cupp said. "You know, that was probably the most important thing—meeting Beth."
Cupp told the story of trying to get a date his sophomore year with the "cute little frosted-hair gal with a giggle" through their mutual friend, since he didn't know Beth's name at the time.
"One night I called my friend and said, 'Do you know anybody who might want a date for this weekend?' And she said, 'Yeah, me,'" Cupp recalled, laughing at the predicament he had put himself in. Quick on his feet, Cupp suggested they double with friends. Luckily Beth was part of the second couple.
"I called Beth the next week for a date," Cupp said. "So our first date together was really a second date."
Ronn and Beth ('70 B.S. home economics education) have been married now for 52 years and have two children and eight grandchildren. Their daughter Angela is a labor and delivery nurse in Edmond and their son Dustin — a fourth-generation OSU grad — is a doctor and medical director in Tulsa. "We're very proud of both of them," Cupp said. "And it's fun for them to be so close."
Cupp was born in Altus, Oklahoma, and moved around Oklahoma and Texas before his family settled in Pauls Valley between his sixth and seventh grade years. When it came time to go to college — something that was instilled in him growing up — OSU was his top choice.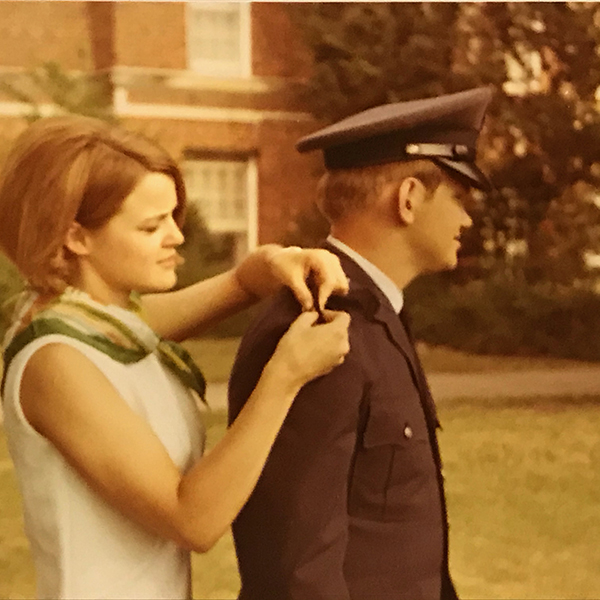 "Most of my family went to OSU. It was just in our DNA," Cupp said. "I actually had a scholarship to OU … but I don't think there was ever much doubt where I was going to go."
Cupp reminisced about his time at OSU, which included writing for The O'Colly, joining the Air Force ROTC, living on campus (Cordell Hall and then Scott Hall) and running for Student Senate using $150 that his folks gave him to start his campaign.
"I had some calendars printed up with my name across the top and I would stand between the Student Union and the Classroom Building handing them out," said Cupp, who eventually won his bid. "That was my first foray into politics where I had to campaign and put my name on the ballot. It was humbling."
Upon graduation from OSU, Cupp left the ROTC with an Air Force commission as an information officer. He remembered the ceremony during which Beth was there to pin his newly earned gold bars to his uniform. The couple went first to Missouri and then to Taiwan during the winding-up years of the Vietnam War. Upon returning to the states — a new baby in tow — the Cupps settled in Oklahoma City, where Ronn spent the bulk of his career at the The State Chamber of Oklahoma.
"I was with The State Chamber for almost 30 years, over the tenures of six governors," said Cupp, who explained that his team lobbied for the business community on issues that included economic development, transportation, taxation, Workers' Compensation, unemployment compensation, water development, healthcare, veterans affairs and education.
"Our State Chamber team was amazing," Cupp said. "Together we built The State Chamber into one of the top in the nation. And we were the first accredited state chamber in the country by the U.S. Chamber."
Cupp retired in 2011 as Senior Vice President of Government Affairs at The State Chamber of Oklahoma, but he hasn't slowed down. Along with being active in his church and keeping busy with grandkids, Cupp serves as state committeeman and on the executive committee for the Oklahoma County Republican Party. He is also an associate member of the Oklahoma City Republican Women's Club, an organization for which Beth has served as president. In addition to all this — and regardless of any pandemic — the Cupps make sure to remain OSU football season ticket holders.
"We wait until the game is over and the team is singing the alma mater and we wrap our arms around each other and sing along," said Cupp, adding that the appreciation he has for OSU is hard to put into words. "It's a feeling that you get on campus. The pride that you see when Bullet runs out and the band takes the field. What it means to be a Cowboy is something in your heart that you just can't define."
MEDIA CONTACT: Elizabeth Gosney | College of Arts and Sciences | 405-744-7497 | egosney@okstate.edu