Alumnus can tell you how to get to Sesame Street
Thursday, July 30, 2020
When Tyler Bunch was in high school at Tulsa's Thomas Edison High School, his father worked in higher education theatre. Tyler often assisted him with building and designing sets, attending rehearsals, summer theater camps and playing parts when needed. That helped him discover his love for the arts.
Bunch has worked as a puppeteer, voice-over artist, director, producer, actor and writer. He has worked for the Jim Henson Company, Disney, Sesame Street, Pokemon and more.
After graduating high school, Bunch opted to attend Oklahoma State University.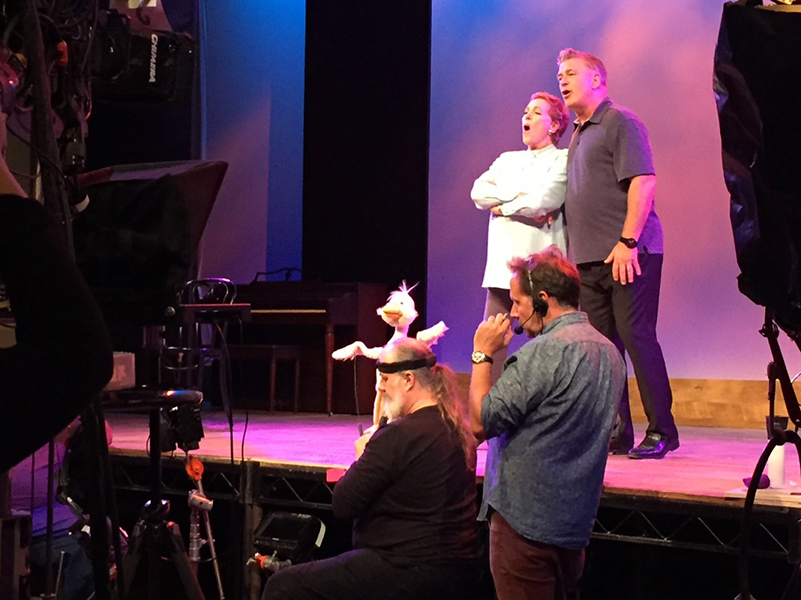 "I chose Oklahoma State University because it had a graduate level program, and I wanted to risk as little as possible being a big fish in a little pond," Bunch said. "I wanted to go somewhere where I could feel that if I were in an acting class, there were people who were going to push me, and if there were theater roles available for productions, I wanted to be able to say that I had a good amount of competition, if I was fortunate enough to be cast in those roles. I wanted to get as much exposure to as many different ideologies about the art form that I was deciding to go into as possible."
Through OSU Bunch was able to audition and be accepted into the Disney College Program. During this time at Disney, he lived and worked with people from places like West Virginia, New York, China, West Germany, France, Italy and other places around the world.
"It was an amazing social experience," Bunch said. "I actually got the opportunity to audition through Oklahoma State."
After his time at Disney, Bunch attended Eckerd College in St. Petersburg, Florida, where his father was a faculty member. That is when he fell into puppeteering.
"There was a role that I was playing in an original play at Eckerd where the character was supposed to be talking to an imaginary dog and I was having a difficult time connecting with the notion of the author, Kevin Kling, that it was an imaginary dog and it was just there in space," Bunch said. "When he played fetch, I wanted to actually have a thing come that I had to throw so I decided to make it make it look like this character made a dog out of his own socks."
Bunch's favorite character to play has been Louie, Elmo's father on Sesame Street.
"I was lucky enough to take over the role originated by Mr. Bill Barretta," said Bunch.
Louie was introduced in 2006 to address some family specific principles that weren't on the regular episodes of Sesame Street. The material was for families going through specific difficulties and provided support mechanisms for military families, families dealing with incarceration and families with addiction and emotional problems. Louie later became a regular on the show.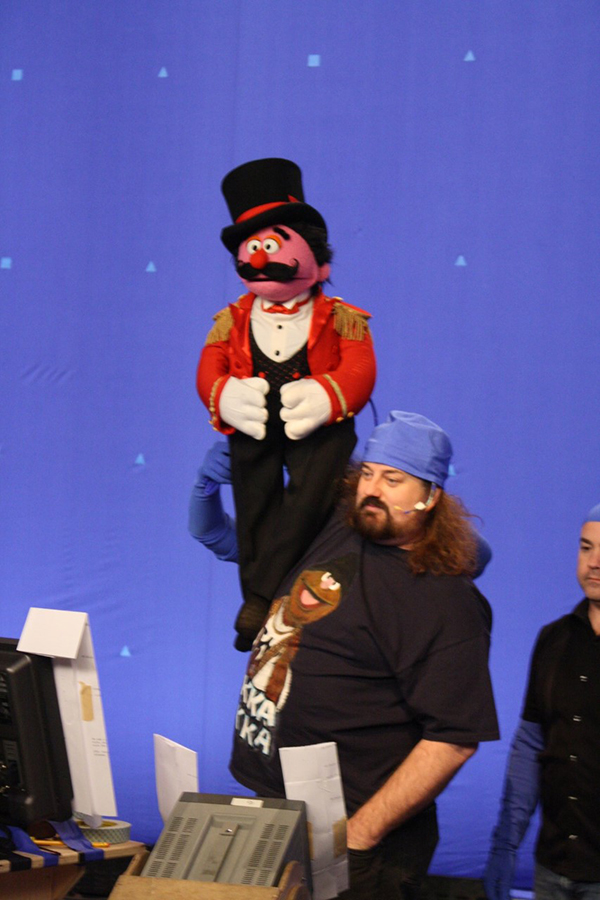 Over the years, Sesame Street has produced projects regarding tough subjects for children to understand. Bunch has been able to play a part in these productions including the most recent CNN Town Hall Sesame Street Cooperative on the subject of racism.
"A lot of people have watched that scene between Elmo and his father and I'm certainly proud to have been part of it and more than hopeful that it has begun a conversation about a subject that may have been rightfully taboo but needs to be discussed nonetheless, so very, very proud and consider that kind of the biggest thing I've done in my career so far," Bunch said.
When Bunch first joined Sesame Street, he was a character actor, meaning he played the characters that accented the role of main characters. These characters were script-specific – characters that main characters had to interact with during their pursuit of knowledge of any given subject: game show host, sheep with a problem, big bad wolf, talking vegetable, etc.
"My job would be to go and look at the script, look at the other characters in the scene, figure out what the curricular moment was that justified my character's existence, how to put that out in a way that was memorable and easy to consume and also fell within what I call the orchestral makeup of the scene," Bunch said. "So finding where the character needed to be in order to both pop and be just as impressive and just as memorable as the famous characters that the kids were used to seeing every week but also not overshadowing the lessons that were typically their's that they needed to reflect that they were absorbing that the kid would learn through their eyes and being able to do that consistently was one of the reasons I became a contract player."
When Bunch arrived in New York he auditioned for an Actors' Equity Association Showcase. They were not only interested in his acting abilities but also his background in building and designing sets. He was cast in the production and designed and built the set based on platforms and flats from the Juilliard School. Representatives from Juilliard attended the production and offered him a scenic carpenter position, which allowed him to pursue acting on the side. He later when to work for Gilbert and Sullivan before the Jim Henson Company.
To hear more about Bunch's journey in his own voice, listen to his Pokes PodCAS episode.
MEDIA CONTACT: Kendra Carlson | College of Arts and Sciences | 405-744-8214 | kendra.carlson@okstate.edu