Music Education major Braeden Weyhrich named an Outstanding Senior
Thursday, April 29, 2021
Media Contact: Jacob Longan | College of Arts and Sciences Coordinator of Communications and Marketing | 405-744-7497 | jacob.longan@okstate.edu
During her time as an undergraduate, Braeden Weyhrich of Boone, Iowa, capitalized on the myriad music-related opportunities OSU has to offer.
The music education major and clarinetist was part of the Cowboy Marching Band, Wind Ensemble, Symphonic Band, Concert Band, OSU Symphony Orchestra, Tau Beta Sigma sorority, Sigma Alpha Iota fraternity and the National Association for Music Education. She was also on the President's Leadership Council her freshman year, earned her Honors College degree, and topped things off by being selected as a 2021 OSU Alumni Association Outstanding Senior.
"The first thing I did when I found out about the award was text my two best friends from OSU to tell them the news," Weyhrich said. "They were some of my biggest supporters during my time at OSU, and we did so many of the things that helped me earn this award together."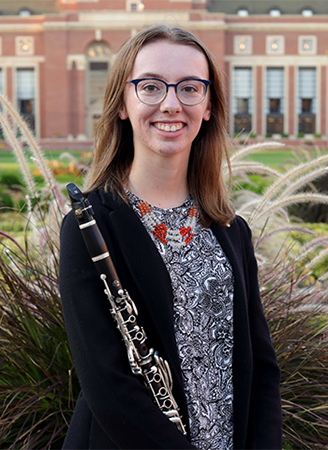 Weyhrich forged other lasting friendships on the 15 or so music trips she took over the course of her college career. The Cowboy Marching Band's trip to the Camping World Bowl in Orlando, Florida, during her sophomore year proved particularly memorable.
"We left Stillwater on Christmas Day, I had bronchitis, the bus ride to Florida took 30 hours, a bus driver got fired, a band member adopted a cat — just about everything weird that could have happened did," Weyhrich said. "But the Cowboys won, we got a free day in Disney World and we have tons of stories to share."
While the pandemic stymied Weyhrich and her bandmates from creating similar memories in 2020, she was quick to point out some silver linings.
"An unexpected good that came out of COVID was the immediate plethora of online workshops and seminars that various music educators around the world put together to share their knowledge with everyone that was stuck at home," Weyhrich said. "I got to meet a lot of really high-profile people in the band and orchestra world on Zoom that I would have never gotten to learn from if the pandemic hadn't forced learning online."
Although Weyhrich's senior year was defined by virtual learning, she was able to do her student teaching in person. There she witnessed teachers making "some of the hardest decisions they've ever made."
"My mentors said they hope that student-teaching during a pandemic makes my career seem super easy," she said.
As Weyhrich looks to begin her career as a middle or high school band director back home in Iowa, she recalled how her "favorite music theory professor would say before tests, 'I would wish you luck, but you don't need luck. You have knowledge.'"
"I think this is applicable to life, too," Weyhrich said. "Rather than waiting for luck to bring an opportunity your way, use the skills you already have to seek it out for yourself."
Story by: Elizabeth Gosney, College of Arts and Sciences graduate student
Story By: Elizabeth Gosney | egosney@okstate.edu