OSU English professor receives $250,000 grant for writing software
Wednesday, November 3, 2021
Media Contact: Jacob Longan | Coordinator of Communications and Marketing, College of Arts and Sciences | 405-744-7497 | jacob.longan@okstate.edu
Dr. Stephanie Link, an Oklahoma State University Department of English professor, created a software program that helps people learn how to write for scientific publication, earning her one of the largest grants ever received by an OSU English faculty member.
The $250,000 Partnerships for Innovation grant from the National Science Foundation will fund Link's research for two years while she works to improve the software, "Dissemity" — for disseminating research with clarity. The intelligent tutoring system helps emerging scientific writers understand the conventions of published empirical studies, thus making it easier for them to write their own manuscripts. Using natural language processing, the system is trained to recognize language patterns in journal articles.
"By understanding the language of scientific writing, we can train computers to identify those patterns and communicate back to humans," Link said.
Link plans to utilize artificial intelligence to convert their textual data to automated feedback for users to enhance their writing.
"This project is built on the idea that computers can be trained to help humans quickly solve everyday problems," Link said. "In this case, the core problem is providing writers with constant, meaningful feedback on how to effectively communicate new research contributions as a key requisite for getting published in top-tier journals."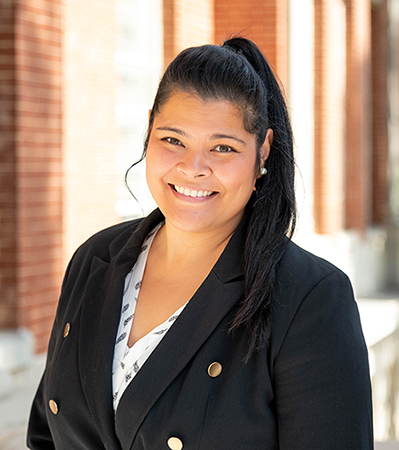 Link, an applied linguist, said her team wanted to create a software system that can teach people how to write different types of papers with the initial focus on peer-reviewed journal publications because this genre is a common struggle for graduate programs to teach. Once a student reaches the graduate level, many programs expect students to already know how to write scientifically, but that's not always the case.
"When I was a graduate student, I had to delve into research writing for one of my first times, and that was really hard because I was a first-generation college student who lacked the background for communicating with scientific audiences," Link said. "I had a lot of room for developing as a writer to get to a point where I felt like I was on a level playing field with my peers. Learning the structure of scientific writing helped me to understand the role that language plays in communicating."
Link created Dissemity with the help of Ph.D. candidate Robert Redmon. He is a linguistics doctorate student focusing on sociolinguistics, but he has a different background than other linguists at OSU. Redmon was fascinated with computers in junior high, and he taught himself how to code for fun. He even started his bachelor's degree as a computer science major before making his way to the field of linguistics. His pursuit of linguistics eventually led him to take a language and technology class with Link — and that is when he discovered the world of computational linguistics.
For his final project for the course, Redmon developed a tool to mine data from Twitter and create a database of Tweets to support his linguistic analysis. When Link saw the project, she knew she had found the person who could help make her academic writing software idea into a reality.
"For my project, I wrote a piece of software, and apparently, that was unusual," Redmon said. "She recruited me from that to work on an idea she had. That became Wrangler, and that became Dissemity."
Together, Link and Redmon created Dissemity's predecessor, "Wrangler." Wrangler was used to "round up writing resources," and Link tested it in a variety of settings, including graduate colleges, dissertation writing workshops and thesis writing workshops. Seeing its usefulness in those settings, Link and Redmon expanded Wrangler for classroom use. Link now teaches a graduate course on preparing publishable manuscripts where she uses Dissemity to teach students how to write for publication.
One year after they started working together, Link and Redmon's work on Wrangler earned them a $50,000 NSF Innovation Corps grant, which allowed them to travel around the country and discover the market potential of their research.
"What we did with that grant was discover whether or not Wrangler was truly a viable technology, a technology that could solve major pain points amongst researchers and other stakeholders," Link said. "The positive response from that grant suggested to us that we needed to continue, and that's why we applied for the Partnerships for Innovation grant."
The PFI is a huge achievement, and Link said earning the award helps show the importance of humanities-based research in interdisciplinary collaborations. She hopes her research can help people understand the value that her field of applied linguistics has in the broader realm of research across the campus community.
In addition to using artificial intelligence to create an intelligent tutoring system with automated feedback on writing, Link hopes to use the grant money to expand Dissemity beyond OSU because she thinks people in a variety of academic settings can benefit from this technology. The team has already started partnering with Cowboy Innovations and other research institutes to build their collaborative network.
Redmon said he's grateful to Link for giving him the opportunity to work on Dissemity, and his experiences with the project have helped him find a niche within the field of linguistics that he would like to explore more in the future. He will graduate in May, but he plans to continue to work with Link on Dissemity for his post-doctoral research.
Link said she's grateful to Redmon for all the hard work he has put into Dissemity, and she is excited that the grant is giving her an opportunity to continue working on a project that fulfils one of her passions—developing the next generation of researchers.
"We have amazing resources on campus, but this technology will complement that work by helping students find more structure in their process of writing that is typically very messy," Link said. "And through that process, it will help them find their own style of writing and their own identity."
Dissemity is available for all OSU students, faculty and staff to use with their O-Key login at dissemity.com.
---
Story by Ellie Melero, College of Arts and Sciences Graduate Assistant