Chemistry professor earns $2.2 million grant for COVID-19 research
Wednesday, February 9, 2022
Media Contact: Jacob Longan | Coordinator of Communications and Marketing | 405-744-7497 | jacob.longan@okstate.edu
Since its discovery in late 2019, COVID-19 has been the focus of many scientists and researchers around the world, including at Oklahoma State University.
Dr. Martin McCullagh, an assistant professor of chemistry in the College of Arts and Sciences, is one of those researchers.
McCullagh is a computational chemist. His research focuses on modeling molecules, particularly biomolecules like proteins and peptides, to learn how they function. Partnering with two researchers from Colorado State University, McCullagh has earned a $2.2 million grant from the National Institutes of Health to study a protein in the SARS-CoV-2 virus, which causes COVID-19.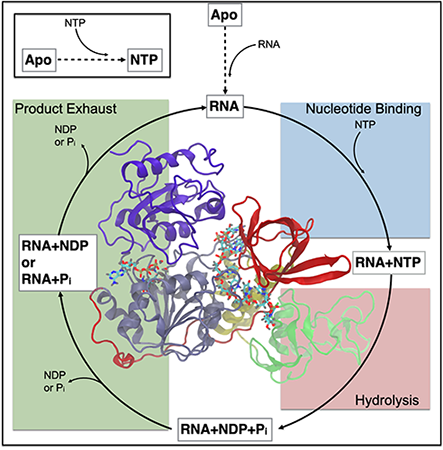 "The goal of this project is to understand how one of the 16 nonstructural proteins (NSPs) that is encoded for by the SARS-CoV-2 genome functions in the context of the viral lifecycle," McCullagh said. "The particular protein of interest, NSP13, is a helicase."
Helicases are motor proteins that are known to translocate along and unwind DNA and RNA strands. SARS-CoV-2 is an RNA virus, and part of its lifecycle necessitates the unwinding and replication of the viral RNA genome.
"It has been demonstrated that NSP13 is a component of the SARS-CoV-2 replication complex," McCullagh said. "This complex is composed of a number of non-structural viral proteins that, together, unwind and replicate the SARS-CoV-2 genome. We're trying to understand the key molecular-level details of how NSP13 performs it functions. Specifically, we ask how does NSP13 convert energy from ATP binding and hydrolysis into mechanical work in the form of moving along and unwinding RNA?"
McCullagh and his team want to understand how the protein works so that researchers can then find a way to inhibit it and stop the virus from reproducing. This research may be crucial to developing an antiviral medication to fight COVID-19.
Such an antiviral could be key in helping to end the pandemic. COVID-19 vaccines have proven effective at mitigating severe disease, but they don't treat the symptoms once a person is infected. Additionally, NSP13 is highly conserved across coronaviruses, so an antiviral medication targeting this protein could be effective against multiple strains of coronavirus.
McCullagh believes this research is important not only because it has the potential to help end the pandemic, but it could also prove useful in battling potential future pandemics. He is working with Brian Geiss and Christopher Snow of Colorado State University. The $2.2 million will fund their research for five years.
Story By: Ellie Melero | emelero@okstate.edu