CAS faculty receive NSF grant for multidisciplinary COVID-19 and pandemic research
Thursday, August 31, 2023
Media Contact: Elizabeth Gosney | CAS Marketing and Communications Manager | 405-744-7497 | egosney@okstate.edu
Six Oklahoma State University professors from a variety of backgrounds are combining their talents to research stopping future pandemics.
Faculty members from OSU's College of Arts and Sciences were recently awarded a $500,000 National Science Foundation grant to conduct multidisciplinary research and model the effects of COVID-19 in Oklahoma to plan effective mitigation efforts for the coronavirus and potential future pandemics.
Drs. Merle Eisenberg (History), Tao Hu (Geography), Juwon Hwang (Media and Strategic Communications), Rebecca Kaplan (History), Patrick Stephens (Integrative Biology) and Lucas Stolerman (Mathematics) make up the research group. Outside of OSU, Mekala Sundaram, a machine-learning expert and former OSU post-doctoral scholar who recently took a faculty position at the University of Georgia, is also part of the team.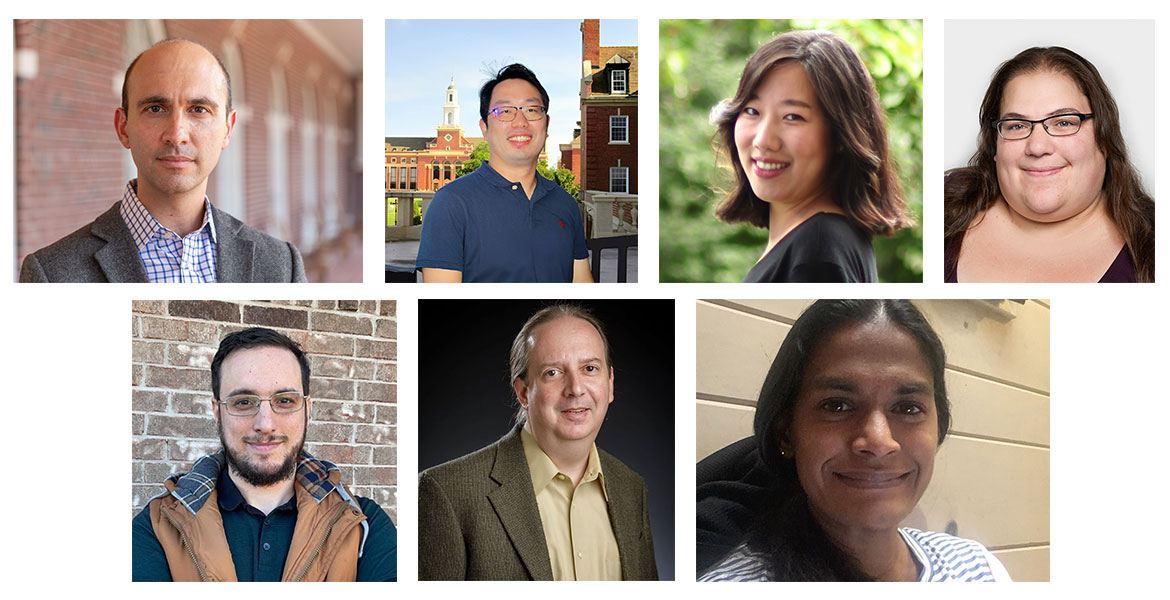 Because modeling of disease outbreaks has primarily focused on biological factors of disease transmission — such as how many people get sick, how many recover and how many die — the researchers will use the NSF grant to investigate how socioeconomics, human behavior and environmental variation all contribute to shaping the impact of a disease.
"COVID-19 has demonstrated how a variety of factors play a role in who gets sick and who dies during a pandemic," said Stephens, who is the grant's principal investigator. "We realized that existing disease models rarely take into account socioeconomic factors such as the economic backgrounds of people, how they spend their time each day, and other details of how they behave, so it was vital to add these variables to models to arrive at a more accurate picture of how an epidemic or pandemic impacts Oklahomans across our state."
The research will leverage the diverse skill set and cross-discipline collaboration of the CAS faculty team, who were hired by the college in 2021 as a "pandemic cluster" to work primarily on pandemic-related topics. Their backgrounds in biology, communications, geography, history and math allows them to dig into the details and factors that shape infectious disease outcomes.
"Our team is unique because we started from a variety of backgrounds and spent the time to get to know each other's strengths," said Eisenberg, who is a co-PI of the grant along with Hu, Hwang, Kaplan and Stolerman. "We met multiple times a month for over a year to understand the key factors from each of our fields that were missing from pandemic research to harness them for this collaborative project."
The grant focuses specifically on Oklahoma, because it is understudied in the area of disease dynamics. The state is also spatially diverse, with urban, suburban and rural locations that can be used to build models that will lend insight into similar areas in other states and regions.
After the completion of the grant, the data, computer code and disease models produced will be freely available and searchable for other universities, states or regions.
"This grant brings Oklahoma, and OSU in particular, into the cutting edge of disease and pandemic research in the United States," Stephens said. "This collaborative project is just the beginning of what our group can accomplish, and I look forward to building on our work for many years to come."
Learn more about the CAS faculty's NSF grant here.
Story By: Merle Eisenberg, Department of History | merle.eisenberg@okstate.edu