New Center for Health Systems Innovation to address challenges in health care industry
Friday, January 25, 2013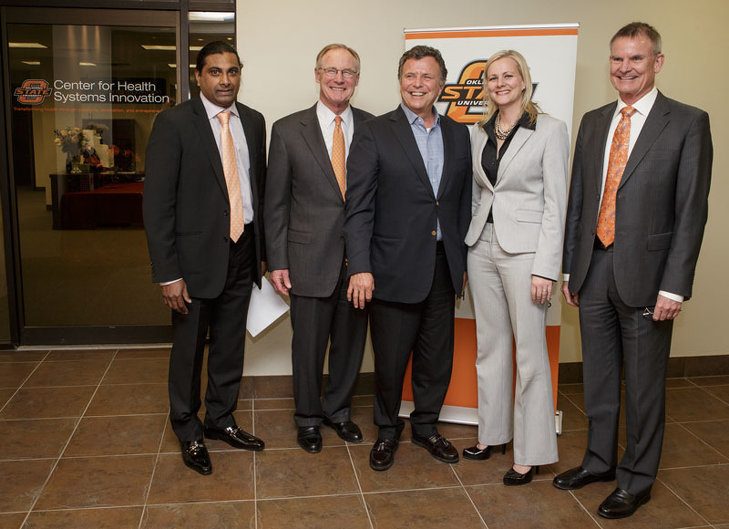 Oklahoma State University's new Center for Health Systems Innovation is the first in the nation dedicated to harnessing entrepreneurship, creativity and innovation to improve health and health care systemically. Health care visionaries from some of the world's top organizations were in Stillwater last week to celebrate the opening of the Center.
The new Center for Health Systems Innovation (CHSI), a collaborative effort of the Spears School of Business and the OSU Center for Health Sciences, will focus on creating a comprehensive and coherent vision for health care problem solving through market-based solutions.
"Could there be a more important issue in America today, and certainly in our state, than health care? It is pretty clear that we cannot attempt to solve it with just money. It's going to have to be solved with creativity and innovation, and that is precisely what this Center is all about," said OSU President Burns Hargis.
The idea for the CHSI was initially discussed in March 2012 when the Spears School hosted the first International Conference on Innovation and Entrepreneurship in Healthcare. The conference's objective was to help business, government and society pierce the confusion about health care across the United States, and get a realistic grasp on the future.
CHSI board member Neal Patterson, an OSU alumnus who is co-founder and Chief Executive Officer of Cerner Corporation, the world's largest stand-alone maker of health information technology systems, has been instrumental in the creation of the Center.
"There's a lot going on inside health care right now, and has been for a very long time, but there is kind of a convergence, and part of that convergence is the macro-economics of health care," said Patterson, whose recent gifts totaling $6 million were instrumental in the creation of the Center.
"There's a big collision going on. The solution to that collision is basically going to have to be innovation, and we're going to have to innovate our way to a different kind of health care system; one that is much more adaptive, one that is much more focused not only on care and treatment but it also focuses on the health part of the equation.
"There is a window for true innovation and entrepreneurial innovation into health care," said Patterson.
Patterson indicated the first meeting of the board members was one of the best discussions he has participated in in recent memory. He met the other board members while attending the Jan. 23 opening of the Center, housed in its facility on North Boomer Road just blocks from the OSU campus in Stillwater.
Other board members include:
David Aylward, senior advisor, Global Health and Technology, Ashoka
Shakti Kumar Gupta, head of the Department of Hospital Administration, All India Institute of Medical Sciences
Jason Hwang, physician/researcher, co-founder of Innosight, and co-author of The Innovator's Prescription with Clayton Christensen
Nicholas LaRusso, medical director, Mayo Clinic Center for Innovation
Dr. Roger C. Montgomery, medical director, Cherokee Nation Health Services
Lynn Mytelka, innovation policy specialist and former director, United Nations University Institute for New Technologies (UNU-INTECH)
William Palva, health and biotech venture capitalist, partner at Sevin Rosen Funds, and head of the Oklahoma Life Sciences Fund
Patterson believes that Oklahoma State University and the new Center could make a difference in the future of health care around the world.
"There is an awful lot of uncertainty in health care, and much of it is driven from the fact that we can't foresee the costs continuing to rise as they have for basically the past 40 years. But that creates a lot of opportunities, and pressures to change and stimulate the entrepreneurial spirit," said Patterson.
"…Having come from (Oklahoma State University) allows me to take something I know, that I've worked on for many decades, and see if we can create synergy with that here. The fact is there are an awful lot of strong positives here that I think can be synergistic. I'm not trying to be the spotlight. I would love for the university to be the spotlight. If this works, (location) won't matter. Stillwater will seem like the perfect place for it.
"I think it's about ideas, and it's about finding things of importance and value and discovering some new directions. Health care needs some new directions, and if it works, that's going to be a lot more important than anything else I could support."
The Center will foster an academic environment in which interdisciplinary collaboration and coordination is expected to lead to researchers pooling their resources as they work to discover and implement market-based solutions for the transformation of health and health systems through creativity, innovation and entrepreneurship.
"We are living through what is arguably the most challenging time for the health care industry. Globally, health systems are characterized by rising costs, poor access and diminishing quality and safety of care," said Rubin Pillay, interim executive director of the Center.
"Clearly the time has come for a radical reconsideration of the current system dynamics with the goal of optimizing health-care delivery and increasing the value proposition for all stakeholders. It is a time of business unusual and now, more than ever, we need health management professionals, academics and practitioners alike, to adopt and propound innovation and entrepreneurial thinking and behavior as a major catalyst to effect positive change in health care from an individual to global level," said Pillay.
For more information, visit the Center's website: http://chsi.okstate.edu/