Oklahoma will see growth, more jobs in 2014, OSU's Spears School economist forecasts
Wednesday, December 4, 2013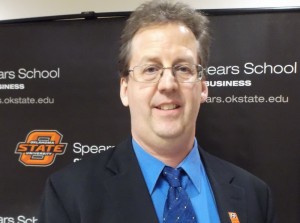 Oklahoma is expected to see a pickup in job growth in 2014 following the slowdown in growth experienced during 2013, Oklahoma State University economist Dan Rickman said Wednesday during the 2014 Oklahoma Economic Outlook Conference.
The conference is hosted each December by the Center for Applied Economic Research in OSU's Spears School of Business. This year's conference, held at the Metro Technology Centers at Springlake Campus in Oklahoma City, includes discussions of economic conditions and prospects for Oklahoma and the United States.
Rickman projects that nearly 20,000 jobs will be added to the Oklahoma workforce during the 12-month period beginning Jan. 1, 2014. The majority of those jobs will be in the administrative and support services (with more than 5,000 new jobs created) and accommodation, food services, leisure services and hospitality sectors (just under 3,000), Rickman's forecast reflects.
Other industries in which major job growth is forecast are in state and local government (more than 2,000), retail trade (more than 1,800) and professional, scientific and technical services (more than 1,800), said Rickman, Regents Professor of Economics and Oklahoma Gas and Electric Services Chair in Regional Economic Analysis
"The current slowdown in Oklahoma employment growth is associated with employment declines in the energy, air transportation services and federal government sectors," Rickman said. "Energy prices are expected to be stable or trend slightly downwards in 2014, while the U.S. economy is forecast to pick up steam, producing stronger job growth in Oklahoma during 2014."
Within Oklahoma, Rickman forecasts strongest growth for the metropolitan areas of Oklahoma City and Tulsa during 2014. The areas of the state outside the two largest metropolitan areas collectively have recently experienced net employment losses, in which growth is expected to be flat in 2014.
Rickman concluded by saying that "longer term, aging of the state population and lower than average skills of the Oklahoma labor force present significant challenges to future growth."
Others speaking at the conference were:
Deidre D. Myers, Director, Research & Economic Analysis, Oklahoma Department of Commerce;
Karen Maguire, Assistant Professor of Economics, Oklahoma State University;
Michael Teague, Oklahoma Secretary of Energy and the Environment;
Chad Wilkerson, Vice President, Branch Executive and Economist, Federal Reserve Bank of Kansas City, Oklahoma City Branch.
Sponsors of the conference were the Center for Applied Economic Research (CAER) at the Spears School of Business, CareerTech, Metro Technology Centers, and OSU's Center for Executive and Professional Development.