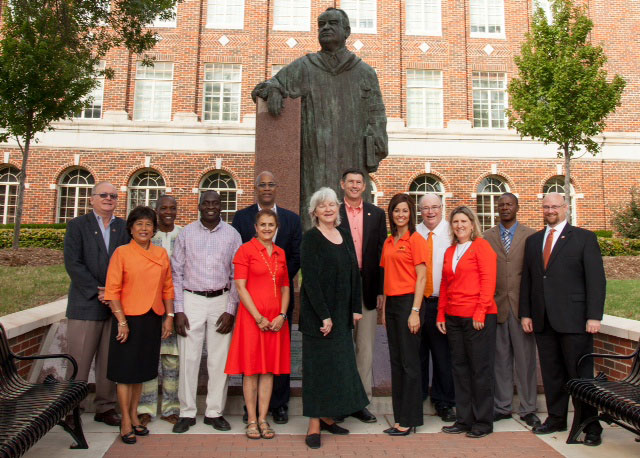 The U.S. Department of State Bureau of Educational and Cultural Affairs has selected a team of Oklahoma State University faculty, including Craig Watters with the School of Entrepreneurship in the Spears School of Business, to lead a $513,000 grant project to help aspiring entrepreneurs in three African nations.
Watters, interim director of the Riata Center of Entrepreneurship in the Spears School, will work in partnership with Dwayne Cartmell, Craig Edwards and Shelly Sitton in the Department of Agricultural Education, Communications and Leadership, and Shida Henneberry in the Department of Agricultural Economics to conduct the interdisciplinary exchange program in 2013-2014.
The project's broad aim is to create professional relationships and learning experiences between U.S. entrepreneurs and mid-level, up-and-coming entrepreneurs from Kenya, South Africa and Uganda. To help empower aspiring entrepreneurs through the project, 24 selected African Fellows will participate in a two-way educational exchange in spring and fall 2014.
"We are excited about this grant whose core is about entrepreneurship and business. We are also excited to forge new relationships with the agriculture school," said Watters. "Our students and entrepreneur network now will have more avenues to connect and grow. We look forward to this initiative constituting the beginnings of new research, courses, study abroad initiatives sponsored by the Riata Center and School of Entrepreneurship, and moving our students out into the world."
"Because these projects are exchanges, they support the travel of faculty, students and other Oklahomans with project-related interests and expertise to the African countries for additional capacity building and to learn more about those nations and their cultures," said Craig Edwards, professor of agricultural education and co-project director. "We're building the international awareness and global competence of U.S. citizens as well as that of the international participants through the exchanges."
Six targeted goals and 18 enabling objectives will guide the project. African participants will further their successes with enterprise projects while sustaining U.S. mentor contacts through social media. More than a dozen internship/job-shadowing sites, spanning private businesses, not-for-profits, government agencies and educational centers, have committed to serving as mentors for the African Fellows. Specific sites are being selected, and interested groups should contact Shelly Sitton at shelly.sitton@okstate.edu to be considered as an internship/job-shadowing site.
In addition to educational workshops and internship/job-shadowing activities, participants will experience the history, culture and agriculture of Oklahoma by visiting various businesses and attractions. They also will experience the atmosphere of Oklahoma State University.
This is the third DOS-BECA exchange grant received by Cartmell, Edwards and Sitton and the OSU Department of Agricultural Education, Communications and Leadership.
"Thanks to their participation and their experience in the U.S., many of the 2007 Malian participants made progress in their careers subsequent to the skills they have gained here," said Assoumane Maiga, participant in the grant team's 2007 DOS-BECA project in Mali and current departmental doctoral student. "These projects create long-term relationships between participants and reinforce understanding among people. It's not easy to list all the benefits of such a project because they are numerous."
For more information about the project, send a message to Brentney Maroney, project graduate assistant, at brentney.maroney@okstate.edu.