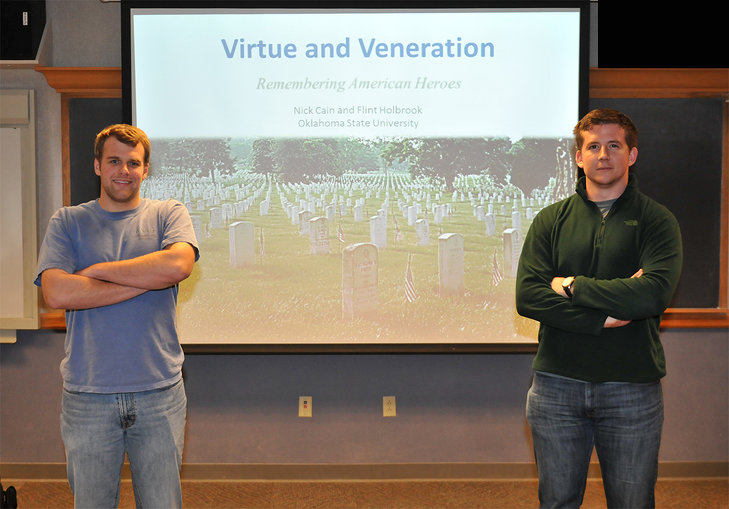 A two-man team of Oklahoma State University undergraduate students will compete against students from 27 other universities Friday and Saturday at the Richards Barrentine Values and Ventures Business Plan Competition at Texas Christian University in Fort Worth.
OSU students Nick Cain, a mechanical engineering major, and Flint Holbrook, a biosystems engineering major, will present Virtue and Veneration, a service providing comfort to grieving United States military veterans and their families. Cain and Holbrook have been working on their new business venture for the past year in the Cowboy Idea Hatchery, a student business incubator that is part of the Riata Center of Entrepreneurship in the Spears School of Business.
"Virtue and Veneration offers a paid (initially free) service to place flowers on the gravesites of fallen servicemen and women, then provide a virtual website tour enabling customers to see the grave, the flower placement and the surrounding cemetery area," said Cain. "This offers for a better connection than just ordering flowers for the gravesite. We provide the alternative means for loved ones who cant visit the memorial sites themselves."
"We decided to start this project because a good friend of ours, Mike Merit, who is a veteran and OSU student, really wanted to see or visit the gravesite of some of his fallen comrades of Iraq and Afghanistan," said Holbrook. "He said, 'If I could just see their headstones,' and so we thought that there's probably a lot more like him out there."
Merit is a political science major at OSU. He decided to earn his bachelor's degree after serving three tours in the Iraq and Afghanistan wars when he joined the Marine Corps right out of high school. Merit acts as a silent partner and the go-between for Venture and Veneration and several veteran organizations.
Virtue and Veneration would provide the service for free to recently killed-in-action service men and women in the wars in Afghanistan and Iraq. Virtue and Veneration also plans to contract with veterans or veteran's family members to do the remote work, "We want to employ people who believe in the cause of supporting veterans," said Cain.
"The Virtue and Veneration team is one more great example of both entrepreneurial spirit at OSU and our commitment to the men and women who serve this amazing nation of ours," said Michael H. Morris, N. Malone Mitchell Chair in Entrepreneurship.
The competition brings college entrepreneurs from around the world to TCU to showcase their ideas for the for-profit businesses that make money while making life better. Student teams from 28 universities will be on TCU's campus in Fort Worth to present their plans in front of 32 judges.
"This unique competition encourages students to start businesses that they really care about, but not traditional nonprofits," O. Homer Erekson, John V. Roach Dean of the Neeley School of Business, said. "We want students to show us for-profit enterprises that provide a social benefit as sustainable ventures. Another reason the competition is unique is that it is exclusive to undergraduate, not graduate, students with the intention to help them fund and launch their companies."
"We are extremely excited to have been selected to participate in the TCU Value and Ventures Competition, always a very impressive line up of universities from around the country. Flint Holbrook and Nick Cain are two very entrepreneurial engineering students with a business plan that should do very well in the competition," said Nola Miyasaki, Norman C. Stevenson Chair and Special Assistant to the Chair of the School of Entrepreneurship.
Values and Ventures Director Ann McDonald said that more than 40 business leaders will serve as judges and mentors, including business owners, CEOs, financiers, bankers and attorneys, to provide a solid base of knowledge about the viability of startup businesses.
All 28 teams will compete Friday in five flights in front of panels of different judges. The top team from each flight will advance to the final competition on Saturday, along with the top team chosen from among the five second-place teams, determined by a lightning round Friday afternoon. Saturday, those top six teams will compete in front of a different panel of judges to determine the final cash-prize winners.
Prizes are $15,000 for first place, $10,000 second place, $5,000 third place, $1,000 each for third, fourth and fifth places and honorable mention. In addition, the team out of the original 28 with the most innovative energy-related concept will receive a $5,000 Energy Award, and the team that displays bold thinking and breakthrough ideas will receive a $5,000 Founders Award, named after Nancy T. Richards and Lisa Barrentine, Dallas-based real estate entrepreneurs who co-founded the competition with the Neeley School in 2010.
Joining the OSU team as U.S. universities participating in the 2013 Richards Barrentine Values and Ventures™ Business Plan Competition are Appalachian State University, Baylor University, Chapman University, Christopher Newport University, George Washington University, Grand Valley State University, Regis University, Samford University, Southern Methodist University, St. Mary's University, Syracuse University, Texas Christian University, The University of Tampa, University of Arkansas, University of Florida, University of Houston, University of North Texas, University of Oklahoma, University of Virginia, University of Wisconsin-Whitewater, Villanova University, Wake Forest and Walsh University.
International universities include J.J. Strossmayer University Osijek, Osijek, Croatia; Monterrey Institute of Technology, Monterrey, Mexico; Royal Roads University, Victoria, British Columbia, Canada, and University of Strathclyde, Glasgow, Scotland
Follow the two-day competition on Facebook at facebook.com/SpearsSchoolOSU. Twitter @SpearsSchoolOSU #tcuvv13. Follow the live stream awards dinner at www.neeley.tcu.edu/livestream beginning at 7 p.m. Saturday. For more information about the competition visit www.neeley.tcu.edu/vandv.