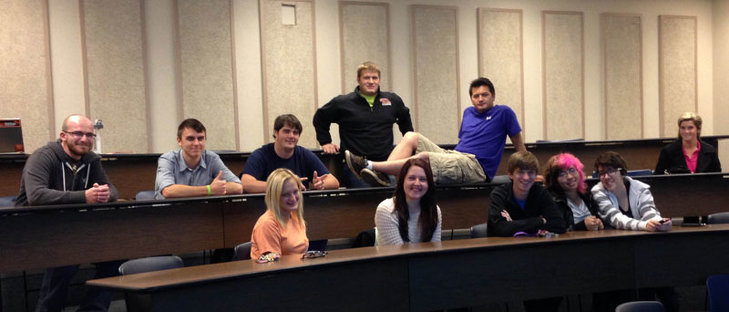 Oklahoma State University's Net Impact chapter recently placed first in the Small Steps, Big Wins Campus Challenge, in which students in the United States and England spent November attempting to make a sustainable difference at their universities and in their communities.
Net Impact, a sustainability organization, focuses on the impact of sustainability not only on the environment but also on society and business. Net Impact is an international organization represented by professional, graduate and undergraduate chapters. OSU has had an undergraduate chapter for a little more than a year and a half.
A pair of Spears School of Business students were instrumental in Oklahoma State's success in the competition. Shelby Hansen, a senior international business and economics major from Beaver, Okla., is OSU's Net Impact president and spearheaded the group's efforts. Aaron Cromer, a sophomore accounting and finance major from Elk City, Okla., was the overall individual winner in the challenge.
The OSU Net Impact organization is supported by the Department of Management in the Spears School.
OSU won the challenge by accumulating more points than any other university. Points were earned by sustainable actions (ie, recycling paper is worth 10 points, setting up a recycling day equals 300 points, etc.). OSU totaled 329,240 total points, which far surpassed second-place Cal-Berkeley's 161,270.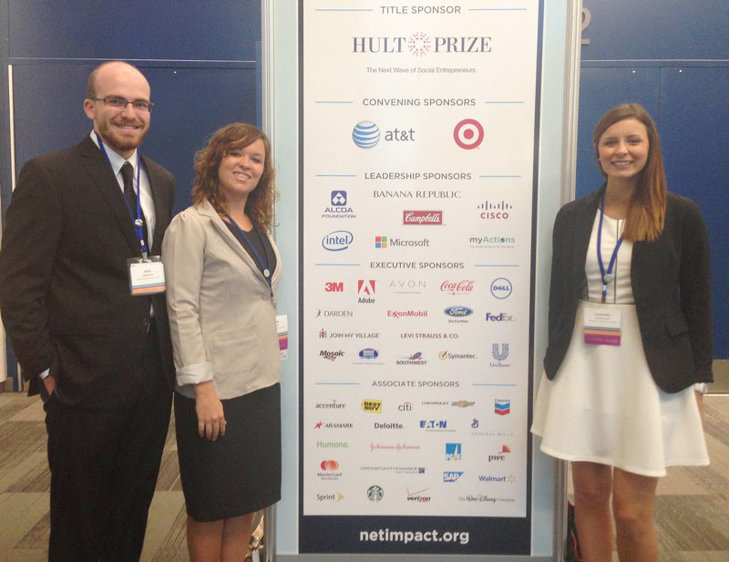 "Placing first allows OSU to say it is the most sustainable campus in the nation and among other schools in the UK. I believe it also says that schools in the central United States are taking a stand for sustainability and proving we are among the leaders of campuses making the most significant changes toward becoming sustainable," said Hansen, who earned first place in the campus director competition and the opportunity in June to attend Corkscrew's Kickstart 28-day social entrepreneurship program in England.
OSU's students used Small Steps, Big Wins to create a culture of sustainability. Hansen and the OSU team rallied their campus to add more bottle recycling stations and create an entirely new dorm recycle system. Cromer got his fraternity involved, hosting a tailgate party that led to collecting 1,000 cans for recycling.
"The most inspirational thing is that we've started something. Students are not simply reporting actions they've done, but are changing their lifestyles to better our world," Hansen said. "I believe it is important to not only show the nation that we care about sustainability at OSU but I also believe it shows everyone that students at OSU are desiring to become more sustainable. My hope is that by winning the Net Impact challenge it is just the beginning of making OSU the most sustainable campus in the nation."
Cromer was the individual winner, accumulating more sustainable action points than any of the other 2,917 students who competed. He logged dozens of hours on the app/website, compiling 45,690 points, 1,730 actions and $247.50 while reducing 2,702 pounds of carbon dioxide.
"I first got involved with Net Impact when Dr. (Jim) Pappas (associated professor in the Department of Management) invited his class to attend Net Impact and do the Small Steps Challenge," Cromer said. "It was there that I became obsessed and determined to make the difference and win the contest.
"Small Steps was a great experience that allowed me to take the time to watch my little actions turn into large differences for the World Wildlife Fund as well the many other organizations the Challenge sponsors. I invited dozens of people through the website, and even had some of my SigEp brothers sign up with me, just to show that together we make small differences that, all together, have a Net Impact for the world," he added.
As the individual winner, Cromer will receive a $500 airline ticket to fly anywhere in the United States.
"Aaron made such a huge impact not only because he earned an outstanding amount of points but because he desired to make a difference. Aaron become a huge asset to the competition especially when we were able to sit and share our passion of helping OSU become the most sustainable campus, and joined forces to help recruit more people to join the challenge," Hansen said.
As the winning university, OSU's Net Impact group won the $1,500 grand prize to host a party to promote itself, recycling and sustainability.
Students who participated in the Small Steps, Big Wins Challenge shared more than 50,000 actions, raised $12,279.50 for non-profit organizations, and reduced more than 237,000 of CO2.