OSU's Ph.D. in Business Program Attracts International Executives For 2013 Class
Tuesday, January 22, 2013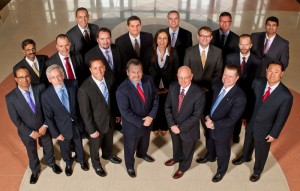 Oklahoma State University's Spears School of Business is going international with its unique program for executive development. The second class of the Ph.D. in Business for Executives in the Watson Graduate School of Management features 18 participants, including international students from The Netherlands and Canada, and representing seven states across the United States.
The three-year program kicked off Jan. 11-12 with an orientation session at the Helmerich Research Center on the OSU-Tulsa campus. The 18 participants were welcomed to the program by OSU/A&M Board of Regents members Andy Lester and Jay Helm, Oklahoma State University President Burns Hargis, Spears School of Business Dean Larry Crosby, Tulsa Mayor Dewey Bartlett, and program directors Ramesh Sharda and Craig Wallace.
The second cohort joins 18 participants from the inaugural Ph.D. in Business for Executives program that kicked off in January 2012.
"The quality of the second cohort to the program and the international scope of the group reinforces the need for this one-of-a-kind program focusing on executive development," Crosby said. "The program is designed to bridge between advanced scholarship and the contemporary needs of business and industry, leading to an acceleration of business leadership capabilities for the participants and for the economy.
"It's exciting to see the caliber of individuals and the variety of industries represented in this group. We believe that making a difference in the future world of business will require executives to stretch their leadership potential, and we are looking forward to seeing what they accomplish as they embark on this journey."
The second cohort includes chief executive officers, executive directors, controllers, vice presidents and chief operating officers for numerous companies around the world. They are from The Netherlands, two from Canada, and the other 15 represent Oklahoma (5), Texas (3), Florida (2), Illinois (2) and one each from Colorado, Georgia and New Mexico.
"The Ph.D. in Business for Executives program is one of the most exciting things we've started recently here at Oklahoma State University," said Lester, chairman of the OSU/A&M Board of Regents. "It allows top executives and others to further their education while maintaining a business work schedule.
"Each of the 18 participants is embarking on an exciting adventure. Each is highly accomplished; yet none are satisfied to rest on their laurels. Each one is ambitious. Each is willing to work hard, to sacrifice, with the goal of bettering themselves, their careers, their families and their businesses. I commend and salute each of them, and welcome them to Oklahoma State University and the Spears School of Business."
The class also encompasses a wide variety of industries, including financial services (3), health care (3), energy (2), non-profit organizations (2), and one participant each from construction, consulting, hospitality, information technology, international goods, oil and gas, real estate, and telecommunications.
"The second cohort provides another opportunity with this new genre of executive education to blend academic research with organizational experiences at a new level and prepare executives to apply as well as contribute to business research," said Sharda, director of the program. "We believe the Spears School creation of this blended program is setting the precedent in executive development."
For more information or to explore how to become a member of the 2014 class, go to the Ph.D. in Business for Executives website: http://phdexec.okstate.edu