School of Entrepreneurship students, teams win more than $27,000 at Governor's Cup
Monday, April 22, 2013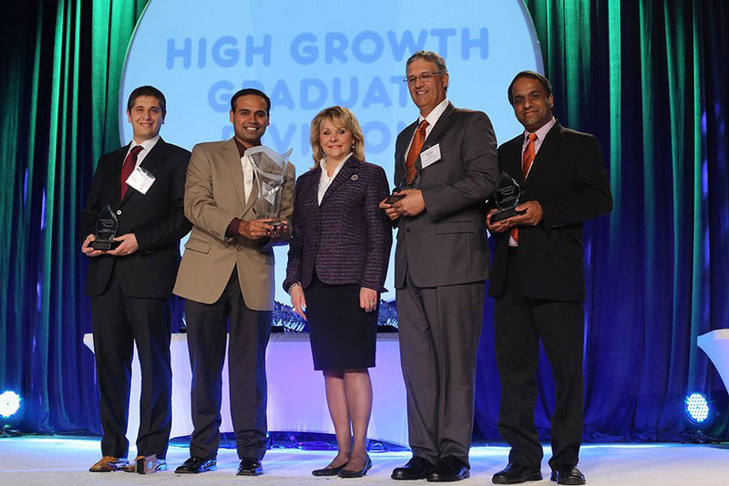 A number of Oklahoma State University students and several teams from the Stillwater campus were among the winners during the 2013 Donald W. Reynolds Governor's Cup Competition.
The OSU students and teams won more than $27,000 in cash awards and scholarships. In addition, the R2R Technologies group of students qualified to travel to Las Vegas next month for the Tri-State Competition by placing second-place in the Graduate Division competition.
R2R is the first team since the inception of OSU's School of Entrepreneurship to qualify for the Tri-State Competition, scheduled May 20-22 in Las Vegas where the team will have an opportunity to win an additional $25,000 to advance their venture.
"This is exactly the type of scenario that we want taking place in the School of Entrepreneurship and the Riata Center of Entrepreneurship," said Bruce Barringer, interim chair of the School of Entrepreneurship in OSU's Spears School of Business.
"We want to be a catalyst and facilitator of entrepreneurial activity and success across campus. We're increasingly seeing that happen as we deepen our involvement with not only Spears School of Business students, but an increasing number of students from other colleges across campus. It's fun to be a part of this type of exciting activity," said Barringer.
The R2R Technologies team of Aravind Seshadri, Carlo Branca and Pedro Velasco won $10,000 in cash by placing second in the High Growth Graduate Division. The R2R team was presented its second-place award by Oklahoma Gov. Mary Fallin in front of a crowd of nearly 500 community leaders, academia and entrepreneurs at the Governor's Cup gala awards dinner on April 18 at the Bricktown Events Center in Oklahoma City.
High Growth Division teams were required to write and present business plans around concepts that show the potential for rapid job and revenue growth.
Some of the others from the Spears School winning cash awards were:
Jerry Powers, $5,000, Oklahoma Business Roundtable Paulsen Award winner;
Tim Whitley, $5,000, Oklahoma Business Roundtable Paulsen Award winner;
Fash Fadaei, $1,000, High Growth Division, Pitch winner;
Infinite Composites (Aaron Laney and Nate Waters), $1,000, Interview category;
Medishine (Nasim Nossoudi, Fash Fadaei and Akkarapol Sangasoongsong), $1,000, Interview category.
The Governor's Cup requires student teams to identify a concept, research the market, write a business plan and present it before a panel of judges. Winning teams emerged after two days of oral competition.
For the complete list of Governor's Cup winners, go to the Governor's Cup website.